Microdermabrasion
Consultations offered at our three convenient locations in New Jersey, Bergen County and Englewood
Microdermabrasion offers a quick and effective way to exfoliate your skin for a healthy, refreshed appearance. Dr. David Abramson's medical team has worked with many men and women who were concerned about minor skin imperfections; microdermabrasion provided them with visibly rejuvenated results. If you live in New York City, Englewood, or Manhattan – as well as other surrounding areas – please contact us to learn more about the benefits of the treatment.
What is Microdermabrasion?
There is a moment when we all realize there is a better version of ourselves, just underneath the surface. The same is true for your skin. And while some people spend a lifetime trying to uncover that better, more pure version of themselves, searching all over the world for enlightenment, the key to uncovering clearer, younger, and more vibrant skin is simple.
A microdermabrasion treatment is a non-invasive, simple and effective treatment that exfoliates the top layer of the epidermis (skin) using a handheld mildly abrasive diamond-tipped wand. The process works much in the way a pumice stone or exfoliating washcloth might work, but in a much more advanced and less painful way.
Microdermabrasion treatments take place on a microscopic level, gently sanding away the top layer of skin to help remove sun damage, acne scars, and/or discolorations. It is essentially your opportunity to show a better version of your skin that is waiting to be uncovered. If the popular diamond-tipped wand method is chosen for you, true to its name, a wand with a diamond tip will be moved lightly across your face to remove dead or superficial skin cells.
The first thing people notice about you is your face – and you should always put your best face forward. So now is the time! Uncover the best version of your skin by requesting a consultation with Dr. Abramson today. Your face is fantastic, and it's time for everyone to see how wonderful it is. Let us show you how wonderful it can be!
Cosmetic Issues Addressed by Microdermabrasion
Fine lines and wrinkles
Sun damage
Age spots
Dark pigmentation
Rough skin
Small scars
Acne
Large pores
How Does it Work?
Simply put, the abrasive wand removes the damaged, dead layer of the epidermis. The body recognizes this (controlled) injury and immediately begins to heal itself, promoting an increase in production of collagen in the treatment area. The new collagen fibers form in a tightly knit vertical fashion, in turn creating firmer, smoother, and overall more youthful skin.
Good Candidates
Microdermabrasion can be performed on patients of either sex who are between the ages of 13 and 65. It has been shown to be very valuable for older patients who are beginning to show physical signs of age on their face, but teenagers can also enjoy the benefits of microdermabrasion for issues like acne scars. Patients who seek microdermabrasion for their skin imperfections are drawn to the quickness and non-invasiveness of the treatment.
While microdermabrasion is a great answer to a whole myriad of skin issues and imperfections, some conditions are incompatible with this treatment and may disqualify some patients from being candidates. These include open sores, sunburn, skin lesions, or if you have a tattoo in the treatment area. Patients with darker skin complexions may also not be suitable for this treatment. Please request a consultation with Dr. Abramson and see if you are a good candidate for microdermabrasion.
Microdermabrasion vs Other Skin Treatments
Laser Skin Resurfacing
Laser skin resurfacing works by utilizing pulses of light energy to create small wounds in the face. What this does is kick start the body's natural collagen production and healing process, in turn rejuvenating the skin. The laser treatment does involve a long period of downtime – up to two weeks, in fact – and can result in considerable redness during this time.
Microdermabrasion, meanwhile, requires only a day or so of downtime and only gives the skin an initial light blush due to the exfoliating effect, which dissipates quickly. In addition, the final results of laser therapy take several months to become fully visible, while the microdermabrasion treatments smoothing and revitalizing effects are evident almost immediately.
Chemical Peel
Chemical peels can be a good choice for treating sun damage, shallow acne scars, and other conditions. However, they are very harsh compared to microdermabrasion, which is renowned for its gentle method. These peels apply a chemical solution to the face which exfoliates and takes off the entire top layer of damaged skin, attempting to reveal new, healthy skin. For those with sensitive skin, microdermabrasion is therefore preferable as chemical peels can cause inflammation, redness, skin flaking, and extreme sun sensitivity.
Microneedling
Microneedling is a process that works in a way similar to laser skin resurfacing, but uses tiny needles to induce minor wounding on the face to initiate healing and rejuvenate the skin. This technique is also referred to as collagen induction therapy, or CIT, because it works to trigger the body's natural process of building collagen which keeps the face looking plump, taut, and youthful. Because of the use of needles, this treatment can be slightly painful for some and leave the skin feeling tender. Results start to become visible after about a week and fully materialize after four to six, and the use of skin products or makeup after chemical peels is not advisable during the first 48 hours.
Consultation
Requesting an initial consultation with Dr. David Abramson is the first step to vibrant, healthy skin. At your private consultation he will examine your skin and determine if microdermabrasion can benefit you. If so, a customized treatment plan will be created to provide you with the best results possible. Dr. Abramson will also be able to determine how many sessions will provide you with your desired results. Please share all medical history, skin conditions, allergies, and past surgeries; this will hold bearing on the treatment plan. All questions will happily be answered at your consultation, including inquiries about pricing and suitable additional treatments.
Preparing for Your Treatment
There are certain preparatory steps that patients are advised to take before undergoing microdermabrasion; these are meant to limit health risks associated with the treatment, as well as maximize its effectiveness and help patients achieve the youngest-looking, most flawless skin. Each patient receives an individualized list, but the following are some things all patients should avoid before undergoing a microdermabrasion treatment:
Sun exposure and tanning beds or products
Products containing salicylic acid or glycolic acid (Retin A, Differin, Renova, etc.)
Waxing
Other facial skin treatments including chemical peels and injectables
Treatment Process
Sometimes called a "lunchtime treatment" because there is little to no recovery time needed, microdermabrasion takes about 20 to 30 minutes and is performed in our New York City, Franklin Lakes, and Englewood offices.
Topical numbing cream and local anesthetic are available for additional comfort. The diamond tipped wand is gently moved across your skin by your microdermabrasion specialist with controlled abrasion to remove the uppermost layer of dead skin cells. This exposes the new skin underneath, which will eventually develop into a glowing, healthy look as your body initiates its self-healing process. A special rejuvenating ointment is applied to the face once the treatment is complete, and patients can return to their daily activities. For the best results, your microdermabrasion specialist may recommend a series of four to six treatments, with a few weeks of designated healing time in between.
The alternative microdermabrasion method uses what equates to a mini sandblaster, but with microcrystals and a tiny vacuum to remove the topical layer of skin and suction away the dead cells. The treatment has been said to feel like a mini massage of your facial tissue, between the combination of light force loosening the skin cells and the suction of the vacuum. The technique most ideal for your case will be determined during your consultation with the microdermabrasion expert.
Recovery / Results
Microdermabrasion treatments have no recovery period and only last about a half hour. After the treatment, the microdermabrasion specialist will recommend a moisturizing lotion or serum to help with any dry skin and to maximize the effects of the treatment. Results can be enjoyed as soon as any resulting redness fades. Please stay out of the sun for 4 to 6 days; if this is unavoidable, please use proper sun protection like a large hat and sunblock. Optimal results are usually seen after five to six treatment sessions with a few weeks in between each session. If you continue to take proper care of you skin, you can enjoy long-lasting results.
Cost
The cost of microdermabrasion will depend on the extent of the conditions being treated and the sessions required to address them. You can find out more specific microdermabrasion prices by requesting a consultation appointment at Dr. Abramson's New York City, Franklin Lakes, or Englewood office. The staff is knowledgeable about all aspects of the treatment, and would be happy to discuss microdermabrasion costs with you.
Want to see your new you before the procedure?
With Crisalix's 3D imaging technology you can see how you would look post-procedure if full 3D.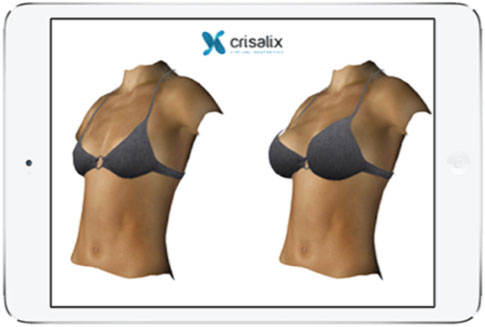 Learn More