Chin Liposuction
Consultations offered at our three convenient locations in New Jersey, Bergen County and Englewood
Double chins can be very difficult to reduce. The fat that gathers below the chin is referred to as submental fullness and tends to make individuals appear unhealthy or overweight. If you have tried eating well, diet plans, targeted workouts, but have seen no improvement in the definition of your jawline and neck, it is time to consider alternative methods.
Chin liposuction is an impressive technique offered by Dr. Abramson to sculpt the angles of the face and remove the fat that causes a double chin. This innovative method is safe and will produce the best outcome quickly and conveniently.
About Liposuction
Liposuction is a cutting-edge body contouring method that is helping men and women everywhere obtain the body they desire. Liposuction utilizes a small cannula topped with an aspirator. In surgery, a small incision will be created through which the cannula will be inserted. A cannula is a thin, hollow tube perfect for lipo surgery. The surgeon uses the cannula to target unwanted fat stores and the aspirator dislodges and suctions the fat from the area. Liposuction is perfect for getting rid of bulges and stubborn fat deposits. Liposuction can be applied all over the body and improve the proportion and contours of the whole body. Common liposuction treatment areas include the thighs, hips, upper arms, back, legs, chest, abdomen, buttocks, neck, and face. Dr. Abramson has an excellent eye for detail and a steady hand so as to delicately shape and contour the face. This technique will allow him to remove unwanted fat from below the chin and restore the definition of the jawline.

Dr. Abramson is a board-certified plastic surgeon who has years of experience perfecting cosmetic techniques and improving the safety of the surgeries he performs.

Dr. Abramson specializes in two liposuction techniques: Tumescent lipo and ultrasound-assisted liposuction. These are the two methods he has chosen to implement at his practice because they have been proven as safe, effective ways to help his patients achieve their body goals.

Tumescent Fluid
Tumescent fluid makes fat cells easier to break down for gentle removal.
Tumescent fluid is comprised of saline, a salt-water solution, and is administered into the treatment area. Saline helps to break fat cells apart from each other and the healthy tissue it is attached to. The application of tumescent fluid allows for a smoother, less aggressive surgery. Past liposuction techniques have required surgeons to break fat cells off from healthy tissue with forceful back-and-forth movements. The overall impact would be a longer, uncomfortable recovery period. Tumescent fluid is an incredible innovation that improves the safety and efficacy of liposuction surgeries and has a positive impact on recovery.

Ultrasound-Assisted Liposuction
This form of liposuction was developed in 1996 and has been tweaked and improved since to provide patients with a minimally-invasive technique to remove unwanted fat. This body contouring method is perfect for men and women who want to get rid of bothersome fat and see their results right away.
The ultrasound energy helps to emulsify fat while leaving the surrounding tissues unharmed. The disconnected cells can then be quickly removed with a cannula.

Both tumescent fluid and ultrasound-assisted liposuction are frequently used together. The combination of tumescent fluid and ultrasound-assisted lipo allows for surgeries to go seamlessly and ensure your best results.
Why Chin Liposuction?
Chin liposuction will help you achieve slimmer facial features quickly. The results of chin fat removal are always impressive. Patients love the effect just slimming down submental fullness has on their whole appearance. Not only will the individual appear healthier, but the angles of their face will also be enhanced. Chin fat reduction allows our patients to look and feel amazing!

Liposuction is a preferred treatment because the results are immediate and downtime is minimal. Other minimally-invasive or noninvasive techniques cannot guarantee predictable results. With liposuction, Dr. Abramson has control over the end result.

We encourage you to look through liposuction before and after photos to see the impressive results liposuction can achieve on facial features.

Benefits
The primary advantages of the liposuction technique are safety and results. Liposuction has had decades to be perfected and with innovative improvements, the treatment has become more safe and predictable. Facial contouring can easily be achieved with liposuction to provide patients with beautifully sculpted results.
Is Liposuction For Me?
If you are bothered by a double chin, it is time to consider liposuction. This treatment is a good choice for healthy patients who are within their ideal weight range. Health conditions that may deter healing, such as issues with blood clotting are not ideal when undergoing lipo surgery. We want each of our patients to have a healthy procedure. To know if liposuction is the best solution to restoring your facial definition, schedule a consultation with Dr. Abramson today.

Personal Consultation
Dr. Abramson meets with each of his prospective liposuction patients to ensure they are in good health and have a realistic outcome for their surgery. This meeting is your opportunity to voice any concerns you might have and to ask lots of questions.
The goal of a personal consultation is to learn more about the procedure you are interested in and whether you are a candidate.
Dr. Abramson will examine your chin and ask about past medical procedures, current medications, allergies, and your lifestyle. This information will help him determine if liposuction is the best choice for you and your health.

Preparation
If liposuction is deemed a good option for you, Dr. Abramson will schedule a surgery date. Preparation is the key to healthy surgery. It is important for you to follow any and all instructions he provides. Included in these instructions will be information regarding prescriptions, steps to take 24-hours before surgery, and what to do the morning of the appointment. Follow these instructions carefully and feel free to call our office with any questions. We want you to look forward to your surgery and achieve your best treatment!
Chin Liposuction Surgical Techniques
The liposuction procedure will begin with the administration of either general anesthesia or intravenous sedation. Once you are comfortable, Dr. Abramson will apply miniscule incisions to the chin.
The next steps of your chin liposuction will differ depending on what technique you and Dr. Abramson determined to use.
Fat cells will be removed and Dr. Abramson will masterfully sculpt your jawline and neck. Once the desired aesthetic is produced, the incisions will be closed and bandaged. You will be taken to a recovery room where you will be monitored until you wake up. The whole surgery will take one to two hours.

Recovery
One to two weeks of downtime will be required before you return to work. Compression garments will be necessary to control swelling and help the results Dr. Abramson accomplished set in. Pain medication will be needed to control discomfort in the first few days of recovery but will not be needed for an extended period of time.
Results
You will notice an improvement in the symmetry of your face right away. As swelling and bruising go down, you will get a peek at your end results. The finished outcome will be noticeable within two months. Your jawline will be tight and smooth. You will look years younger! Dr. Abramson's careful techniques produce minimal to no scarring. Results will look flattering and natural. With a healthy lifestyle and consistent weight, you will be able to maintain your results for years to come!

Chin Liposuction Cost
We provide customized treatment for each of our liposuction patients. Our hand-tailored approach causes prices to fluctuate between each patient. To know how much your lipo chin surgery would cost, click here or give us a call at (201) 731-3134.

FAQs
How long does chin lipo take to heal?
It will take one to two weeks for chin lipo to heal. During your recovery, it will be very important to drink lots of water and get plenty of rest. Attend follow-up appointments to ensure incisions stay healthy and the results you desire are achieved.
---
What is chin liposuction?
Chin liposuction is a technical procedure in which Dr. Abramson removes excess fat under the chin and sculpts the neck and jawline. This procedure returns a healthy, balanced appearance to the face.
---
How long does the swelling last after chin liposuction?
The majority of swelling will decrease within a week or two of surgery. Residual swelling will take a month or two to diminish. Compression garments will be used to control swelling and help your results look amazing.
---
Is chin liposuction dangerous?
Chin liposuction is not dangerous when performed by an experienced, board-certified surgeon like Dr. Abramson. He uses advanced techniques in a state-of-the-art facility to ensure impressive results are achieved.
---
How can I lose face fat?
If healthy eating and work-outs aren't helping you lose face fat, it is time to consider liposuction. Lipo surgery can be used on the cheeks, chin and neck to remove unwanted fat. If you are bothered by a turkey neck, double chin or chubby cheeks, liposuction can help slim down and contour the face. Schedule a consultation with Dr. Abramson to learn more about the revolutionary, minimally-invasive surgery that is liposuction!
Want to see your new you before the procedure?
With Crisalix's 3D imaging technology you can see how you would look post-procedure if full 3D.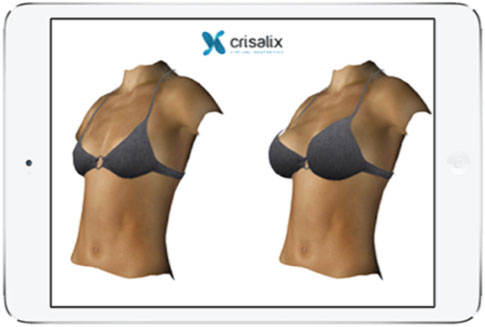 Learn More