CoolSculpting Abdomen
Consultations offered at our three convenient locations in New Jersey, Bergen County and Englewood, NJ
Crunch time has its place. You can do sit-ups and trunk twists for hours on end, but they may not help you achieve the six-pack abs and sleek curves you desire. While diet and exercise are key elements to continued happiness and health, you may need some supplemental treatment to finalize your form.
Dr. David Abramson is a board-certified plastic surgeon, but he is also a great believer in non-surgical solutions to everyday cosmetic issues. CoolSculpting is a non-invasive way to contour your belly, slim down your shape, and unleash your full potential. With convenient locations in New York City as well as Englewood and Franklin Lakes, in New Jersey, Dr. Abramson is a maestro of midsection transformation. To learn how abdominal CoolSculpting can revitalize your frame, contact us at your earliest convenience.
What Is CoolSculpting?
CoolSculpting is the art and science of cryolipolysis.[1] Cryolipolysis targets fat deposits with intense blasts of cold temperatures to essentially "freeze" them into stasis. The body naturally removes the frozen cells via the lymphatic system. CoolSculpting is an intuitive process that lowers the temperature in unwanted fat layers while maintaining warmth and circulation in the surrounding skin and muscles. This allows your best abdominal shape to emerge unharmed and unobstructed by bulky fat stores.
Custom CoolSculpting applicators cradle the belly, affixing to the skin like a vacuum nozzle. Dr. Abramson and his associates are experts in the facilitation of abdominal fat freezing. We use state of the art equipment that is safe to the touch, easy on the skin, and remarkably effective. Concentrated cold infiltrates layers of belly fat in the breezy span of approximately 45 minutes. In that time, excess tummy bulk is shocked into submission so your lymphatic system can do the rest.
After the fat cells are frozen, your body regards them as waste material. As with any waste, the lymphatic system flushes it from the body gradually, naturally, and comprehensively. In the matter of a few weeks, unwanted fat is expelled as your slimmer, trimmer self emerges.
The Benefits of Abdominal CoolSculpting
Fat loss can be a frustrating process, but CoolSculpting is your ideal workout partner. In Dr. Abramson's hands, the abdominal applicator becomes a magic wand. He waves it painlessly over your "problem areas" to deliver amazing results with no downtime or anesthesia.
Convenience is the main benefit of the CoolSculpting technology. In under an hour, unwanted fat cells are targeted and trounced!
CoolSculpting Belly Benefits
Clothes fit more comfortably
Women can achieve an hourglass figure
Men can attain the "V" shape for which they strive at the gym
Less bulk means more comfort!
To enjoy the benefits of abdominal CoolSculpting for yourself, contact Dr. Abramson's office at 212-774-1828 in New York or 201-731-3134 in New Jersey. The doctor also offers virtual consultations for anyone planning to visit the tri-state area but who is currently unable to visit us in person.
Eligible Candidates
If you want to trim down your torso with the help of a non-invasive aesthetic procedure, then abdominal CoolSculpting may be perfect for you. Eligible candidates are healthy individuals with realistic expectations for their ideal midsection.
Treatments are quick and easy, so you can often schedule them on your lunch hour. Be prepared to return for repeat sessions to maximize your results and minimize your bulk! Please contact our office to determine if CoolSculpting is the right remedy for your belly-busting needs.
Personal Consultation in New York and New Jersey
Every great improvement begins with a simple conversation. We appreciate the opportunity to communicate with our neighbors through our blog, and we always welcome your feedback! Our posts are designed to enlighten and inform, so take a look and feel free to drum up some questions.
Dr. Abramson is an accomplished physician, but he is also a great listener. Be prepared to share your medical history during your consultation and he can help shape your aesthetic future.
CoolSculpting is just one of the tools in Dr. Abramson's cosmetic toolkit. If the procedure is ideal for your tummy, he is happy to provide the sleek results you seek. On the other hand, if Dr. Abramson believes that a different approach will be more beneficial for your midsection contouring, he will explain his thought process as part of your comprehensive consultation.
Preparation and Procedure
Due to the non-invasive nature of the CoolSculpting process, preparation is quite minimal. In fact, you may be ready to begin the procedure immediately following your consultation.
Once the CoolSculpting process begins, we want you to feel comfortable. Our facilities are a beacon of privacy and professionalism. You are welcome to surf the 'net, read a book, or simply relax as the CoolSculpting device works its magic on your belly.
As the cryolipolysis technology targets your unwanted fat, you may feel a slight numbing sensation. This is natural and harmless. A brief chill envelops your tummy fat, keeping your skin and muscles perfectly unfazed. Please inform your clinician of any discomfort and they can pause the CoolSculpting process immediately.
You may receive a gentle massage to break up the frozen fat cells along your abdomen. This signals to your body that it can now eliminate the unnecessary bulk as it would dispose of any waste material. In less than an hour, the CoolSculpting procedure is over and you are free to resume your normal routine.
Recovery and Results
A typical CoolSculpting session is pain-free, but you may notice some superficial suction marks on the site(s) where the applicator nuzzles against your skin. Any minor swelling or redness should subside in about two or three hours.
The results of your CoolSculpting session may appear as quickly as two weeks following your treatment. Results vary, but the full improvements of your CoolSculpting procedure should emerge within 2-3 months, at the latest. Your body requires time to adjust to its new contours. Great things come to those who wait!
CoolSculpting is one of the most popular cosmetic procedures in America. Over 376,000 sessions are performed in the United States every year.[2] This number grew 6% between the years 2017 and 2018.
One reason why CoolSculpting is so in demand is how it transforms the body by eliminating stubborn fat. Shirts will fit more comfortably as your silhouette conforms to the contours you always wanted.
But don't take our word for it; read these rave reviews from our past patients. We are honored by their praise and eager to deliver the same top-notch service to you!
DualSculpting: Twice as (N)ice!
Your time is valuable. We want to make the most of your CoolSculpting session by targeting unwanted fat cells wherever they may appear on your body. If you have "problem areas" other than your belly, Dr. Abramson can help with a DualSculpting session. By treating two areas at once, you double your results and maximize your efficiency.
CoolSculpting for the Chin
If you struggle with the bulky profile caused by a double chin, CoolSculpting can bring balance back to your facial features. Slim and trim your way to satisfaction by scheduling a chin CoolSculpting treatment today!
CoolSculpting for Thighs
Over the years, the upper legs may accumulate unwanted fat and unexpected girth. Thigh CoolSculpting contours the lower body, reduces the bulk, and liberates your legs.
FAQ
References
Ingargiola, M.J., Motakef, S., Chung, M.T., Vasconez, H.C. & Sasaki, G.H. (2015). Cryolipolysis for Fat Reduction and Body Contouring: Safety and Efficacy of Current Treatment Paradigms. Plastic and Reconstructive Surgery. 135(6): 1581–1590. doi: 10.1097/PRS.0000000000001236
American Society of Plastic Surgeons statistics, retrieved from: https://www.plasticsurgery.org/documents/News/Statistics/2018/plastic-surgery-statistics-report-2018.pdf
Want to see your new you before the procedure?
With Crisalix's 3D imaging technology you can see how you would look post-procedure if full 3D.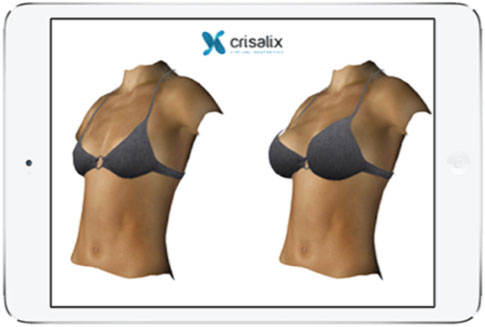 Learn More