Restylane
Consultations offered at our three convenient locations in New Jersey, Bergen County and Englewood, NJ
One of the most overlooked issues of aging is volume loss. When your skin loses volume, it may not be obvious at first, but it can be the main cause of the development of sagging, sunken cheeks, deep creases around the nose and mouth, and sharper features. Rest assured, with treatments such as the Restylane dermal filler, you have an effective and convenient tool at your fingertips that will restore your appearance to a lifted, perkier, more youthful place.
A treatment with Restylane takes as little as half an hour, requires little to no downtime and you can turn back the clock on signs of aging such as nasolabial folds, cheek depressions, and acne scars.
Contact facial rejuvenation expert, Dr. Abramson, to schedule your consultation.
Do I Need Restylane®?
Are the signs of aging finally starting to catch up with you when you notice yourself in the mirror? A life well enjoyed can also mean a life spent with age lines in your cheeks, forehead, and around your eyes. If you're looking to take control of those unwanted lines and slightly sagging skin on your face, consider getting a Restylane treatment.
Restylane is an injection treatment that is designed to add volume to the skin and remove wrinkles, smile lines, and drooping skin on the face. The most common use is to alleviate age lines in the nasolabial folds – the "smile" lines – between the nose and mouth.
It can also be used for treatment in the melomental folds – more commonly known as "sad mouth corners" or "marionette lines" – or in the corners of the eyes to remove crow's feet lines.
Essentially, the Restylane procedure will give your skin the fullness and tightness you had in your youth and restore its appearance to the days when you were making the happy memories that have left their reminders on your face.
Restylane treatments can also be used in the lips to give them a fuller and more plump appearance. Imagine the full lips you've always wanted. Now imagine that in one quick and relatively pain-free visit to your doctor, those lips can be yours.
The procedure itself can vary depending on your age and the area in which the work is being done. The most common treatments are outpatient injections given by your doctor in the crevices of the lines in your face.
Injections should be given under the care of your doctor and should not be done at the site of blemishes such as pimples, cold sores, or rashes. There can be some irritation or swelling after treatment, but it is mostly mild in nature and goes away within a week.
The truth is, you've lived a great life, and those memories should always remain… in your mind, but not on your face. If you're ready to return your face to the youthful, wrinkle-free way it used to be, set up a consultation with Dr. Abramson today!
What is Restylane®?
Restylane® is a dermal filler used to treat moderate to severe facial wrinkles and folds, especially around your mouth and nose. It is made from hyaluronic acid, a substance that occurs naturally in the human body and helps give framework to your skin. Restylane® patients enjoy effective results because the injected solution acts like an inflated cushion, supporting facial structures and tissues that have lost volume or elasticity. Restylane® also brings water to your skin to keep it glowing and supple.
At the offices of Dr. David L. Abramson, patients are seeing great success with Restylane®. In fact, products based on hyaluronic acid have become some of the most popular kinds of dermal fillers.
Dr. Abramson's staff invites men and women from New York City, Englewood, Manhattan and outlying areas to come in for a scheduled appointment and learn more about Restylane®.
Is Restylane

®

Right for You?
Because hyaluronic acid is found in almost all living things, Restylane® is highly compatible with the human body. As a result, pretty much anyone can be a good candidate for the injections.
Symptoms Addressed By Juvéderm
Acne scars
Cheek depressions
Crow's feet at the corner of their eyes
Deep smile lines that run from the side of the nose to corners of the mouth, also known as nasolabial furrows
Frown lines between the eyebrows
Marionette lines at the corners of the mouth
Scars, including burns, acne and those caused by wounds
Smoker's lines or vertical lines on the mouth
Worry lines that run across the forehead
The medical team that works with Dr. Abramson has vast experience with dermal fillers, including Restylane®. We have helped patients from across the area find the treatment that will suit them best.
About Your Restylane

® Treatment
When you undergo Restylane® treatments, the procedure typically takes less than 30 minutes and will be performed in our facility. A skilled professional will mark specific areas of your face and then inject the solution with a very fine needle. You may need several follow-up treatments to achieve the results you desire, but the effects of Restylane® usually last about four to six months.
Restylane Results
A fuller, perkier appearance of the treated area is almost instantly visible.
Dr. Abramson's artistic expertise and technical knowledge ensure a natural-looking, subtle result. While the age-reducing result is profound, there will not be an "obvious" or "treated" look. Restylane injections are performed in harmony with your natural features to create a youthful look that is your own.
What's the Science Behind Restylane?
Restylane is an FDA-approved dermal filler that effectively restores volume and structure to problem areas in the skin that have sunken or deflated due to the effects of age. The primary ingredient that is responsible for Restylane's rejuvenating capabilities is called hyaluronic acid. Hyaluronic acid is naturally occurring in humans and is known for its ability to hold many times its volume in water.
Restylane is injected into the deep dermis layer and holds a stable structure. Water molecules bind with the hyaluronic acid particles, which moisturize the skin and support collagen and elastin structures.
With its patented NASHA and OBT technologies, Restylane is the world's most precise stabilized hyaluronic acid treatment.
NASHA
Non-animal stabilized hyaluronic acid means Restylane offers superior texture and profound lifting capability.
OBT
Optimal Balance Technology is offered by Restylane's softer gel formulations for versatility and natural-results across a variety of applications.
Restylane gels come in a number of different formulations to achieve beautiful results for a wide variety of goals and aging symptoms.
Restylane Refyne
Refyne is ideal for medium to deep laugh lines, nasolabial folds, and marionette lines. This formulation offers XpresHAn technology that holds a firm texture, but also maintains natural movement.
Restylane Defyne
Defyne is recommended for deep to severe laugh lines, nasolabial folds and marionette lines. Also formulated with XpresHAn technology, Defyne supports skin volume and maintains a natural texture during facial expressions.
Restylane Silk
Silk is ideal for lip augmentation and smoothing vertical lip lines.
Restylane Lyft
Lyft is designed to add volume to sunken, wider areas of the cheeks and midface area.
Each Restylane formulation offers a unique set of characteristics depending on the goal of the treatment and the symptom to be treated and may be used in combination with each other to optimize results.
The Cost of Restylane

®
For your financing needs, Alphaeon™ and Prosper® are offered. When you are determining Restylane® prices, keep in mind that there are several factors involved. The cost will depend on the areas being treated and how much Restylane® is needed, as well as other considerations. If you want a closer estimate, based on your individual needs, then please take some time to speak with Dr. Abramson's compassionate, knowledgeable staff. We will be happy to go over Restylane® costs with you.
Consultation
With Restylane and all dermal injectable treatments, the procedure is entirely customized to fit your goals and personal anatomy. A treatment that works well for one person is not necessarily the best treatment for another. During your personalized, consultation, Dr. Abramson will walk you through different treatments that will give you the best, natural-looking, beautiful results.
For dermal injections like Restylane, we often recommend bringing in photos of your younger self for comparison. After a physical examination of your areas of concern and personal goals, Dr. Abramson develops a tailored treatment plan for you. He and his experienced staff are more than happy to answer any questions about your treatment and stress the importance of feeling totally confident and comfortable about your treatment choices.
Contact us to schedule your consultation today.
Want to see your new you before the procedure?
With Crisalix's 3D imaging technology you can see how you would look post-procedure if full 3D.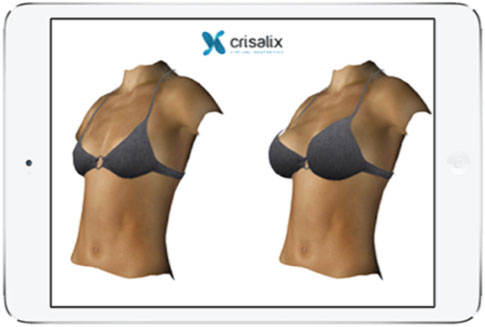 Learn More