FaceTite
Consultations offered at our three convenient locations in New Jersey, Bergen County and Englewood, NJ
FaceTite is an exciting, innovative cosmetic procedure that strengthens the skin structure of the face. This method of facial rejuvenation marries both radio radiofrequency (RF) technology with delicate liposuction to create sultry facial contours. Modern medicine is paving a new way to provide treatments to patients who are looking to upgrade their look. FaceTite is a safe, minimally-invasive, and FDA-approved treatment that provides people with an alternative to involved surgical procedures. FaceTite uses the RF to destroy target fat cells while rebuilding the tissue beneath the skin for long-lasting results. It certainly lives up to its name. It tightens up the face to create attractive-looking contours. Make your first impression count and give everyone you meet a one-two punch with killer good looks with a FaceTite treatment.
Dr. Abramson and his friendly staff will be glad to help you on your journey in revamping your look. Plan for a consultation in your calendar today! Or call any one of our offices located in the greater New York area: (212) 774-1828 (New York), (201) 731-3134 (Englewood), (201) 731-3134 (Englewood #2), or (201) 731-3134 (Franklin Lakes).
Benefits
Patients noted the quick and easy nature of the treatment. They have basked in the success of a brand new look with improved contours and firmer skin. Patients have also benefited from:
Increased confidence and quality of life.
Eliminates appearance of wrinkles, lines around the mouth, sagging jowls, and neck skin
Facilitates collagen production
Minimally invasive
Little downtime
Get to learn about the procedure in-depth with a consultation at any one of our four convenient offices in the greater New York City area.
About FaceTite
FaceTite offers patients an efficient and cost-effective way to tighten lax and sagging skin at their faces. The treatment does not require a whole lot. Patients can avoid extensive interventions, lengthy recovery times, or sutures. This minimally invasive technology simply firms up the face using a handheld device where electrodes go skin deep to target unwanted fat cells. Those same electrodes transmit fat-melting RF waves. The waves heat up and cause fat cells to melt away. FaceTite's high-temperature RF waves safely retract the skin and initiate the body's natural production of collagen. Your face will be left feeling firmer and tighter. No incisions are made and your healing time is much faster.
How Does FaceTite Really Work?
Two electrodes are used during the FaceTite treatment. One is at the tip of a thin wand that is inserted under the skin through a minute incision. The other lies above the skin using a U-shaped handheld device.  The slender internal wand does double duties by assisting in melting away fatty tissue and removing fat cells through a small cannula. Each of the electrodes is doing its part to melt fat down and tighten the facial structure. Temperatures of the internal electrode can reach up to 185°F and the external electrode reaches 135°F but the treatment does a great job of ensuring the comfort and safety of our patients. [1] The external electrode comes with special responders that communicate with the FaceTite's computer and can automatically turn the RF energy on or off when needed. This safe, prolonged exposure of thermal energy rejuvenates soft tissue that smoothes out your skin. [2]
Candidates
Patients wishing to upgrade their look by getting rid of unwanted fat, wrinkles, and loose skin may be great candidates for the treatment. Candidates are usually those who are interested in enjoying the benefits of a quick, minimally invasive, and low pain alternative to more involved measures. We can determine your candidacy for FaceTite during our one-on-one chat where we can discuss your skin and ultimate look. Come curious and learn about all the facets of FaceTite when you schedule a consultation with us.
Personal Consultation
Take a break from the hustle and bustle of city life and escape to an oasis of transformation and tranquillity. Our state-of-the-art offices in New York City, Englewood, or Franklin Lakes, invite patients to relax and know that they will be taken care of. When you check in, you will be greeted by our warm and knowledgeable staff. After filling out a few forms, you will be whisked away into one of our treatment rooms. You will meet board-certified surgeon Dr. David Abramson who will get to know you and your aesthetic concerns. He will ask you questions about your physical health and current medications. Then he will examine your face to see if you would benefit from FaceTite. Once complete, he will make a personalized treatment plan.
Get an insider's guide to the world of plastic surgery. Take a gander at our blog!
Dr. Abramson will prepare you for your experience to be efficient and easy. He will coach on the treatment outcome, provide you before/after photos from previous patients, and complete a to-do list before the surgery. If you think FaceTite can work for you, take the first step and schedule a consultation with one of our offices located throughout the city. We made it convenient for those who can't make it to our office. Try a virtual consultation from the comfort of your home! All you need to do is fill out the form and follow the prompts. It's that easy!
Preparation
There are a few things you can do to ensure a smooth ride during your treatment. Patients are asked to stop taking certain medications and supplements as they may conflict with the treatment. Let us know of any prescriptions you are taking so we can fully explore our options. Dr. Abramson may ask you to stop taking blood thinners and non-inflammatory OTC drugs such as ibuprofen in the days leading to your session to avoid complications. Please arrange to have someone you trust drive you home after treatment. It is best to do your shopping and pharmacy visits before your procedure.
Procedure
The FaceTite use of efficiency is second to none. It is constantly working its luminous energy to ensure that each RF wavelength and treatment area is catered to you. The handpiece is adjusted to target beneath the skin, and the anesthesia used will ensure that any discomfort is minimal. Dr. Abramson will make a small incision and will insert the long, thin electrode cannula under your skin. Its tip is designed specifically to target unwanted fat. While it passes through, RF alternates its direction while maintaining a consistent temperature that's good for your results and comfort. [3] Dr. Abramson will treat your chin, around the jawline, and cheeks in a steady but delicate manner.  
Recovery
The beauty of FaceTite is that it is an efficient procedure that doesn't involve downtime. The average time of the treatment of your lower face should take 15 minutes. [4]  Once complete, you'll be given a face and neck compression garment to wear. This is to maintain the results and lessen the swelling. Some bruising, swelling, and discomfort may be felt for 2-3 days following your treatment. You can go back to work within a week. 
Results
Patients may notice smoother skin. However, six months may pass until you see the full effects. You will begin to see attractive facial contours and a youthful look. The minor incision made during your treatment will heal quickly without the need for stitches or sutures. There are no side effects and as long as you maintain your results with regular exercising and healthy dieting you can keep the results for a long time.
Corresponding & Complementary Procedures
Why not go all the way with your new look by rewarding the upper portions of the face? As we age, fine lines appear in the forehead, cheeks, and eyes. Pamper yourself with our collection of dermal fillers. More and more people are finding these safe and effective treatments can help restore a face of yesteryear filled with youth, poise, and sophistication. These cosmetic methods do not require surgical intervention. They are injectables that help erase facial wrinkles and lines. Your consultation with Dr. Abrasion will let you know if you may benefit from these treatments. 
Botox, Radiesse, Restylane, Juvéderm, and Collagen have all done wonders for our patients in treating the areas around the eyes and eyebrows. They last for a month and create breathtaking results.
Cost
We understand the cost may be a determining factor in seeking treatment. However, a FaceTite is more attainable than you think. Our offices will work with you to safeguard your choice in creating a brand new you. Get pre-approved from several financing companies we partner with. In addition, we accept Visa, MasterCard, and American Express.
FAQ
Is FaceTite permanent?
Results produced from FaceTite are long-lasting. Results can be seen almost immediately but full results won't blossom until about the 6-month mark. Maintaining these results is key in ensuring their longevity. Results can last up to five years.
What is the difference between FaceTite and a facelift?
A facelift is a surgical procedure that enhances the face by repositioning the skin to give off a youthful appearance. Their results last up to 10 years. [5] FaceTite does not require surgery and uses RF energy and liposuction to tighten the skin. Results from this treatment last for up to five years.
References
Want to see your new you before the procedure?
With Crisalix's 3D imaging technology you can see how you would look post-procedure if full 3D.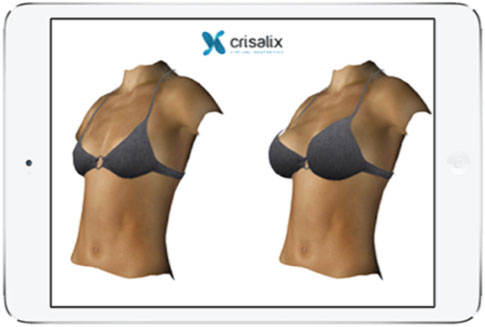 Learn More