Liposuction
Consultations offered at our three convenient locations in New Jersey, Bergen County and Englewood, NJ
Liposuction is one of the best-known techniques for reducing the amount of fat in the body and creating a sculpted and beautiful figure. Liposuction is extremely popular for its adaptability to different parts of the body, which allows patients to tackle many of their problem areas – sometimes several at once.
Dr. David Abramson has proudly built a practice that helps people of all shapes and persuasions to achieve the bodies they truly want. Set up a consultation with Dr. Abramson to discuss your candidacy for liposuction and take control of your appearance today.
What is Liposuction?
Liposuction, also known as lipoplasty or lipo, is one of the most popular cosmetic surgeries available today. The procedure removes excess fat deposits to slim and reshape localized areas of your body. Most liposuction patients choose the surgery to get rid of bulges that will not respond to diet and exercise.
Liposuction is intended to sculpt the body into a sexier, more streamlined form. However, bear in mind it is not an antidote for obesity and cannot replace good nutrition and exercise for long-term healthy weight and fitness. If you are at a decent body weight and wish to achieve a better shape in certain regions that exercise and diet have been unable to impact, liposuction may be a great solution for you.
Areas Addressed by Liposuction
Thighs
Hips and buttocks
Abdomen and waist
Upper arms
Back
Inner knee
Chest area
Cheeks, chin and neck
Calves and ankles
There are many reasons why this procedure is highly sought after. Perhaps liposuction's largest appeal is the fact that it actually removes a portion of your fat cells. As a result, lipoplasty patients usually do not regain fat in the treated areas.
For many years, Dr. David L. Abramson has watched the popularity of liposuction grow. He has vast experience with the procedure and is well-prepared to offer his services to residents of Manhattan and beyond. Please schedule a meeting with him today, so you can learn more about liposuction and what it can do for you.
How Does Liposuction Work?
A consultation with your doctor is the best way to calm any nerves you may have about the procedure, as they will be able to explain any possible risks and the best ways to mitigate them.
Liposuction is a surgical procedure that literally "sucks out the fat" from trouble areas on your body. This can help with sculpting and defining trouble areas, including the stomach, undersides of the arms, the thighs, and the buttocks.
The liposuction procedure involves your doctor identifying and marking the areas of your body with the most excess fat. Once you've decided on the fat removal spots, you'll have your choice of sedation. Either a general anesthetic or an intravenous sedation will have you relaxed and feeling comfortable as the doctor removes unwanted fat deposits.
From that point, a small, thin, hollow tube is inserted into tiny incisions. The doctor's movement of the cannula breaks up the fat deposits. Once the fat has been dislodged and broken into small pieces, the hollow tube essentially becomes a vacuum. All of your unwanted fat pockets start to be sucked away – and out of your life.
The most common side effect from liposuction is the appearance of excess skin where the fat once was. Your doctor can work with you on planning a follow-up procedure to eliminate that issue.
Liposuction Before & After Pictures
Lipoplasty is such a popular procedure that it is easy to find examples of the surgery's results. In fact, there is an abundance of New York and New Jersey liposuction before and after pictures that illustrate what is possible with the operation.
Before and After Photos
Why Choose Dr. David Abramson?
Open dialogue helps patients feel happier and more relaxed about working with the doctor, but it also makes their loved ones feel confident in his abilities.
Dr. David L. Abramson understands that many patients have concerns that need to be addressed, and he encourages both his patients and their families to talk with him about those concerns upfront.
In addition to working at Lenox Hill Hospital, Dr. Abramson also has an affiliation with the Englewood Hospital and Medical Center, which gives his patients more options when arranging their procedures.
Dr. Abramson researches new topics in plastic surgery and creates reports which are published in some of the top medical journals. Though best-known for the work he does in the operating room, Dr. Abramson also has a number of outside interests. When not working with patients, he enjoys hitting the links at the local golf courses, traveling around the world and spending time with both his wife and their dogs.
Is Liposuction Right for You?
Before you consider New York or New Jersey liposuction, please keep in mind that it is not a treatment for obesity, nor is it a substitute for diet and exercise. At most, lipoplasty can remove about 5 pounds of fat.
If you have realistic expectations for lipo, then you are on your way to being an appropriate candidate for the procedure.
In order to safely and effectively undergo liposuction treatment, you should make known all pre existing medical conditions and current prescriptions during your consultation visit with Dr. Abramson. Certain health problems could create a higher risk of complication during and after the procedure, and some incompatible medications may need to be lowered, altered, or stopped altogether in order to qualify you for lipo.
Criteria for Liposuction
You have tried diet and exercise.
You are a normal weight for your height.
You are in generally good health.
Your excess fat is in specific areas.
Your skin tone has reasonably good elasticity.
You have realistic expectations of what liposuction can accomplish.
Preparation & Recovery
In preparation for any kind of liposuction treatment, certain precautions should be taken, and Dr. Abramson will advise you about these beforehand. Be ready to avoid the following in the weeks leading up to your procedure:
Smoking
Anti-inflammatory medications (aspirin, ibuprofen, and their ilk)
Certain herbal supplements like St. John's Wort and Vitamin E
Adjust or stop taking prescription medications according to the doctor's instructions
Allowing plenty of time to rest during the first few days after the treatment is essential for good, complication-free healing.
The recovery period for liposuction is fairly short and patients should be able to return to a normal schedule within one to two weeks. During recovery you may experience some swelling and/or bruising in the affected region. In some cases the swelling may take a few weeks to fully go down and your brand new, shapely body will be fully visible. However, any bruising and puncture wounds should vanish more quickly and lingering pain can be treated with some doctor-recommended medications.
You will be placed in a compression garment after the procedure is completed; this will help reduce any swelling and ensure that your newly sculpted body maintains the desired curves. Dr. Abramson will discuss the protocol for follow-up appointments with you to check up and make sure the sites are healing up well and the procedure has given you the results you were looking for.
Surgery
There are two common methods available for lipo, although new techniques continue to be developed. The first, tumescent liposuction, involves large volumes of saline solution injected into the fat cells to break them apart. Another technique, ultrasound-assisted liposuction, uses sound wave vibrations to rupture the cells and liquefy the fat. Both methods require incisions and the insertion of a thin hollow tube called a cannula that vacuums up the dislodged material.
When you meet with Dr. Abramson, he will go over all the lipo techniques and advise you on which he thinks would be best. His expertise and guidance have been instrumental in enhancing the lives of men and women from New York City, Englewood, Manhattan and beyond.
Other Procedures
There are several other cosmetic options related to liposuction that patients may benefit from knowing about. For instance, liposuction is often done in conjunction with a tummy tuck or Mommy Makeover, which are surgical procedures designed to further enhance the contours of the body. Tummy tucks sometimes include liposuction, as the surgery in and of itself does not remove fat, but simply removes excess skin and tightens up the area to create a more pleasing shape.
CoolSculpting is non-invasive fat removal method that targets fat cells with cold temperatures, freezing and eradicating them entirely. While this procedure does not require anesthesia, it does not have the same fat-reducing capacity that liposuction does, and may therefore require more sessions to get the results you want.
Cost
Liposuction can be performed on almost any part of your body, so cost will vary. For your financing needs, Alphaeon™ and Prosper® ware offered. To get a better idea of what liposuction prices would be for you, please set up a visit with Dr. Abramson. Dr. Abramson and his staff will discuss the procedure in full and will answer any questions you may have about costs and your budget.
Want to see your new you before the procedure?
With Crisalix's 3D imaging technology you can see how you would look post-procedure if full 3D.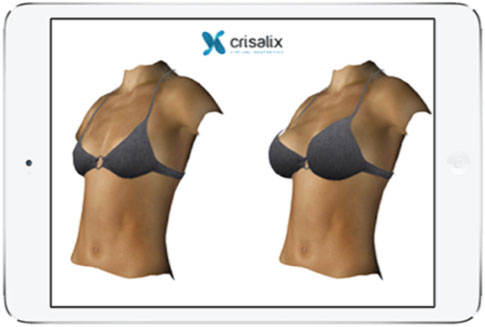 Learn More