Abdominal Liposuction
Consultations offered at our three convenient locations in New Jersey, Bergen County and Englewood, NJ
Liposuction is a minimally invasive surgical procedure that can remove unwanted fat from the abdomen. The abdomen is at the very center of our bodies, and as such, can be a conspicuous source of dismay. Whether aging, lifestyle, or pregnancy has left you with a less than desirable silhouette, liposuction can be a permanent solution. Liposuction isn't a weight loss solution, but it can target and eliminate specific stores of fat. Abdominal liposuction can help both men and women achieve their aesthetic ideal by smoothing their contours. Transform your waistline and your confidence. Dr. David L. Abramson can help. Dr. Abramson is an esteemed New York City plastic surgeon that specializes in rejuvenating and transformative procedures. If you can't bear your belly for another minute, don't wait. Schedule a personal consultation. Dr. Abramson has offices in New York City and Englewood, New Jersey. You can reach our Manhattan office by calling (212) 774-1828, and 201-731-3134 to speak to staff in Englewood.
Before and After Photos
About Abdominal Fat
People of all ages and genders consider their abdomen a "trouble spot." It's one of the most difficult parts of the body to sculpt, and the body can quickly build on a deposit of fat there. It may be aggravating, but it is unfortunately how the human body is equipped to survive. Abdominal fat acts as a fuel store and insulates and protects our internal organs. This was essential when we were living in caves, but the conveniences of modern life have made this more of an inconvenience than an evolutionary asset. But it's more than an inconvenience. In fact, large amounts of fat around the abdomen is an indicator of the risk of diabetes and cardiovascular disease. (1)
There are several different kinds of fat in the body, and each plays a unique role (or roll) in the body. Liposuction addresses deposits of subcutaneous fat.
Abdominal Liposuction Considerations
The abdomen requires special attention because of its unique qualities. Dr. Abramson has published extensively on plastic and reconstructive surgery, including abdominal procedures. (2)
The abdomen is:
Home to our vital organs
Has uniquely textured skin
A complex system of underlying musculature
Has multiple flexion points
Is constantly expanding and contracting
Subject to changes during pregnancy and weight fluctuations (3)
These are all important considerations when seeking to sculpt an aesthetically pleasing abdomen.
To learn more about Dr. Abramson and the services he offers patients in the New York area, spend some time with his blog.
Benefits
Liposuction is a highly sought-after cosmetic procedure because it can be customized to address a patient's aesthetic concerns. In fact, over 200,000 liposuction procedures were performed in 2020 alone, according to the American Society of Plastic Surgeons. You're in good company if you're thinking about finally doing something about your pesky abdominal fat.
Benefits of liposuction to the abdomen include:
Ability to tailor the procedure to target specific trouble spots
Low-risk, outpatient procedure
Fat cells are permanently eliminated for long-lasting results
Better abdominal muscle visibility and definition
Sleeker contours
Ability to wear tailored or revealing clothing more comfortably
Increased confidence and improved self-image
Candidates For Abdominal Liposuction
Ideal candidates for liposuction are in good health, and near their target weight. Liposuction is not a way to lose weight, but it can diminish those lingering love handles or pesky "pooch." This procedure is a permanent way to address areas that exercise and diet haven't affected. It's important to have realistic expectations about what liposuction can do for you and to understand the procedure – as it is before undergoing any cosmetic surgery. If you're ready to learn more about liposuction for the abdomen and to find out whether this procedure is right for you, contact Dr. Abramson's offices to schedule a personal consultation. Whether you head uptown or out to New Jersey, you'll be taking the important first step to look and feel your best.
Personal Consultation
Your personal consultation with Dr. Abramson is your chance to get to know one another and discuss your aesthetic preferences. Every patient has a unique anatomy, lifestyle, and desires, and Dr. Abramson makes it a point to achieve a comprehensive understanding of his patients' goals in order to deliver optimal results. He'll review your medical history and examine your abdomen to determine if liposuction is the best solution for you. If it's not, he'll be able to suggest effective alternatives, such as CoolSculpting. If liposuction is the best way to get you the abdomen of your dreams, he'll design a personalized treatment plan that meets your needs.
Preparing for Liposuction
It's important to Dr. Abramson and his staff that you are confident about your decision, and committed to preparing effectively for your procedure. You'll be given detailed instructions on what to do in the days and weeks leading up to your appointment. As will be the case with your recovery, adhering to these helpful guidelines will ensure that you have the best results and a quick healing time.
Before your liposuction procedure:
Arrange a comfortable, quiet place to recover
Pick up necessary medications in advance
Arrange for a family member or friend to drive you to and from your surgery. Or, schedule reliable private transportation and have them escort you each way.
Have someone stay with you for the first 24 hours after your procedure to assist
Make sure that all necessities are on hand and easily accessible
Schedule time off from work and other obligations
Organize a loose, comfortable wardrobe
Making sure that your body is in prime condition before your surgery will ensure that your procedure and recovery go smoothly. You will need to discontinue certain medications and supplements and quit smoking several weeks before your procedure. Make sure to get plenty of rest and be well-hydrated the night before.
Procedure
When you arrive for your liposuction, a few things will happen before Dr. Abramson begins:
You'll have the opportunity to ask any last-minute questions
He'll review the steps of your procedure
The areas being treated will be cleansed and marked
You'll be administered anesthesia to ensure that you are resting comfortably
Dr. Abramson will make small incisions that will allow him to access the areas where liposuction will be performed. He'll then inject the areas with tumescent fluid. This fluid prevents excessive bleeding, delivers a long-lasting numbing effect, and allows the fat to be removed more easily. Once this solution has taken effect, Dr. Abramson will slide the long, slender tube of the cannula into the incision to begin sucking the fat away, and sculpting your new abdomen. Once he's achieved a flat, smooth effect and the contours you've agreed on, your abdomen will be dressed with bandages and a compression garment, and your recovery will begin.
Recovery
One of the advantages of tumescent liposuction is its extended numbing effect, so you should continue to be numb for the rest of the day after your procedure. In the days that follow, you'll be able to take a pain medication that Dr. Abramson prescribes, along with your antibiotics, to relieve any discomfort. You'll return to Dr. Abramson's offices for follow-up appointments so that he can monitor your progress and examine how your incisions are healing. It's normal to experience bruising and swelling after your procedure, but this will improve as you continue to recover. Movement will become easier, and you will be able to return to a sedentary job or other activities in about a week.
Results
Your sleek new contours and flat belly will slowly emerge over the next few weeks, as swelling subsides. Although you may have been noticing a difference in your silhouette, by the six-week mark, your improvement will be significant! Most patients are able to fully appreciate their final results at about three months after their liposuction, when healing has progressed. (4) Break out the bikinis! Although liposuction permanently removes existing fat, it's up to you to maintain a healthy lifestyle to ensure that you'll still be able to enjoy your results long-term.
How Much Does Abdominal Liposuction Cost in New Jersey?
Your liposuction procedure will be tailored to address your individual concerns. The price of abdominal liposuction will depend upon the number of areas being treated, and the extent of the liposuction. After meeting with you for your personal consultation, Dr. Abramson will be able to give you an accurate estimate for your procedure. Financing options are available. Our staff is ready to answer any questions, and arrange your consultation. Call (212) 774-1828 to reach our Manhattan location, and 201-731-3134 to speak to staff in Englewood.
References
Want to see your new you before the procedure?
With Crisalix's 3D imaging technology you can see how you would look post-procedure if full 3D.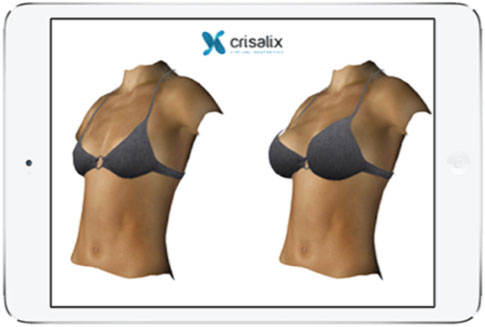 Learn More