CoolSculpting
Consultations offered at our three convenient locations in New Jersey, Bergen County and Englewood, NJ
Want to eliminate fat for good? CoolSculpting is a non-surgical, non-invasive, FDA approved treatment that destroys fat cells with the use of cold temperature.
No anesthesia, no needles, and no downtime.
What is CoolSculpting?
Many of us that are at a relatively normal body weight still struggle with stubborn pockets of fat throughout the body – whether it be that extra roll on your stomach or saddlebags on your thighs. And for those of us who want to rid our bodies of these pesky pockets of fat without an invasive procedure, CoolSculpting is the answer.
CoolSculpting is the only non-surgical, non-invasive, FDA cleared fat reduction treatment on the market. This procedure offers peace of mind by offering similar results without the surgical aspect or downtime.
Using a controlled cooling method known as Cryolipolysis, CoolSculpting by Zeltiq™ is a non-invasive alternative to liposuction that works to target, cool, and eliminate fat cells in the body. Within two to four months following the procedure, the "crystallized" fat cells will essentially break down and be eliminated from the body.
Dr. David L. Abramson is thrilled to be offering CoolSculpting by Zeltiq to his patients in New York City, Manhattan, Englewood, NJ, and the surrounding areas. Call today to discuss CoolSculpting prices, to check out some before and after pictures, and to see how you can benefit from the procedure.
How it Works
In the early 2000's, a couple of scientists at Harvard University noticed that when children ate popsicles, they got dimples in their cheeks. After considering the possibilities why this occurred, it was then realized that the popsicles were actually freezing and eliminating fat cells in the cheeks. The idea of cold targeting fat cells was then generated, or cryolipolysis.
Cryolipolysis is the science behind the CoolSculpting treatment, which delivers controlled cooling at 4 degrees Celsius from a variety of shaped applicators to target localized fat deposits. This treatment does not reduce the size of fat, but actually destroys them by freezing them.
Fat is stored inside of cells, which are what increase and decrease with weight fluctuation. Once frozen, the fat cells collapse and the fat that was stored inside of it is released. Over the next few weeks the body naturally processes and eliminates the fat and dead cells. Once the cells are eliminated, they cannot grow back. This however does not mean that surrounding fat cells in untreated areas will not grow, so it is important to maintain a healthy lifestyle to ensure lasting results.
CoolSculpting does not harm the overlying skin or surrounding tissue. It is actually the only system of its kind with built-in safety measures. Gentle cool temperature delivery is controlled and focuses solely on subcutaneous fat, and the system will automatically shut itself down if the sensors detect the skin is getting too cold.
Fat Reduction vs Weight Loss
Fat reduction and weight loss are two different things. The amount of fat cells in our bodies becomes a fixed number around our teenage years. Losing or gaining weight does not change the number of the fat cells, but rather the size of them. Fat from the food you eat gets digested, and the necessary amount of processed fat is used as an energy source for your body. When there is excess fat, it gets stored in fat cells which expand in size.
When you lose weight after dieting or exercising, the fat cells in your body decrease in size as opposed to being destroyed as some may think. And alternatively when you gain weight, the fat cells get bigger. A CoolSculpting treatment actually eliminates fat cells from treatment areas by about 25% in one session. And once destroyed they are gone for good; they do not migrate or grow back. Fat cell eliminating treatments like CoolSculpting are the only way to destroy fat cells; people are not able to do so by their own means.
Benefits
Non-Invasive Technique
No Needles
No Anesthesia
No Surgery
No Downtime
CoolSculpting gives similar results to procedures such as liposuction without the harsh elements of a surgical procedure. You are able to come in for a treatment during your lunch break and go right back to work with no worries.
Why Choose Dr. David Abramson?
Few doctors in the area have the same level of experience and skill as Dr. Abramson, which makes him a top local choice.
When choosing a new doctor for a plastic surgery procedure, many patients look at the education and training of various doctors before making a final decision. Dr. David A. Abramson's educational background is second to none.
After receiving a degree from The Johns Hopkins University, he moved to the New York University of Medicine. The other students in his class respected him so much that they elected him President. After leaving college, Dr. Abramson worked at the State University New York Health Science Center at Brooklyn. Feeling that he needed more experience in reconstructive surgery, he spent some time working with kids, adults and patients of all ages at a number of respectable hospitals and medical centers. He also spent some time training the next generation of doctors at Harvard.
Treatment Areas
CoolSculpting is FDA approved for treating the:
Abdomen
CoolSculpting for the abdomen leaves men and women with a flatter stomach and noticeably contoured abs. Before it was approved for abdominal use in 2012, the only options for a defined midsection were invasive surgical procedures like liposuction or a ton of sit ups which hardly fight against stubborn fat deposits like the lower belly pooch. CoolSculpting is a great alternative to the aforementioned treatments with clinically proven results.
Flanks
A number of women and men experience unsightly love handles, or flanks, that hours in the gym cannot reduce. CoolSculpting offers a variety of applicators to fit all shapes and sizes so you can rest assured that we will have an applicator to fit your shape and slim your waist.
Inner/Outer thighs
The ever so sought out thigh gap is now in reach. CoolSculpting can treat both the inner and outer thighs, revealing slim, contoured legs. Leg workouts often times cannot reduce the fat deposits that form around the upper inner and outer thigh, which women are genetically predispositioned to gain, although some men experience this too. Thigh CoolSculpting offers a pain-free, non-invasive alternative to other thigh fat reduction methods.
Am I a Good Candidate?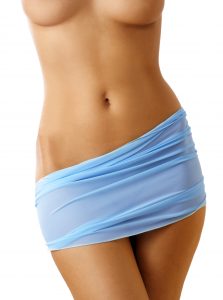 It is important to note that CoolSculpting is not a weight loss solution.
The best candidates for the CoolSculpting procedure are those who are of relatively normal body weight (within 10 to 15 pounds of their ideal weight) and are looking to eliminate any noticeable bulges, bumps or pockets of fat that won't disappear through diet and exercise alone. Eating well and continually working out is necessary to maintain results and keep surrounding fat cells small, so you must be dedicated to living a healthy lifestyle.
If you are overweight and wish to address large amounts of fat, liposuction may be a better solution. But if you have specific areas of the body that do not respond to diet or exercise that you'd like to address, you could be a good candidate for CoolSculpting. Feel free to schedule a consultation today and see if CoolSculpting is the right procedure for you.
Consultation
You will have a private one-on-one consultation where you will have the opportunity to explain the problem areas on your body you would like to address. Dr. Abramson will perform a thorough examination of your body to assess if CoolSculpting can benefit those specific areas, or any additional areas. Dr. Abramson is specially trained in CoolSculpting, and will work with you to determine the optimal treatment plan that will best suite your needs. In some cases just one treatment session can accomplish your aesthetic goals. And since there are a variety of applicators to choose from, each patient is assured a treatment session that will compliment their body. Dr. Abramson will explain the CoolSculpting session in full so you are fully aware of all aspects of your treatment. Any and all questions will gladly be answered at this time, including pricing inquiries.
If you want natural results with no surgery, drugs, pain or recovery time, CoolSculpting by Zeltiq may be for you. Talk with your doctor today to discuss your medical history and to learn more about the procedure.
Treatment Process
The entire procedure lasts around one to two hours, and there's no need for anesthesia or sedation. The process begins with a protective gel applied on the treatment area. The doctor will position the system on the patient's targeted area, drawing the "bulge" up between two cooling panels. The patient will then feel an extreme cold sensation on the area, which disappears fairly quickly.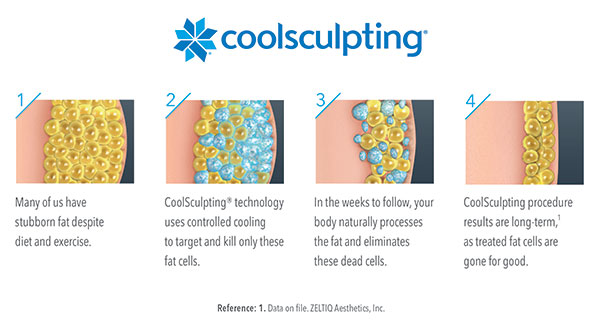 During the first few minutes you generally will feel some tugging and an intense cooling sensation. This quickly subsides though and the treatment area will become numb. There is no need for sedation, so patients often check emails, watch a movie, and some even take a nap. The CoolSculpting by Zeltiq procedure has been reported to reduce the fat layer of problem areas by 20 percent with just one session.
Recovery / Results
One of the best parts about the CoolSculpting procedure is that there is no down time. Because it is completely non-invasive, patients are able to return to work and normal daily activities immediately. Some New York CoolSculpting patients have reported some minor redness, bruising, numbness or tingling of the treatment area following the procedure, but this will disappear shortly. Most CoolSculpting patients have seen results in as little as three weeks. However, results are typically the best after about two months, and the body continues to expel fat cells for up to four months.
Price
Our friendly and knowledgeable staff members are on hand to discuss CoolSculpting prices, as well as any other aspect of your desired procedure. For your financing needs, Alphaeon™ and Prosper® are offered. Since treatment will vary from patient to patient, we suggest contacting our offices today to set up your one-on-one consultation with Dr. Abramson.
Want to see your new you before the procedure?
With Crisalix's 3D imaging technology you can see how you would look post-procedure if full 3D.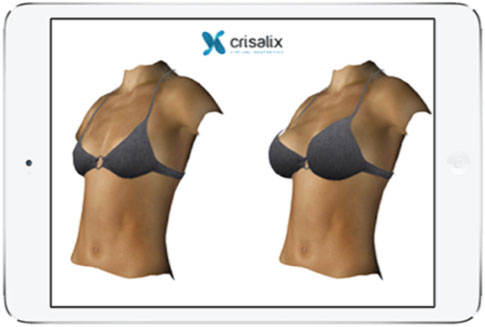 Learn More