Facial Fat Transfer
Consultations offered at our three convenient locations in New Jersey, Bergen County and Englewood, NJ
Facial fat transfer provides patients with improved facial contours by using natural augmenting material: the patient's own fat! Also called facial fat grafting or fat transfer to the face, these terms all describe the process of using the body's fat cells to add volume to the face. The results are a plumped appearance, diminished facial lines and creases, and an overall youthful look.
Dr. David L. Abramson is one of the top facial fat grafting doctors in New Jersey and New York. Not only is he recognized as one of the top plastic surgeons in Englewood, Franklin Lakes, and New York City, he carefully selects the non-surgical treatments that will be most effective for his patients.
Are you ready to add youthful volume to the face while slimming other areas of your body? Then, contact Dr. Abramson for a consultation in New Jersey and get started! Fill out this form to schedule a virtual consultation or call our Englewood offices at (201) 731-3134, Franklin Lakes at (201) 731-3134, or our New York office at (212) 774-1828.
Before and After Photos
More About Facial Fat Transfer
Facial fat transfer is a safe and effective way to achieve a more youthful appearance. The beauty of this method of facial rejuvenation is that it uses the patient's own body fat to add volume to the face, and the removal of fat can automatically slim any problem areas. Fat can be taken from places such as the thighs, buttocks, or abdomen and injected into the face. Facial fat transfers can also soften the appearance of scars, especially from acne.
The fat is first harvested from the body using liposuction or a specialized syringe. Then, the fat is cleaned and purified before it is selectively injected into the patient's face at the desired locations; this procedure provides the patient with natural-looking, long-lasting results.
The Aging Face
Due to aging, genetics, and other factors, the face is one of the body's quickest – and most noticeable – parts to lose volume. This volume loss is caused by a decrease in collagen production, which leads to a thinning of the skin and a loss of support for the underlying structures. Additionally, bone resorption causes the brow and cheekbones to flatten and recede; this can lead to deep facial lines and creases and the appearance of hollowed-out cheeks and eyes. Furthermore, the skin on the face begins to sag, deepening the appearance of wrinkles and creases.
What are the Benefits of Facial Fat Transfer?
Facial fat transfer is a minimally-invasive procedure using the patient's body fat to add volume to the face, which provides many benefits over other types of facial rejuvenation procedures, such as:
No risk of an allergic reaction because fat is autologous.
Barely visible scarring because we make minimal incisions for cannula insertion.
The procedure is relatively quick, taking only about 1-2 hours.
Reduces the appearance of deep creases, wrinkles, and fine lines.
Restores volume to cheeks and underneath the eyes.
Decrease the appearance of scarring.
Ability to contour other parts of the body through liposuction.
The results are long-lasting and do not require synthetic materials like what some dermal fillers or implants contain. Best of all, especially in the hands of a surgeon like Dr. Abramson, with his vast understanding of facial anatomy, the results are beyond natural-looking!
Candidates
Many patients interested in restoring volume and youthfulness to their face through fat grafting may be good candidates.
In general, patients should:
Be in good health and have realistic expectations for what can be achieved from the procedure.
Understand that some lines and wrinkles will remain on the face due to the natural movement of the face. Without these lines, the face may appear strained or unnatural.
Be at a stable body weight; significant weight fluctuations can negatively impact the patient's results.
Have some fat deposits for the liposuction portion of the procedure; very thin patients may not qualify.
To find out if you would be a good candidate for a facial fat transfer, please contact Dr. Abramson at one of his offices in New York or New Jersey to request a consultation.
Personal Consultation
Patients interested in facial fat transfer should start by scheduling a consultation with Dr. Abramson at one of his practice locations in Englewood, Franklin Lakes, NJ; or New York City.
At the time of the consultation, Dr. Abramson will discuss the areas of concern. He will ask why the patient is interested in a facial fat transfer and what they hope to achieve from the procedure. He will also conduct a physical examination to determine whether the patient is a good candidate for the procedure.
Following the examination, Dr. Abramson will work with the patient to develop a personalized treatment plan that works best for the patient's body and lifestyle. Depending on the patient's unique case, Dr. Abramson may recommend dermal fillers, Botox, or a combination of treatments to help ensure the best outcome.
Contact Dr. Abramson today to find out how you could take years off your face through facial fat transfer!
The Facial Fat Transfer Procedure
A fat transfer procedure is unique because it allows patients to repurpose stubborn pockets of fat. Fat will be harvested from the body, allowing the patient to sculpt areas that may be resistant to diet and exercise. The location of the donation site(s) will be discussed before the procedure, and donor locations can include:
Arms
Back
Abdomen
Flanks (love handles)
Buttocks
Inner and outer thighs
Knees
Liposuction can be performed anywhere on the body where the patient has excess fat deposits.
Step One: Liposuction
Before the fat transfer can begin, Dr. Abramson will collect fat from the patient's body using liposuction. Liposuction, one of the most commonly performed cosmetic procedures, is even more effective by including a tumescent solution. [1] The tumescent solution will help minimize postoperative discomfort and make the fat easier to collect from the body. The term "tumescent liposuction" means there is no need for additional anesthesia; the patient is totally under local anesthesia. [1]
Then, a cannula, or hollow needle, will be inserted through the small incisions, and the fat cells will be suctioned from the body, leaving the patient with an improved contour in any location treated.
Depending on how much fat Dr. Abramson will need to perform a successful facial fat graft, he may perform liposuction on more than one area of the body.
Step Two: Fat Purification
Next, Dr. Abramson will transfer the fat into a centrifuge through a closed circuit, handling the fat cells very gently to avoid disrupting the cell membranes. The centrifuge will separate the pure fat cells from the tumescent fluid and blood. Then, again using a closed system, the purified fat will be transferred into small specialty syringes for injection.
Step Three: Injection
Finally, Dr. Abramson will inject the fat into the predetermined locations on the face to add long-lasting, youthful volume. The fat will be injected in small increments at varying depths to ensure that the newly grafted fat cells acquire an adequate blood supply and will take to their new locations. [2]
Recovery from Facial Fat Transfer
Following the procedure, patients should expect bruising and swelling around the liposuction and injection sites. The swelling will be most significant in the face because the skin there is much more delicate. Therefore, patients should take about 1-2 weeks to let the swelling and bruising fully dissipate. After this time, any remaining bruising or swelling can be covered up with makeup.
Patients may be provided with medications to minimize discomfort following the procedure. However, if they wish to take over-the-counter pain medication, anti-inflammatory medications, including ibuprofen, Advil, and naproxen, should be avoided. Instead, we suggest sticking to Tylenol. A cold compress can also treat bruising, swelling, and discomfort.
What are the Results of Facial Fat Transfer in New York?
No matter how careful any doctor is when handling the harvested fat, not all of the fat will take to the newly grafted locations. Therefore, every doctor will need to overcompensate slightly with their injections to ensure that the patient achieves their desired results. The fat cell survival rate will vary from patient to patient, depending on several factors.
At the consultation time, Dr. Abramson will work with the patient to get an accurate idea of what can be achieved through facial fat grafting for their case.
Final results will be seen in about 6-12 months, and the results will be long-lasting. Therefore, it is perfectly safe for patients to undergo future fat grafting procedures if they desire more augmentation.
Fat Transfer vs. Dermal Fillers
A fat transfer procedure is an alternative to dermal fillers, which can also be used to soften the appearance of certain facial lines and add volume to the face.
Dermal fillers, while very effective, will not last as long as facial fat transfer results. To maintain results from dermal fillers, patients will need to return for routine injections. However, the temporary effect of dermal fillers may be attractive for candidates who are not ready to commit to long-term treatment.
Dr. Abramson offers the following types of fillers to meet his patients' needs:
Collagen-Based Fillers
Collagen-based fillers can be used to reduce signs of aging and add volume to the face, even augmenting the lips. Collagen fillers typically last about three months.
Hyaluronic Acid-Based Fillers
Hyaluronic acid-based fillers, such as Restylane and Juvéderm Voluma, add support and structure underneath the skin to correct signs of volume loss. The results can last from six months to two years.
Calcium Hydroxyapatite-Based Fillers
Radiesse is the most commonly used calcium hydroxylapatite-based filler. It can add facial volume, decrease the appearance of lines and wrinkles, and soften the appearance of scars. The results can last up to two years.
Renuva is a dermal filler that is made from fat cells and is a ready-to-use injectable. Patients who are unwilling to undergo a fat harvesting procedure, or only want small improvements in volume can opt for Renuva as a more convenient and comfortable alternative.
Corresponding and Complimentary Procedures
A fat transfer is a suitable procedure for patients interested in restoring volume to the face, diminishing the appearance of scars, or correcting the appearance of overly prominent static lines and wrinkles. However, it will not have as much of an effect on dynamic lines and wrinkles, including crow's feet and frown lines. These lines are better treated by a neurotoxin that will relax the muscles, such as Botox.
Botox can easily be combined with facial fat transfer or dermal fillers for overall rejuvenating effects. At the consultation time, Dr. Abramson can advise the patient on the best injectable or combination of injectables that will help them achieve their cosmetic goals.
What is the Cost of Fat Transfer in New Jersey?
The cost of fat transfer in New Jersey and New York will vary depending on several factors, including the number of areas being treated and the amount of fat that needs to be harvested. During the consultation, Dr. Abramson will provide the patient with an estimate of the total cost of treatment. Schedule a virtual consultation or call our, Englewood at (201) 731-3134, Franklin Lakes at (201) 731-3134, or the New York office at (212) 774-1828.
References
Venkataram J. Tumescent liposuction: A review. Journal of Cutaneous and Aesthetic Surgery. 2008;1(2):49. doi:10.4103/0974-2077.44159
KRANENDONK S, OBAGI S. Autologous Fat Transfer for Periorbital Rejuvenation: Indications, Technique, and Complications. Dermatologic Surgery. 2007;33(5):572-578. doi:10.1111/j.1524-4725.2007.33116.x
Want to see your new you before the procedure?
With Crisalix's 3D imaging technology you can see how you would look post-procedure if full 3D.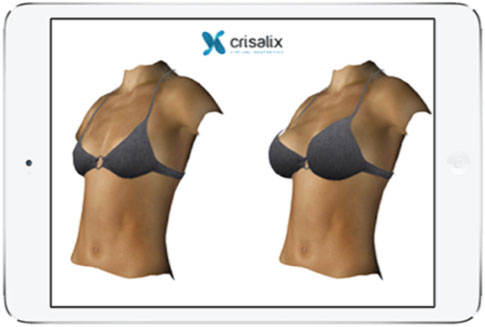 Learn More