Facial Fat Transfer
Consultations offered at our three convenient locations in New Jersey, Bergen County and Englewood, NJ
Facial fat transfer provides patients with improved facial contour by using natural augmenting material, the patient's own fat! Dr. Abramson is one of the top facial fat grafting doctors in New York and New Jersey, adding youthful volume to the face while slimming other areas of the body. Contact Dr. David Abramson in New York City, Englewood, or Franklin Lakes to request a consultation and get started!
About Facial Fat Transfer
Facial fat transfer, also called facial fat grafting or fat transfer to face, is the process of using the body's own fat cells to add volume to the face. Due to aging, genetics, and other factors, the face is one of the quickest – and most noticeable – parts of the body to lose volume. This can lead to deep facial lines and creases and the appearance of hollowed out cheeks and eyes. Facial fat transfers can also be used to soften the appearance of scars, especially from acne.
These aforementioned signs of aging can be diminished and corrected with a facial fat transfer. During this procedure, the fat is first harvested from the body using a liposuction technique. Then, the fat is cleaned and purified before it's injected into the patient's face at the desired locations. This procedure provides the patient with natural looking, long lasting results.
Benefits of Facial Fat Transfer
Reduces the appearance of deep creases, wrinkles, and fine lines
Restores volume to cheeks and underneath the eyes
Decrease the appearance of scarring
Ability to contour other parts of the body through liposuction
Long lasting results
Minimally invasive
No synthetic material, such as from dermal fillers or implants
Natural looking
Fat Transfer vs Dermal Fillers
A fat transfer procedure is an alternative to dermal fillers, which can also be used to soften the appearance of certain facial lines and add volume to the face.
Dermal fillers, while very effective, will not last as long as facial fat transfer results. In order to maintain results from dermal fillers, patients will need to return for routine injections. However, the temporary effect of dermal fillers may be attractive for candidates who are not ready to commit to a long-term treatment.
Dr. Abramson offers the following types of fillers to meet his patients' needs:
Collagen: Collagen-based fillers can be used to reduce signs of aging and add volume to the face, even augmenting the lips. Collagen fillers typically last about three months.
Hyaluronic acid: Hyaluronic acid-based fillers, such as Restylane and Juvéderm Voluma, add support and structure underneath the skin to correct signs of volume loss. The results can last from six months to two years.
Calcium hydroxylapatite: Radiesse is the most commonly used calcium hydroxylapatite-based filler. It can be used to add facial volume, decrease the appearance of lines and wrinkles, and soften the appearance of scars. The results can last up to two years.
Fat Transfer vs Botox
A fat transfer is a good procedure for patients who are interested in restoring volume to the face, diminishing the appearance of scars, or correcting the appearance of overly prominent static lines and wrinkles. It will not have as much of an effect on dynamic lines and wrinkles, including crow's feet and frown lines. These lines are better treated by a neurotoxin that will relax the muscles, such as Botox.
Botox can easily be combined with facial fat transfer or dermal fillers for overall rejuvenating effects. At the time of the consultation, Dr. Abramson will be able to advise the patient on the best injectable or combination of injectables that will help them achieve their cosmetic goals.
Good Candidates
Many patients who are interested in restoring volume and youthfulness to their face through fat grafting may be good candidates. Since the fat cells are obtained from the patient's own body, there is no chance for an allergic reaction.
In general, patients should be in good health and have realistic expectations for what can be achieved from the procedure. They should understand that some lines and wrinkles will remain on the face due to the natural movement of the face. Without these lines, the face may appear strained or unnatural.
Patients should be nonsmokers. They should also be at a stable body weight; significant weight fluctuations can negatively impact the patient's results. Patients must have some fat deposits for the liposuction portion of the procedure, so very thin patients may not qualify.
To find out if you would be a good candidate for a facial fat transfer, please contact Dr. Abramson at one of his offices in New York or New Jersey to request a consultation.
Donor Locations
A fat transfer procedure is unique because it gives patients the opportunity to essentially repurpose the fat in their bodies. The fat will be harvested from the body using liposuction, allowing the patient to sculpt areas that may be resistant to diet and exercise.
Donor locations are the areas on the body where Dr. Abramson will perform liposuction to harvest fat for the procedure. Liposuction can be performed anywhere on the body where the patient has excess fat deposits. Some of the locations where liposuction can be performed include:
Arms
Back
Abdomen
Flanks (love handles)
Buttocks
Inner and outer thighs
Knees
Nonetheless, the best place to perform liposuction will depend on the patient's unique case. This will be discussed in further detail at the time of the consultation after Dr. Abramson performs an examination.
Procedure
First, Dr. Abramson will collect fat from the patient's body via liposuction. Using very small incisions around the donor locations, the doctor will first infiltrate the areas with tumescent solution. The tumescent solution will help minimize postoperative discomfort and will also make the fat easier to collect from the body. Then, a cannula will be inserted through the small incisions and the fat deposits will be suctioned from the body, leaving the patient with improved contour.
Depending on how much fat Dr. Abramson will need in order to perform a successful facial fat graft, he may perform liposuction on more than one donor locations.
Dr. Abramson handles the fat cells very gently, as to not disrupt the cells membranes. Through a closed circuit, Dr. Abramson will transfer the fat into a centrifuge. The centrifuge will separate the pure fat cells from other material in adipose fat, including tumescent fluid and blood. Then, again using a closed system, the purified fat will be transferred into small specialty syringes for injection.
Finally, Dr. Abramson will inject the fat into the predetermined locations on the face in order to add long-lasting, youthful volume. The fat will be injected in small increments at varying depths. This will ensure that the newly grafted fat cells acquire a requisite blood supply and will therefore take to their new locations.
Recovery
Following the procedure, patients should expect some bruising and swelling around the liposuction and injection sites. The swelling will be most significant in the face, because the skin there is much more delicate. Patients should plan on taking about 1-2 weeks off from work in order to let the swelling and bruising fully dissipate. After this amount of time, any remaining bruising or swelling can be covered up with makeup.
Patients may be provided with medications to aid in minimizing discomfort following the procedure. If they wish to take an over-the-counter pain medication, anti-inflammatory medications including ibuprofen, advil, and naproxen should be avoided. We suggest sticking to Tylenol. Bruising, swelling, and discomfort can also be treated with a cold compress.
Results
No matter how careful any doctor is when handling the harvested fat, not all of the fat will take to the newly grafted locations. Every doctor will need to slightly overcompensate with their injections in order to ensure that the patient achieve their desired results. Final results will be seen in about 6-12 months, and the results will be long-lasting. It is perfectly safe for patients to undergo future fat grafting procedures if they desire more augmentation.
The fat cell survival rate will vary from patient to patient, depending on a number of factors. At the time of the consultation, Dr. Abramson will work with the patient to get an accurate idea of what can be achieved through facial fat grafting for their individual case.
Consultation
Patients interested in facial fat transfer should start by scheduling a consultation with Dr. Abramson at one of his practice locations in New York City, NY, Englewood, or Franklin Lakes, NJ.
At the time of the consultation, Dr. Abramson will talk to the patients about their areas of concern. He will ask them why they are interested in a facial fat transfer and what they hope to achieve from the procedure. He will also conduct a physical examination in order to determine whether or not the patient would be a good candidate for the procedure.
Following the examination, Dr. Abramson will work with the patient to develop a personalized treatment plan that works best for the patient's body and lifestyle. Depending the the patient's unique case, Dr. Abramson may recommend dermal fillers, Botox, or a combination of treatments to help ensure the patient meets their goals.
In order to find out how you could take years off your face through facial fat transfer, contact Dr. Abramson today!
Want to see your new you before the procedure?
With Crisalix's 3D imaging technology you can see how you would look post-procedure if full 3D.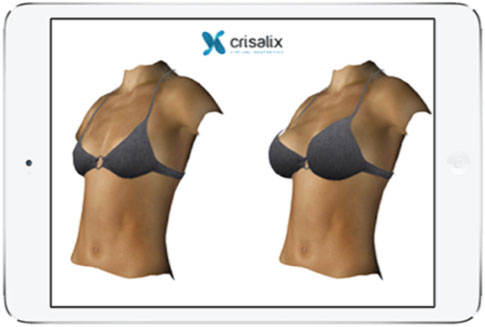 Learn More