Breast Lift
Consultations offered at our three convenient locations in New Jersey, Bergen County and Englewood, NJ
Age, weight loss, or childbearing can unfortunately cause women's breasts to droop and sag. A breast lift is a very popular cosmetic procedure specifically designed to raise a woman's bust back to a more youthful positioning.
What is a Breast Lift?
Breast lifts in Manhattan and beyond are desired by women of all ages who have flat, sagging breasts or wish to correct breasts that are asymmetrical. Many factors over time can take their toll on your breasts. Aging and gravity alone can cause a loss of skin elasticity. When you add other influences, such as pregnancy and weight loss, your breasts can lose their youthful shape and firmness. A breast lift in can help improve sagging breasts by removing excess skin and tightening the surrounding tissue.
A breast lift, also called mastopexy, is one of the most popular cosmetic surgeries in the world. This high demand is something that Dr. David L. Abramson sees daily at his offices in New York City, Franklin Lakes and Englewood, NJ.
Degrees of Breast Sagging
Ptosis, or sagging of breasts, can be measured by the degree of sagging. This is often categorized into 4 different levels.
Level 1 Ptosis: Mild – The areola is above most of the breast tissue, but is around the level of the breast crease.
Level 2 Ptosis: Moderate – The areola is still above some breast tissue, but is below the breast crease.
Level 3 Ptosis: Severe – The areola is no longer above any breast tissue as it is at the lowest part of the breast, and in some cases points down.
Level 4 Ptosis: Pseudoptosis – The areola is above most of the breast tissue, but is at the level of the breast crease.
Breast Lift Methods
There are three common incisions for a breast lift. The location and length of the incisions will depend on the amount of excess tissue to be removed and the quality of your skin.
Circular method
The circular method only requires an incision around the areola. This method is used for patients who only need minimal excision of skin and tissue to achieve ideal lifting. The areola is generally reduced in size during this process and made proportionate with the newly elevate bust position.
Lollipop method
This method uses a lollipop-shaped incision around the areola and vertically down to the breast crease. This too removes excess skin and tissue, but more so than the circular method. Minimal scarring will result from the lollipop method but fades overtime.
Anchor method
The anchor method involves an incision around the areola, vertically down to the breast crease, and then horizontally along the breast crease. This method is reserved for women who need extensive lifting that the two other methods cannot address. Any resulting scars can be hidden with ease in a bikini top.
Some of the cuts from a breast lift can be concealed in the natural contours, while others will be visible on the surface. When the incisions are completed, your breast lift surgeon will remove any excess skin and then reshape and lift the breast tissue. The remaining skin is tightened as the incisions are closed with sutures.
Dr. Abramson has vast experience with breast lifts. His caring demeanor and professional skills have earned the trust of hundreds of Manhattan women. Please set up a consultation with him today, so you can talk to a board-certified surgeon about your goals for a breast lift.
Is a Breast Lift Right for You?
Most women seeking breast lift surgery generally experience one or more of the following:
They are bothered by breasts that sag or have lost shape and volume.
Their breasts have a flatter, elongated shape or are pendulous.
When unsupported, their nipples fall below the breast crease.
Their nipples and areolas point downward.
They have stretched skin and enlarged areolas.
One breast is lower than the other.
If you are interested in a breast lift, then there is some criteria you must meet in order to make you an ideal candidate. Typically, it is best to wait until you are at least 18 years old to make sure your breasts have fully matured. You should also wait until you are done having children since pregnancy and breastfeeding after a breast lift surgery can potentially reverse results.
To establish your suitability for a breast lift, please take some time to talk with Dr. Abramson. He will give you a thorough examination, listen to your goals for the procedure and determine the best course of action. His expertise has been instrumental in the lives of his breast lift patients.
Before & After Pictures
As more women choose a breast lift in New York and New Jersey, Dr. Abramson has increasing proof that his skills are producing successful results. He will be happy to show you some breast lift before and after pictures during your initial consultation.
Before and After Photos
Consultation
Your breast lift journey begins with a private consultation with Dr. David Abramson. You will have a thorough discussion with him about your aesthetic concerns and your desired outcome. Then you will undergo an exam which will determine if you are a suitable candidate for breast lift surgery. From this exam he can also assess the most ideal techniques for your case.
Both you and he will decide together which technique would be best for you, and preparation and recovery instructions will be provided appropriately.
The technique will be explained in full so you are aware of each step of the procedure and recovery. Before and after pictures of women who have underwent the same technique will be provided, but since each technique is personalized to the individual, so please keep in mind that results vary. Please do not hesitate to mention any concerns or ask any questions you may think of during your consultation. The initial consultation is meant to provide you with all the information you need for a successful and smooth surgery and recovery. We look forward to helping you along you breast lift journey.
Preparing for your Breast Lift
Good preparation is a key factor for a successful surgery. Breast lift patients will receive preparation instructions that will be customized to their specific case, but general instructions include:
Pick up all prescribed medications.
Adjust current medications per Dr. Abramson's specifications.
Do not smoke or take anti-inflammatory painkillers three weeks before your procedure date.
You will need someone to take you home once the surgery is completed. This person should ideally stay overnight with you to help with immediate recovery.
Please notify the office if you start to feel under the weather.
The Procedure
Breast lift surgery starts with Dr. Abramson marking the incision locations. General anesthesia will then be administered, and then the procedure begins. He will make an incision either around the areola, down to the breast crease, and/or along the breast crease. Tissue and excess skin will be removed appropriately, and the nipple and areola will be repositioned to an aesthetically proportionate placement.
The whole procedure takes between one to two hours. It is performed on an outpatient basis so once the surgery is completed you will be taken to slowly and comfortably wake in the recovery room, and from there you will be taken home by a friend or family member.
Complementing Procedures
Mommy Makeover
A mommy makeover is a special surgery designed to redefine a woman's body to look like it did pre-pregnancy. This surgery is actually a combination of breast and body procedures such as breast lift, breast augmentation, breast reduction, tummy tuck, liposuction, and/or SmartLipo. Women can choose to undergo any amount of procedures they desire, but generally, women choose two to three procedures. A breast lift can be paired with a body sculpting procedure to create a beautiful, defined contour.
Breast Augmentation
Breast augmentation is a cosmetic procedure which surgically inserts breast implants into the breast for a projected bust. This is often paired with a breast lift since breast lifts do not address lost volume. A breast lift combined with a breast augmentation will provide a full, lifted bust.
Recovery
Most patients go home after their surgery with the assistance of a family member or friend. This person should ideally stay at least one night with you to aid in the first night of your recovery. Please wear the support bra placed on you after surgery for at least 3 weeks, or unless otherwise specified. The sutures Dr. Abramson uses to close the incisions are self-dissolving, so they will not need to be removed during your follow-up appointment. Your follow-up appointment will be to assess the progress of your recovery and make sure you are healing smoothly. You can resume normal activities in six to eight days, and strenuous activities in four to six weeks.
Cost of Breast Lift Surgery
For your financing needs, Alphaeon™ and Prosper® are offered, since breast lift prices can vary widely based on your needs and expectations. Dr. Abramson and his knowledgeable staff can provide you with more detailed and personal information about breast lift costs during your consultation.
Want to see your new you before the procedure?
With Crisalix's 3D imaging technology you can see how you would look post-procedure if full 3D.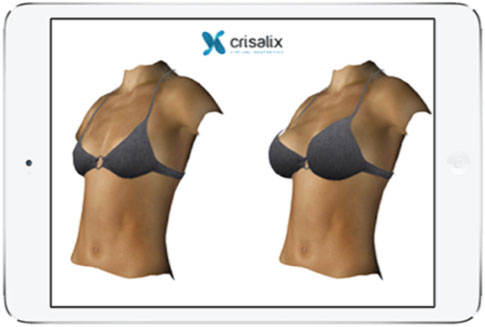 Learn More