Mommy Makeover
Consultations offered at our three convenient locations in New Jersey, Bergen County and Englewood, NJ
While becoming a mother is one of the greatest joys in the world, trying to get back to a pre-baby body is not. There are certain changes, like stretched skin on the stomach or sagging breasts, that no amount of diet and exercise can correct. That's why Dr. David Abramson offers the Mommy Makeover surgery package.
A Mommy Makeover addresses the breasts and abdomen, the two areas of the body that are most affected during and after pregnancy. The standard procedure can include a breast lift, breast augmentation or reduction, liposuction, and tummy tuck. Read more about the individual procedures below and contact Dr. Abramson today to set up your Mommy Makeover consultation!
What is a Mommy Makeover?
Using a combination of popular procedures, a Mommy Makeover helps define and tone post-childbirth and breastfeeding bodies and restore confidence to mothers. A popular Mommy Makeover package typically includes a breast augmentation, breast lift, and tummy tuck. In some cases, the breast augmentation may be substituted for a breast reduction for women who prefer to reduce their breast size. Another popular procedure sometimes added to the Mommy Makeover package is liposuction of the abdomen. However, a Mommy Makeover does not necessarily require patients to receive all procedures. Dr. Abramson works closely with each patient to develop the best surgical plan for their specific physique and desired results.
Benefits of a Mommy Makeover
Mommy Makeover procedures benefit patients in more ways than one. Here are just some of the wonderful changes candidates may see.
Added volume to the breasts
Removal of extra skin and fat in the breast area
Perkier breasts for a younger aesthetic
Removal of excess skin for a flattened tummy
Added tone to the midsection
Reduced appearance of love handles
Renewed confidence and self-esteem!
Who is a Candidate?
In general, Mommy Makeover candidates are in good health and at a stable weight.
It is most beneficial for women who are done giving birth and are interested in two or more of the aforementioned procedures. Patients should have realistic expectations of what can be achieved from a mommy makeover procedure, which will be explained during the consultation.
A mother's aesthetic desires should not have to be put on hold after having children. Dr. Abramson performs Mommy Makeovers in such a way that recovery and downtime is kept short and mothers can quickly return to taking care of their kids. And even if the children are all grown up, that shouldn't deter mothers from fulfilling their cosmetic goals. Contact our office today to see if you qualify for a Mommy Makeover.
Mommy Makeover Options Available
Breast Augmentation
Women choose to get breast augmentation surgery for many reasons, including balancing the proportions of the body, creating symmetry between the breasts, or adding a more feminine shape. For women who wish to increase their breast size, implants are typically the method of choice, however, fat grafting is another option.
There are a number of different options for implants that women must consider. One of the main decisions to make is whether to get silicone or saline composition.
Silicone implants are composed of a quasi-solid gel. Saline implants are composed of a hard silicone outer shell filled with salt-water. Saline implants are approved for patients over the age of 18. Since the implants are filled with the salt-water solution after they are inserted into the breast pocket, so they typically utilize a smaller incision and therefore leave a smaller scar.
Some women, on the other hand, prefer silicone implants since they believe they feel more like the natural breast. However, silicone implants have been FDA approved for less time and some women fear that they make rupture. Patients must be at least 22 years of age for silicone implants.
The composition of the implants is just one factor in choosing the right implant for a patient's body and lifestyle. Other factors include the size of the implant, projection of the implant from the body, and surface texture. Dr. Abramson will work closely with the patient to go over every option in detail and ensure confidence in the decisions.
When combined with a breast lift, both procedures give perkier, younger looking breasts that appear full and proportionate to their body.
Breast Reduction
As opposed to increasing the size of their breasts, some women may want to decrease their size following pregnancy. Some women may not have had issues with the size of their breasts until after having children, while others have been dealing with self-consciousness, back pain, or overly sagging breasts for a long time prior to having children.
In order to perform a breast reduction surgery, Dr. Abramson will make an incision in one of three spots:
Around the areola
Around the areola and then down to the breast crease
Around the areola, down to the breast crease, and then outwards along the breast crease on both sides
In most cases, Dr. Abramson will try and preserve the location of the areola and nipple. However, in cases where the breasts have excessive sagging, he may need to remove and reposition the areola and nipple.
Typically, a breast lift will also be required to finalize the breast reduction. Dr. Abramson may also employ liposuction to remove excessive fatty tissue.
Breast Lift
Gravity and loss of elasticity in the skin can lead to the breasts drooping and sagging over time. This can become particularly evident after childbirth and breastfeeding.
A breast lift can be performed alone or in combination with an augmentation or reduction for more dramatic results.
Some symptoms of women who may be good candidates for a breast lift include:
Elongated, pendulous breasts
Sagging with the nipples and areolas even or below the breast crease
Downward turned nipples
Stretched areolas
Asymmetrical breasts, areolas, and nipples
The incisions for a breast lift are comparable to the incisions made for breast reduction or augmentation surgery: around the areola, from the areola to the breast crease, and/or along the breast crease.
Tummy Tuck
The stomach is already a common problem area for many women and it can be difficult to keep the area flat and toned.
After pregnancy, this task becomes almost impossible. A tummy tuck is one of the most common procedures performed for mothers who need help getting rid of stubborn excess skin. It also tightens the abdomen muscles for added contour and the appearance of a flatter, more toned stomach.
The classic tummy tuck utilizes a horizontal incision from hip to hip by the pubic line. From this incision, Dr. Abramson will tighten muscles to add contour to the abdominal area. In some cases, the doctor will also utilize liposuction in order to remove small, localized pockets of fat. Then, he will redrape the skin and remove the extra. While there is no way to remove stretch marks from your skin through surgery, the appearance of stretch marks may be diminished the removal of excess skin.
Other tummy tuck practices include:
Mini Tummy Tuck: This procedure is suitable for women with concerns about skin just below their belly button, or the "pooch." It uses a smaller incision than the standard tummy tuck. This technique is reserved for women and men who only need minimal assistance.
Modified Tummy Tuck: This procedure is designed for women who have concerns with only extra skin or only loose muscles and do not require the full tummy tuck procedure.
Extended Tummy Tuck: The extended tummy tuck covers all areas addressed by the traditional tummy tuck and also addresses issues in the flanks or love handles.
High Tension Tummy Tuck: This procedure tightens and cinches the abdomen to increase the appearance of an "hourglass" figure. Scars can be easily covered up with jeans or a bikini bottom and will fade over time.
Liposuction
Liposuction is one of the most popular cosmetic surgery procedures, let alone as part of a Mommy Makeover. This golden standard of fat removal procedure suctions localized fat deposits from just about any part of the body. More popular areas include the thighs, abdomen, arms, and back. It is important to keep in mind that a tummy tuck is not a substitute for weight loss. It is reserved for patients who have tried contouring their body through diet and exercise but have stubborn fat that is not responsive.
Consultation
During a Mommy Makeover consultation with Dr. Abramson at either his Franklin Lakes, New York City, or Englewood location, patients will have the opportunity to discuss their concerns with their body and what they hope to achieve from a Mommy Makeover.
In order to determine whether or not a patient would be a good candidate for the procedure, Dr. Abramson will conduct a physical examination and ask about any medical conditions or prior surgeries.
While a Mommy Makeover will not affect the patient's ability to have children, Dr. Abramson will want to know if patients plan on getting pregnant again. Future pregnancies will most likely affect the results of a Mommy Makeover, and for these reasons, we suggest waiting to undergo Mommy Makeover until after they're done childbearing.
As with any cosmetic procedure, the only way to know whether or not someone would be a good fit is by speaking personally with a board certified plastic surgeon. Contact Dr. Abramson's New York City, Englewood, or Franklin Lakes office today to set up a consultation and get back that pre-baby body!
Want to see your new you before the procedure?
With Crisalix's 3D imaging technology you can see how you would look post-procedure if full 3D.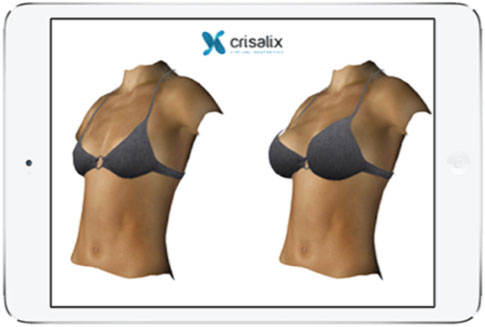 Learn More