Breast Reduction
Consultations offered at our three convenient locations in New Jersey, Bergen County and Englewood, NJ
A breast reduction surgery is also known as a reduction mammoplasty and is a procedure that minimizes breast size and volume by removing selected breast tissue. Unfortunately, having overly large breasts, a condition also known as breast hypertrophy and can be concerning and negatively impact your physical and emotional well-being. As many women know, the demands of supporting large, heavy breasts have a substantial impact on their overall wellness. As the body is forced to remain centered in order to fight the pull of gravity, a woman's skeletomuscular system becomes stressed as she continuously adjusts in order to maintain balance. This shift in posture can result in cutting bra straps, pinched nerves, and pain that extends from the upper neck all the way to the hips and knees.
Back and shoulder pain can be constant and debilitating. And emotionally, it can be hard to overcome self-consciousness and deal with constant unwanted attention. However, breast reduction surgery helps women break free from these constraints and lead their very best lives. Dr. David L. Abramson and his team are here to advocate for your overall well-being. He has helped many women in the Tri-State area achieve their ideal breasts. Schedule a consultation with our team to learn more about breast reduction, and start breathing easier. Or, you can reach us at (212) 774-1828 (New York City) or (201) 731-3134 (Englewood and Franklin Lakes, NJ).
Before and After Photos
An Empowering Decision
On a mid-September night in 1984, the television show Punky Brewster premiered on the small screen. The 22-minute NBC show chronicled the life and times of Penelope "Punky" Brewster (portrayed by Soleil Moon Frye), an infectiously warm and bright child. Loyal fans tuned in each week, eager to see what Punky would get into next. However, as time passed, the conversations about the show started to change. Trashy tabloids, entertainment TV shows, and bullies all aimed their commentary at Frye's breast appearance. In her 1993 interview with People Magazine, she detailed her harrowing story. During puberty, she suffered from a rare medical condition known as gigantomastia. She was a 38 DD as a 15-year-old. The names, the difficulty moving around, and the typecasting become too much. So, a few months before her 16th birthday, she bravely underwent breast reduction surgery. The procedure provided an effective way to achieve a smaller breast contour. Today, she lives happily as an actor, director, mommy blogger, and entrepreneur! Soleil Moon Frye's decision was a profoundly personal one and has undoubtedly inspired many women since then.
Breast Reduction Considerations
A breast reduction allows women to live confidently with a breast profile that complements their figure and reflects their identity. However, every woman is different, and so the surgical approach needs to be carefully considered in order to allow her results to best suit her. Patients that choose Dr. Abramson have the distinct advantage of an accomplished surgeon who has developed specialized reduction approaches to do just that. Unfortunately, many of the incision techniques commonly used can compromise nipple sensation and damage the glandular tissue needed for breastfeeding.
Dr. Abramson performs medial pedicle breast reductions in order to avoid these side effects, as well as lift and improve the projection of the breast. This preserves the essential tissues of the breast, which are lifted and tucked neatly into their new home. (1)
For women with severe cases of gigantomastia and ptosis, and for whom breastfeeding is not a concern, Dr. Abramson can perform a free nipple graft reduction. Because these patients' breast mass rests below their inframammary crease, it's necessary to remove the nipple areolar complex so that it can be placed in a higher position on the chest once the new skin envelope is created. Dr. Abramson will again use the pedicle approach to ensure an appealing projection, and the breast tissue pedicle can be lifted and folded into its new higher location, creating a curvaceous volume and perkier appearance once the nipple is re-attached. (2)
Benefits

Breast reduction surgery is a transformative procedure that allows women to live their lives with conviction. It is a surgical treatment that provides significant benefits, including:
Significantly reduced discomfort on the neck, shoulders, and back
Better mobility when performing everyday tasks
Improved posture and self-confidence
Complimentary body proportions and even contours
Making it easier to find clothing that fits well
Candidates
Healthy women looking to break through the physical and psychological struggles of enlarged breasts are eligible to receive surgery. A consultation with Dr. Abramson will further discuss who will benefit from this procedure. Patients should:
Understand that a breast reduction is a permanent treatment
Be healthy without breast-related conditions such as cancer
Not smoke or be willing to refrain from the habit until fully recovered
Not be pregnant or nursing a child
Expect positive, realistic outcomes
Personal Consultation with Dr. Abramson
Before Dr. Abramson approves you for surgery, he will meet with you to understand your concerns, medical history and goals. Then, he'll examine your breasts, take measurements, and assess your skin elasticity.
Patients are encouraged to use this opportunity to ask questions to eliminate anxiety and fears. After evaluating each detail, he will explain your specific pathway to a smaller, more manageable breast profile. Toward the end of your session, we will schedule your surgery date and provide you with a list of instructions to follow between now and your surgery date.
Take the first step in turning a new page in life and schedule a consultation appointment with Dr. Abramson. Reach us at (212) 774-1828 (New York City) or (201) 731-3134 (Englewood and Franklin Lakes, NJ).
Preparation
Before your surgery begins, Dr. Abramson will tell you to complete the following steps to ensure a worry-free experience. They include:
Pause medications: Dr. Abramson may tell you to avoid taking certain medications before your reduction surgery. Let our office know of any medicines you take.
Head to the pharmacy: Pick up your recovery medications.
Submit medical evaluations or lab testing: You may need to have a mammogram performed to detect future changes in breast tissue.
Arrange for a ride: Pick a trusted friend or loved one to take you back home because the anesthesia will prevent you from being able to drive.
Procedure
We'll begin your surgery by administering either intravenous or general anesthesia to enhance your comfort. To carry out your breast reduction surgery, Dr. Abramson may utilize one of these two methods:
Vertical (Lollipop) Incision: This treatment makes two incisions around each breast. One is made around the areola and meets up with the second incision made at the lower breast crease. [3] Dr. Abramson utilized this method for mild to moderate cases of excess volume.
Anchor (Inverted-T) Incision: Patients selected for this method usually have substantial cases to correct. An incision is first made around the areola. Then, as with the lollipop incision, it connects with a vertical incision that travels down the lower pole of the breast and intersects with an incision along the inframammary crease: where the underside of the breast attaches to the chest wall. This incision pattern is similar to an anchor or inverted "T." [3]
Once Dr. Abramson makes the appropriate incisions, he will reduce the breast weight and proportions by removing surplus tissue, skin, and fat. This surgery can take up to four hours. Your incisions will be closed with sutures, adhesives, and surgical tape, and you'll be dressed in a compression garment to help with swelling.
Recovery
Breast reduction surgery is an outpatient treatment that allows you to go home the same day. [1] After surgery, you may feel post-op effects of swelling and tenderness in the breast. This is only temporary and can be managed by taking the prescribed pain medication and wearing the surgical bra as directed. Patients may have drains placed in the areas to collect fluids from the surgical site. We'll give you further information on how to care for them. As you recover, you'll return for follow-up appointments to remove the drains and monitor your recovery. Most patients will feel confident in resuming light activities and work within 2-3 weeks. Movements that require more physical effort should be delayed for 6-8 weeks.
Results
An immediate difference can be seen and felt right after surgery. However, after 3-6 months, you will see optimal results. The new breast shape will have a natural-looking and flattering projection, symptoms will be a thing of the past, and scars will have faded and softened substantially. A smaller, more manageable breast size will allow you to move around more freely. Your newfound confidence will certainly skyrocket and you'll enjoy life-changing, long-term results.
Corresponding & Complementary Procedures
Patients can look forward to various plastic surgeries to improve their body contours and increased confidence. At your consultation, Dr. Abramson may discuss:
Liposuction
Liposuction is a body contouring treatment that removes unwanted fat by placing a slim tube under the skin. Suction power from the tube will safely vacuum away the fat. After this minimally invasive surgery, patients will see sleeker contours, and it is an excellent way to get rid of the fat that contributes to a large bust line. Liposuction can also be performed on areas such as the flanks, buttocks, abdomen, breast, and legs.
Tummy Tuck
A tummy tuck, or abdominoplasty, provides a flatter, tighter abdominal profile by removing excess skin and fat, tightening and repairing abdominal muscles, and pulling the skin for a smoother, more slender waistline.
Cost of Breast Reduction in New York City
We'll review all the details of your breast reduction, including costs. The total price of your procedure will be determined by the methods used to achieve your ideal aesthetic. However, some insurance carriers may provide financial assistance if your condition is detrimental to your health. Our office is happy to help sort out these logistics.
References
Want to see your new you before the procedure?
With Crisalix's 3D imaging technology you can see how you would look post-procedure if full 3D.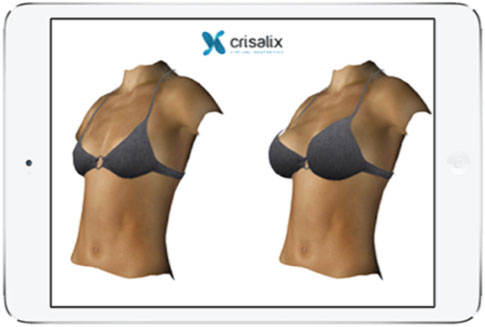 Learn More