Breast Reduction
Consultations offered at our three convenient locations in New Jersey, Bergen County and Englewood, NJ
Looking to reduce the size and shape of the breasts? Dr. Abramson has helped many women achieve the breast contour that the desire while also providing exceptional care and lasting results. Through his years of experience, Dr. Abramson can help you attain the bust that you desire. To learn more about the various breast reduction methods that we offer, please contact our office and schedule a consultation today!
What is Breast Reduction?
While some women go to a plastic surgeon for breast enhancements via implants, other women are looking to get their breasts reduced in size. This is because larger breasts can make daily tasks more difficult and can also cause back strain, poor posture, and other health complications because of their size and weight. For these reasons, Dr. Abramson offers breast reduction procedures (also known as reduction mammaplasty) to make breasts more proportionate to the body, with lower size and volume.
Women may also desire breast reduction to be able to wear strapless bras, stop having bra straps gouging into their shoulders, eliminate neck pain, and keep skin beneath the breasts from being irritated and painful.
Breast reduction is a highly popular surgery with one of the best patient satisfaction rates in the world of cosmetic surgeries. Patients can be rest assured that they are in good hands with Dr. Abramson. Not only has be published numerous articles on breast reduction, but he has also lectured to other surgeons in the field on this topic. His years of experience and skillful talents have helped him become one of the leading physicians in the area.
Before and After Photos
Ideal Candidates
Overly large breasts can not only cause physical complications but may also be the problem behind emotional or self-image struggles for a woman. Reduction of breast size can help relieve self-conscious distress, which can have as much of an impact as allowing a woman to be more physically active with smaller breasts.
If you are a physically healthy woman who feels that her breasts are too large, then breast reduction may be the best option for you. Obviously, it's necessary to have a pre-procedure consultation with Dr. Abramson, but here are some initial considerations.
You should have realistic expectations of the results. You should also avoid smoking, if at all possible, and any patient is required to stop smoking well before the actual surgery takes place. If your breasts keep you from exercising or enjoying life in general, that is another strong indicator that you're a good candidate.
Methods Used
When considering breast reduction techniques, Dr. Abramson must always consider the blood flow to the nipples, which must remain active at all times during the surgery. The skin and tissue surrounding the nipple is what is reduced, while the surgeon tries to preserve as much function and sensitivity of the nipples as possible. There are two main methods to achieve this.
Vertical (Lollipop) Incision
Using two incisions, this is called a "lollipop" method because of the shape the cuts make. An incision is made around the areola while another runs vertically down to the lower breast crease. Once the proper amount of excess tissue is removed, the incisions are then sealed. This method naturally lifts the breast, giving them a more youthful appearance and position.
Anchor Incision
This method adds a third incision to the technique, with the first two (around the areola and down to the breast crease) combined with another incision along the breast crease. This particular method is mostly chosen for patients who require a more extreme breast reduction or who have lost a large amount of weight and want breasts that are proportionate to their much slimmer body.
Consultation
As with all plastic surgeries that Dr. Abramson performs, he requires every patient to have an in-person consultation in order to discuss their goals, desired results, health history, and other factors that can affect the operation. You should be completely honest with your surgeon to have optimal success and security going into the procedure.
Dr. Abramson will take reference photos to provide a before/after breast comparison. Optional treatments and procedural variations He will examine your breasts, take measurements, measure skin elasticity and overall quality, and determine the precise placement of the nipples and areolas.
During this time, you should be prepared to ask any questions you have about the breast reduction surgery to alleviate all your doubts or fears. Consider some of the following questions, and bring a list of your own:
Am I an ideal candidate for breast reduction surgery?
What are the best results I can expect from the procedure?
What anesthesia will be used during the surgery?
How should I prepare for breast reduction surgery? (See below for general information)
Will future pregnancy or breastfeeding affect my breast size?
What are possible complications and how will they be handled?
How visible will the scars be and is there a way to reduce their visibility?
Preparation
Before
Dr. Abramson
has you undergo breast reduction, there are a number of potential
steps to be taken
. You may have to submit to
medical evaluations
or lab testing. You may also need to have a baseline mammogram before the surgery. Smoking should cease
at least two weeks
before the surgery, and any anti-inflammatory medication (such as aspirin, ibuprofen, or herbal supplements) should be avoided to avoid heavy bleeding.
If you are going to recover as an outpatient, it is highly recommended that you arrange for someone to pick you up from the clinic post-surgery and drive you home.
Procedure Process
Breast reduction is quite a common procedure, with fat, tissue, and skin removed to shrink the overall breast size and proportions. To begin, the patient receives anesthetics, which can either be intravenous or general anesthesia. Your physician will determine the best option for you.
Incisions are made, which can be of several different types, and are designed to minimize scarring and also be easily hidden behind bras or swimsuits. The physician then repositions the nipple while taking out excess fat, internal tissue, and skin.
The breast is lifted and reshaped, and—if the breasts are particularly large—a nipple graft may be necessary.Once complete, the incisions are closed with sutures, adhesives, and surgical tape. These incisions will make permanent scars but are highly likely to fade and improve until barely visible.
Ancillary Procedures
Breast reduction can be combined with other cosmetic surgeries to create even more drastic, pleasing, and long-lasting results. These include:
Breast Lift
Breast lifts are commonly done alongside breast reductions. These reshape the breasts' size, contours, and location on the torso. Most times, the same incision used for breast reduction can also serve to eliminate excess skin that a lift requires.
Liposuction
Liposuction removes fat deposits from numerous areas around the body, including the arms, legs, back, buttocks, chin, breasts, and more. When done alongside a breast reduction, it can help restore or improve general physical proportions.
Tummy Tuck
Here, excess skin is removed from the abdominal region and the abdominal muscles are tightened to create a flatter stomach appearance. When combined with liposuction, breast lifts, and breast reduction, it can result in an overall body reconfiguration. Mothers often go through this post-birth to restore their bodies to pre-birth contours and slimness.
Recovery
Recovery from breast reduction will be largely patient-dependent. Dr. Abramson will make you well aware of the length of time you should expect before being fully healed and able to return to normal daily activities and efforts. After the procedure, dressings and bandages will be applied to the breasts to encourage proper healing and minimal scarring.
You will be given specific instructions on how to care for and maintain sanitary conditions for your breasts, reducing possible infections or other health complications. You may have medications to take on a daily basis for an extended period to ward off infections, and you will likely be provided with a support bra for several weeks that will take stress off the breasts as they heal and conform to their new contours. Be sure to clarify any recovery concerns or questions you have with Dr. Abramson. Some questions you may wish to ask include:
Will stitches be required? If so, when will they be removed, or will they be self-absorbing?
What medication will I require, and will it conflict with any current prescriptions?
How long until I can resume my normal activity levels?
Will I require any follow-up care? If so, how often and for how long?
How long will the results of the reduction last? Will my breasts grow larger again?
Results will be immediately visible after a breast reduction. You'll be able to review your before and after photos to see the contrast and determine if you are satisfied with the changes. You should be able to enjoy new self-confidence and higher physical activity without dealing with undesired breast weight. However, all patients should realize that breasts will continue to age along with the rest of the body. Gravity, hormones, pregnancy, and other weight fluctuations can cause the breasts to grow larger again or otherwise change in shape.
Pricing
The cost of a breast reduction
will vary
according to the amount of work needed for your breasts, and other considerations. The cost will be thoroughly covered in your initial consultation with Dr. Abramson, and you can discuss
possible payment
options and plans.
Additional treatments
or recovery procedures may also add to this cost. To learn more about breast reduction costs, please contact our office and
schedule a consultation
with
Dr. Abramson
today.
Want to see your new you before the procedure?
With Crisalix's 3D imaging technology you can see how you would look post-procedure if full 3D.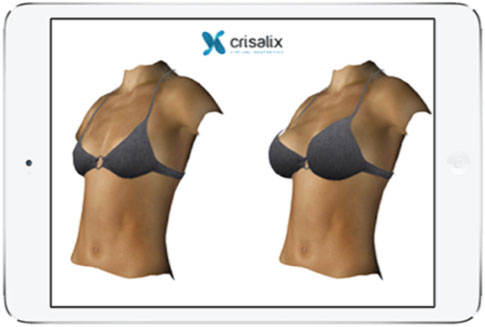 Learn More