Rhinoplasty
Consultations offered at our three convenient locations in New Jersey, Bergen County and Englewood, NJ
As the center focus of your face, your nose plays an important role in bringing balance and symmetry to the face.
The goal of Rhinoplasty is not to change how your features look, but simply enhance their beauty.
What is Rhinoplasty?
Rhinoplasty (Nose Surgery) is one of the most common and best-known types of plastic surgery. The word Rhino means nose and the word plasty means to mold or shape. Rhinoplasty is performed both to correct breathing problems and to improve the size and shape of the nose to achieve better facial balance. Issues such as overly large nostrils, misshapen bridge, nose width, bumps or nasal deviation can all be corrected with Rhinoplasty surgery.
Everybody has some asymmetry to their face, so Rhinoplasty is meant to create balance and proportion, while remaining functional.
The top portion of the nose is bone while the tip is made of cartilage. Rhinoplasty can alter the bone structure, the cartilage, the nasal skin, or a combination. Each person's anatomy differs, so there is not a set list of steps taken in Rhinoplasty procedures. Everyone receives a personalized approach that will benefit them best.
Reasons to Get a Rhinoplasty Procedure
There are different reasons people may decide to undergo Rhinoplasty, two of the main concerns being functionality and cosmetic improvement. Patients should be aware of what aspects of this procedure are functional and what aspects are cosmetic.
Functional Rhinoplasty
Some patients who inquire about Rhinoplasty may also have functional nasal problems that can cause difficulty breathing. These problems can include a deviated septum or enlarged turbinates as well as problems further back in the nasal airway. Straightening the septum will open the nasal passage and make breathing easier.
Nasal obstruction can be a problem among people who have received nose surgery from previous surgeons. Trimming too much cartilage can cause the nose to be pinched, constricting airflow. Cancer of the nasal skin can be a cause for nose surgery. The removed cancerous skin will be replaced with a skin graft, typically from the rib or ear.
Cosmetic Rhinoplasty
Cosmetic deformities of the nose can include a dorsal bump, a wide or drooping tip, wide base of the nose, as well as other post-traumatic deformities. If the nose is too large, it is possible to shave off the necessary amount of cartilage or bone. Alternatively, if you perceive your nose to be too small, cartilage can be added from either an ear or rib graft. You may also find your nose needs revision cosmetic enhancements due to past surgeries not delivering your full vision.
It's important that an individual speak extensively with Dr. Abramson to understand what cosmetic abnormalities they perceive as well as the underlying causes for them. This will allow Dr. Abramson to work out a treatment plan that will help the individual patient achieve their desired result.
Dr. Abramson on Rhinoplasty
Dr. Abramson is a skilled reconstructive surgery specialist with a reputation for excellence in Rhinoplasty, and his experienced team of medical professionals will do their best to ensure your comfort throughout the procedure. Residents of Manhattan, NY who have received Rhinoplasty surgery from Dr. Abramson are generally very satisfied with the results. Contact our office today and learn how Rhinoplasty can give you a more pleasing, proportional balance to your face, while also enhancing your self-esteem and confidence.
Before and After Photos
Candidates
Rhinoplasty can be performed on both men and women alike. To consider Rhinoplasty your facial growth must be complete, which is usually post-teenage years. It is important to be in good health and a non-smoker. You may be unhappy with the shape of your nose from birth, how it's changed with aging, or changes due to injuries. Patients may seek to get nose surgery for a number of reasons.
With this, every person's nose is anatomically different. So although you will be shown before and after photos of patients, it is important to remember that results vary between patients. Dr. Abramson will explain the realistic expectations that you can expect. If keeping your ethnic identity is important, an Ethnic Rhinoplasty can be performed. This will enhance either the cosmetic look or functionality while maintaining the patient's uniqueness.
Dr. Abramson's goal is to improve the shape or functionality of your nose while bringing balance to your face.
Preparing for Rhinoplasty
Prior to your surgery, Dr. Abramson will request you complete certain medical tests and examinations. You will also be asked about your medical history, such as current medications and past surgeries, so make any necessary lists of these. You may need to adjust or discontinue taking some routine medications. Patients should avoid anti-inflammatory medications before surgery as this increases bleeding.
It is helpful to bring pictures of the results you desire to the consultation. You should stop smoking a few weeks prior to surgery. Arranging a ride home from surgery is important as you will be unable to drive yourself.
Consultation
During your consultation you will explain any issues you may have with your nose, cosmetic or functional. After speaking with Dr. Abramson you may find that you could potentially benefit from improving both aspects. A thorough examination of your nose will be performed so he can assess which procedure will work best in your specific case. With your aesthetic goals in mind combined with his examination findings, a personalized procedure plan will be created to give you optimal results.
Some patients opt to receive additional facial surgery in conjunction with their Rhinoplasty. All questions and concerns will happily be addressed at this time. Pricing will also be discussed so you are fully aware of all aspects of this process. You will be given a list of preliminary requirements to complete prior to your surgery. Following all instructions will help ensure giving you the best results possible.
Types of Rhinoplasty
No matter if you are coming to see Dr. David Abramson for a Primary or Secondary Rhinoplasty, he will deliver on your aesthetic desires.
Primary
Primary Rhinoplasty refers to surgery performed on the nose for the first time, whether cosmetic or functional. The goal of Primary Rhinoplasty is to address all cosmetic and functionality issues with one surgery, avoiding needing secondary surgery. This can be performed as either an open or closed procedure, as Dr. Abramson sees fit.
Secondary
Secondary Rhinoplasty refers to surgery performed on the nose after the patient has already undergone one or more previous nose surgeries. This is also sometimes referred to as Revision Rhinoplasty, which can refer to a secondary operation or more. This involves further altering the cosmetic look of the nose or changing/improving functionality from a previous surgery.
How is Rhinoplasty Performed?
Rhinoplasty is performed in-office under general anesthesia. Rhinoplasty involves one of two types of incisions. The type of incision will depend on what Dr. Abramson sees fit for your specific case.
Open Procedure
The open procedure is performed by making an incision through the tissue in between the nostrils. Skin and soft tissue of the nose tissue are lifted so that the surgeon can access the nose cartilage. Cartilage is trimmed and sculpted into the new contour. Sometimes cartilage grafts are taken from other areas of the body. The skin and tissue are then redraped over the nose, and the incisions are sutured. Swelling and minor discomfort are normal, but recovery generally takes only one or two weeks. Any scarring that may come from this procedure is small and fades overtime.
Closed Procedure
The closed procedure involves similar steps as an open procedure; however, the incision is made inside the nose, not externally. This makes for non-visible scarring, and the skin does not need to be lifted. There is less swelling and damage to the tip of the nose associated with this procedure. This procedure often tend to be shorter than open procedure.
Recovery
A nasal splint is applied after your Rhinoplasty procedure. It is usually worn after the procedure for 5 to 7 days. It is more ideal to take a bath rather than a shower while wearing the splint or bandaging. Bruising below the eyes is very common and can last for 7 to 10 days. Patient can usually return to work in approximately a week, although final results can take anywhere from 6 to 12 months.
During the recovery period you should refrain from making over-the-top facial expressions. Do not blow your nose until instructed by the doctor. If you wear glasses, you may consider taping them to your forehead since you will be unable to rest them on your nose for a while. You should also avoid partaking in strenuous activities for about a month. Pain medication can be prescribed if you feel as though you may need it. Typically, patients return to their social lives in just a couple weeks without anyone recognizing signs of a surgical procedure.
Price
The price of your Rhinoplasty will depend on the extent of the work needed in your case. Undergoing additional procedures, whether face or body, will change the price. All of details regarding your specific case will be discussed during your private consultation with Dr. David Abramson.
Want to see your new you before the procedure?
With Crisalix's 3D imaging technology you can see how you would look post-procedure if full 3D.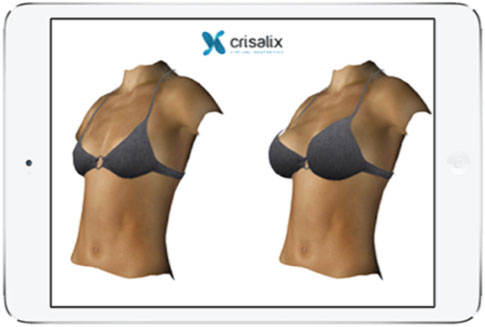 Learn More