Radiesse
Consultations offered at our three convenient locations in New Jersey, Bergen County and Englewood, NJ
Radiesse is an FDA-approved dermal filler that restores volume and minimizes wrinkles. Radiesse is unique in its ability to stimulate collagen production through the use of its main ingredient, calcium hydroxyapatite (CaHA). Radiesse's formulation consists of CaHA microspheres, made of calcium and phosphate, which occur naturally in the body. Once injected, CaHA microspheres stimulate collagen production in the dermis. The microspheres also provide a scaffolding structure allowing for the strength and organization of the new collagen. (1)
Maybe you have grudgingly noticed an increasing number of wrinkles on your face or lines and creases that have gotten deeper. In recent years dermal fillers have exploded in popularity as an anti-aging solution. However, Radiesse stands apart from other dermal fillers because of its ability to improve deep lines, contouring deficiencies, and wrinkles long-term.
Dr. David L. Abramson, MD helps patients to restore confidence and a more youthful appearance, whether with Radiesse injections or the other services and procedures he offers at his practice. Patients can achieve a fuller, smoother, rejuvenated facial aesthetic. If you are interested in learning more about Radiesse and if it may be right for you, contact one of our New Jersey or New York offices today. You can reach our Englewood offices by calling (201) 731-3134, our New York City offices by calling (212) 774-1828, or reach us through our online contact form.             
Before & After Photos
About Radiesse
Radiesse is a dermal filler that treats moderate to severe creases on the face, particularly around the nose and mouth. These include nasolabial folds, marionette lines, and frown lines. Radiesse can also be used to enhance the fullness of cheeks and other facial contours and used to rejuvenate the hands by improving skin thickness and helping to mask visible veins and tendons. Radiesse fills deeper lines and furrows in the face and volumizes hollowed regions by stimulating collagen production. Results can last over a year and as long as two years for some patients. Radiesse's ingredients are non-toxic, hypoallergenic, and biocompatible.
Radiesse vs. Other Dermal Fillers: What Is The Difference?
Most fillers on the market are formulated using hyaluronic acid (HA), a naturally-occuring substance that attracts the water molecules present in the skin to volumize and create a dewy, hydrated appearance. However, the hyaluronic acid is quickly reabsorbed by the body, and patients require regular injections to maintain their results. Radiesse is made using calcium hydroxylapatite (CaHA) microspheres which are too small to be seen or felt, but large enough so that the body is unable to absorb them as quickly. Calcium hydroxylapatite not only lasts longer in the body than hyaluronic acid, it also forms a sort of lattice that provides structure for the newly produced collagen. CaHA breaks down after 12 and 24 months, at which point the microparticles have been replaced by new stores of healthy collagen.
Benefits
Benefits of Radiesse injections include:
Volumized cheeks
Plumped lips
Added volume under eyes for a refreshed appearance
Enhanced jawline
Improved contours of the cheekbones
Smoother skin with "filled in" lines and creases
Volumizes and rejuvenates the back of hands
Can be used to sculpt the profile of the nose for a non-surgical rhinoplasty, or to correct the results of a rhinoplasty
Radiesse Candidates
Radiesse can be used to treat patients with any skin type or complexion. It is a safe, effective nonsurgical anti-aging treatment. You may be a good candidate for Radiesse if you are in good health, and are interested in a longer-lasting solution for volume loss or treating moderate to severe lines and creases. However, patients with more advanced signs of aging and loose skin may be better suited to a surgical procedure like a facelift. Radiesse is effective, but the results are subtle. Patients who want a more dramatic increase in volume may find better results from a facial fat transfer or facial implants.
You may not be eligible for Radiesse treatment if you have an active infection at the site of treatment, and if you're prone to cold sores, you may need to take an antiviral before your injection session to prevent an outbreak. (2) Radiesse's active ingredient is biocompatible and doesn't contain any animal products, so it has a low risk for allergic reactions.
Personal Consultation
Dr. Abramson is a board-certified plastic surgeon who offers patients a wide range of solutions for their aesthetic concerns and works closely with each patient to identify the best approach for their unique desires. In your consultation, we will discuss the challenges that you currently face with aging. We will also review before and after images to provide a realistic idea of the results you can hope to achieve. In your private consultation, you will get the opportunity to discuss your cosmetic goals and expectations of Radiesse injections with Dr. Abramson. He will take your goals into consideration as he performs an examination of your face and tests the quality of your skin.
Dr. Abramson strives for each patient to have a positive, healthy experience and will inquire about past procedures, your medication routine, and any allergies. He will use this information to have a better understanding of your health and whether Radiesse injections are your ideal solution. He may suggest alternative options that will be better for your health, anatomy, and cosmetic goals.
Dr. Abramson will walk you through a Radiesse treatment, the potential risks and the expected outcome. Together, you and Dr. Abramson will create a personalized treatment plan that achieves your ideal aesthetic.
Additionally, we will address questions and concerns during a consultation as well. If you are ready to take the next step and see how Radiesse can help you look like the best version of yourself, contact one of our offices to schedule a personal consultation. You can reach our Englewood or Franklin Lakes offices in New Jersey by calling (201) 731-3134. Patients in New York City can call (212) 774-1828. Or, fill out our online contact form and one of our helpful staff members will be in touch. We also invite you to review our blog to learn more about how we're helping to improve the lives of our patients!
Preparation
Preparation will be key to having an effective procedure. Follow these guidelines to optimize results:
Avoid blood thinning medications and supplements like aspirin, warfarin, ginkgo biloba, ibuprofen, Vitamin A, and Vitamin E–this will prevent excessive bruising and/or swelling
Inform your doctor of any injuries or underlying conditions that affect the treatment area
Avoid skin care products containing retinol and other treatments or products that could irritate the treatment area
Avoid alcohol 24 hours before treatment
Use a gentle cleanser on the day of treatment and arrive with clean skin
Procedure
Radiesse injections are fast and take about 15 to 30 minutes.
We will apply local anesthesia so that you remain comfortable for the duration of treatment.
Radiesse will be injected beneath the skin using a small needle. There are a variety of injection techniques that can be used, and the amount of Radiesse used will depend on the needs of each patient.
Once Radiesse is injected, the filler can be massaged into the desired shape. Once treatment is finished, you may return to your daily activities. You can drive yourself and no downtime is required for recovery.
Recovery
After treatment, some patients experience mild bruising, swelling, and redness at the injection site. Tylenol can help reduce any discomfort you may feel post-procedure. Arnica tablets can also aid with swelling and bruising. We also recommend that you do not exercise or engage in any strenuous activity for the rest of the day. After twenty-four hours a light layer of makeup may be applied to reduce any redness. Ice packs may be gently applied to the areas to reduce swelling and discoloration. These symptoms should subside after a few days.
Results
Patients will notice an immediate improvement after Radiesse injections. Because the gel helps activate collagen production in the body, you can expect lasting results as the gel is metabolized in the body and replaced by new healthy collagen. And because it's your own natural collagen, results last a year, and in some patients can last up to two years! To maintain results, patients can simply return to Dr. Abramson's office for a touch-up procedure.
Corresponding & Complementary Procedures
Botox
Botox injections are a neurotoxin protein that is injected into muscles that cause wrinkles such as smile lines, crow's feet, deep lines, creases, and acne scars. Botox injections are FDA-approved and have been used and tested for many years.
Botox injections are a safe treatment for patients who want to decrease the effects aging has had on their face.
Botox injections are administered with a thin needle and are applied to the forehead, neck, and areas around the mouth and eyes. The neurotoxin will work to temporarily pause the communication between the muscle and nerves. This will relax the muscle and the skin it affects, resulting in a more rested, younger appearance. Botox is a popular, anti-aging solution that Dr. Abramson and his staff are adept at applying.
Juvederm
Hyaluronic acid adds support to our skin and helps to keep it moisturized.
Juvéderm is a hyaluronic acid-based dermal filler. Hyaluronic acid is an acid found within our skin and connective tissues. Juvederm is a long-lasting filler that will naturally enhance your facial features, reducing wrinkles and smoothing out the skin. Juvederm products commonly contain lidocaine, a local anesthetic, to help diminish any discomfort and improve your treatment experience.
Renuva
Renuva is a revolutionary treatment in the realm of dermal fillers. Renuva injections are composed of small amounts of rehydrated fat. These injections are commonly applied to the face to add volume and improve its texture but can also be administered to the hands. Renuva can also be used on scarring and other depressions. Renuva is popular because of its versatility, and can be applied almost anywhere on the body.
Renuva is often applied to the face to improve volume in the lips, cheeks, and reduce the appearance of scarring. Wrinkles and lines can be easily smoothed with Renuva injections.
Irregularities in the hips can also be diminished with these simple applications. The buttocks are another common area Renuva is administered. Renuva is used to target irregularities caused by cellulite and improve the overall shape of the buttocks. Renuva can improve the quality of your skin all over your body while Radiesse improves the appearance of your facial skin.
Restylane
Restylane is a dermal filler used to treat moderate to severe facial wrinkles and folds, specializing in the areas around the mouth and nose. Restylane also has a hyaluronic acid-base and will work to enhance the quality of your skin. Restylane treatments improve the facial structure and will return a young, full look to your appearance. You can combine your Radiesse injections with Radiesse to comprehensively improve your face!
Injectable fillers and Botox injections are simple procedures that can be applied in twenty minutes or less.
Each of these fillers will have been designed for a specific area of the face, when combined with a Radiesse treatment, you can transform your whole face. Patients can see their results immediately and within the first few days of their treatment. Fillers do not require downtime and patients often return to their regular schedule after their procedure. You can combine one of these fillers or Botox injection procedures to enhance your Radiesse treatment.
Cost of Radiesse in New York City and Englewood
The cost of treatment with Radiesse varies from patient to patient, depending on the areas being treated, the desired results, and the amount of Radiesse required. Radiesse is sold by the syringe. We can provide a more definite quote in a personal consultation, where we will also be glad to discuss financing options.
FAQ
What happens once a patient receives a Radiesse injection?
After injection with Radiesse, the main ingredient calcium hydroxyapatite (CaHA), will work deep underneath the skin's surface to stimulate the production of collagen. This process helps to create a fuller, more youthful appearance. Over time, the CaHA is broken down and eliminated from the body, leaving a healthy store of collagen in its place.

How long does Radiesse last? 
Results from Radiess can last up to two years but will require maintenance appointments to keep your appearance consistent.
Do I need to do a skin test before Radiesse?
Typically, no skin testing is required for Radiesse, although it will ultimately be a decision between you and your injector. Radiesse is made of biocompatible materials and has a low risk of allergic reactions.
References
Jacovella PF. Use of calcium hydroxylapatite (Radiesse) for facial augmentation. Clin Interv Aging. 2008;3(1):161-174. doi:10.2147/cia.s2065
Lafaille P, Benedetto A. Fillers: contraindications, side effects and precautions. J Cutan Aesthet Surg. 2010;3(1):16-19. doi:10.4103/0974-2077.63222
Want to see your new you before the procedure?
With Crisalix's 3D imaging technology you can see how you would look post-procedure if full 3D.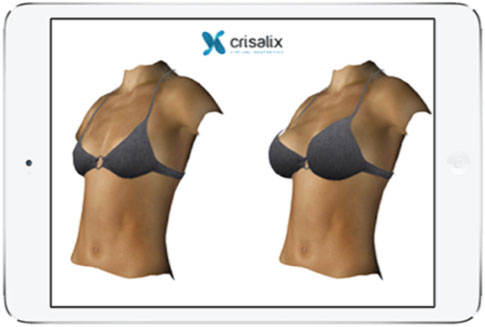 Learn More