Radiesse
Consultations offered at our three convenient locations in New Jersey, Bergen County and Englewood, NJ
Frown lines from frustration, smile lines from late nights spent laughing, and wrinkle lines deep in your forehead from your care and concern for loved ones. Your face shows your life's experiences. However, we don't always want these aging signs to remain present on our face. With Radiesse, these aging signs don't have to remain.
Dr. Abramson can return your youthful appearance with simple, non-surgical Radiesse injections! Dr. David L. Abramson and his staff are pleased to present Radiesse treatments to the patients in their New York City and Englewood, NJ, offices.
The filler provides natural results, one of the main reasons there is an increased demand for Radiesse in Manhattan and other surrounding locales.
What is Radiesse?
Radiesse is a dermal filler that treats moderate to severe creases in your face, particularly around your nose and mouth. These include nasolabial folds, marionette lines and frown lines. Radiesse can also be used to enhance the fullness of your cheeks and other facial contours.
The key ingredient to Radiesse is calcium hydroxylapatite, a mineral-like compound that is found naturally in human bones. Its calcium-based microspheres create a scaffold upon which your own collagen can grow.
Radiesse works from the moment it's injected into the lines and folds of your skin. It helps increase the skins volume, letting your indents and wrinkles be filled out.
As you age your body naturally starts to lose its collagen and isn't stimulated to make more. The result? Your once full face starts to lose its youthful elasticity and volume. Radiesse replaces the skin's lost collagen. After the initial injection, the chemicals in Radiesse start to work as a structure for the skin, which allows your body to start naturally replacing its lost collagen! Your body will be actively helping your skin cure wrinkles on its own!
If this two-part correction process seems like the perfect solution for you, don't hesitate in contacting Dr. Abramson for a consultation today! Dr. Abramson and his helpful staff will work with you to remove all the signs of aging on your face and have you walking out with the full, vibrant face of your youth.
Is Radiesse Right For Me?
Adult men and women can enjoy the many benefits that accompany a Radiesse treatment, these advantages include the reduction of:
Fine lines and wrinkles
Deep folds
Thin lips
Hollow cheeks
Scars
The best way to determine if Radiesse is right for you is to schedule an appointment at one of Dr. Abramson's offices. The skilled professionals on his medical team can give you a comprehensive evaluation and explain the treatment in full. The main component of Radiesse is calcium hydroxylapatite. This chemical is biosynthetically produced, meaning no animals or animal products were used, allowing Radiesse to have a low risk for allergic reactions. As a result, most adults who are age thirty-five and above are good candidates for Radiesse injections.
Personal Consultation
In your private consultation, you will get the opportunity to discuss your cosmetic goals and expectations of Radiesse injections with Dr. Abramson. He will take your goals into consideration as he performs an examination of your face and tests the quality of your skin.
Dr. Abramson strives for each patient to have a positive, healthy experience and will inquire about past procedures, your medication routine and any allergies. He will use this information to have a better understanding of your health and whether Radiesse injections are your ideal solution. He may suggest alternative options that will be better for your health, anatomy and cosmetic goals.
Dr. Abramson will walk you through a Radiesse treatment, the potential risks and the expected outcome. Together, you and Dr. Abramson will create a personalized treatment plan that achieves your ideal aesthetic.
Your Radiesse Treatment
Typically, no skin testing is required for Radiesse, although it will ultimately be a decision between you and Dr. Abramson. The treatment usually takes about fifteen minutes and is performed in either of our locations. Once Dr. Abramson or your Radiesse expert has identified the injection points, he or she will use a small needle to infuse the solution under the dermis layer of your skin. Side effects from the procedure are rare, and your results may last for two years or more, although periodic touch-ups may be needed.
Recovery
You may experience some swelling and the injection sites may be discolored. After twenty-four hours a light layer of makeup may be applied to reduce any redness. Ice packs may be gently applied to the areas to reduce swelling and discoloration. These symptoms should only last a few days.
Results
You will immediately notice the improvements that Radiesse injections produce.
Once the swelling and redness diminish you will see your new, transformative contours.
These results will last up to two years but will require maintenance appointments to keep your appearance consistent.
Complementary Procedures
There are many procedures that Dr. Abramson and his highly-trained staff perform alongside Radiesse injections, these include:
Botox
Botox injections are a neurotoxin protein that is injected into muscles that cause wrinkles such as smile lines, crow's feet, deep lines, creases and acne scars. Botox injections are FDA-approved and have been used and tested for many years.
Botox injections are a safe treatment for patients who want to decrease the effects aging has had on their face.
Botox injections are administered with a thin needle and are applied to the forehead, neck and areas around the mouth and eyes. The neurotoxin will work to temporarily pause the communication between the muscle and nerves. This will relax the muscle and the skin it affects, resulting in a more rested, younger appearance. Botox is a popular, anti-aging solution that Dr. Abramson and his staff are adept at applying.
Juvederm
Hyaluronic acid adds support to our skin and helps to keep it moisturized.
Juvéderm is a hyaluronic acid-based dermal filler. Hyaluronic acid is an acid found within our skin and connective tissues. Juvederm is a long-lasting filler that will naturally enhance your facial features, reducing wrinkles and smoothing out the skin. Juvederm products commonly contain lidocaine, a local anesthetic, to help diminish any discomfort and improve your treatment experience.
Renuva
Renuva is a revolutionary treatment in the realm of dermal fillers. Renuva injections are composed of small amounts of rehydrated fat. These injections are commonly applied to the face to add volume and improve its texture but can also be administered to the hands. Renuva can also be used on scarring and other depressions. Renuva is popular because of its diversity. Renuva can be applied almost anywhere on the body.
Renuva is often applied to the face to improve volume in the lips, cheeks and any scarring. Wrinkles and lines can be easily smoothed with Renuva injections.
Irregularities in the hips can also be diminished with these simple applications. The buttocks are another common area Renuva is administered. Renuva is used to target irregularities caused by cellulite and improve the overall shape of the buttocks. Renuva can improve the quality of your skin all over your body while Radiesse improves the appearance of your facial skin.
Restylane
Restylane is a dermal filler used to treat moderate to severe facial wrinkles and folds, specializing in the areas around the mouth and nose. Restylane also has a hyaluronic acid-base, and will work to enhance the quality of your skin. Restylane treatments improve the facial structure and will return a young, full look to your appearance. You can combine your Radiesse injections with Radiesse to comprehensively improve your face!
Injectable fillers and Botox injections are simple procedures that can be applied in twenty minutes or less.
Each of these fillers will have been designed for a specific area of the face, when combined with a Radiesse treatment, you can transform your whole face. Patients can see their results immediately and within the first few days of their treatment. Fillers do not require downtime and patients often return to their regular schedule after their procedure. You can combine one of these fillers or Botox injection procedures to enhance your Radiesse treatment.
How Much do Radiesse Injections Cost?
For your financing needs, Alphaeon and Prosper are offered. Every treatment is unique, so generalizing Radiesse prices can be difficult. The cost of Radiesse relies on many factors, including how many facial areas are being treated and the proper dosage level. To find out a more individualized estimate for Radiesse costs, please contact the staff at Dr. Abramson's practice.
When you work with Dr. Abramson and his experienced team, you will be treated with warmth and respect. We will make sure you are well-informed about Radiesse, so you can make the best decision for you. We are proud to offer Radiesse to patients in New York City, Englewood and Manhattan. Please schedule a consultation with us today and discover why we have a reputation for providing meticulous, compassionate care. You can call us today at (201) 731-3134!
Want to see your new you before the procedure?
With Crisalix's 3D imaging technology you can see how you would look post-procedure if full 3D.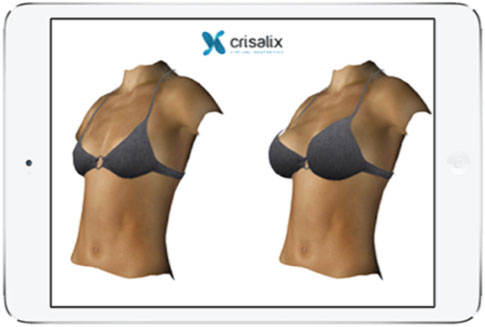 Learn More