Plastic Surgery
Consultations offered at our three convenient locations in New Jersey, Bergen County and Englewood, NJ
Plastic surgery is dedicated to the reconstruction of facial and body imperfections due to heredity, trauma, burns, disease, and the natural aging process. Cosmetic surgery is intended to correct asymmetry and bring balance to various areas of the body and face. The human form is a brilliant construction, but it may need some reconstruction from time to time. Plastic surgery can be restorative or cosmetic. Our procedures are designed to improve a patient's features on several aesthetic and functional levels.
Dr. David Abramson is an industry leader in the fields of reconstructive and cosmetic surgery. With three convenient locations in New York and New Jersey, Dr. Abramson is proud to serve the needs of his greater community. Please contact our offices online or call (212) 774-1828 in NYC or (201) 731-3134 in Franklin Lakes or Englewood, NJ. We also offer virtual consultations to best suit your lifestyle and schedule. No matter where you may log on, Dr. Abramson wants to connect with you.
Body Contouring
Fat is not the enemy. Fat cells provide energy to a body in motion, but sometimes they accumulate where we don't want them. Body contouring empowers patients to trim down those "problem areas" and tighten skin to reveal the strong, sleek physique beneath the surface.
Arm Lift
To remove the unsightly "bat wings" that dangle from the underarms, consider the benefits of an arm lift from Dr. Abramson. He can remove excess skin and contour the soft tissue beneath to accentuate your upper body excellence.
Body Lift
When sagging skin is a problem in more than just your upper arms, a body lift may be the optimal solution. Dr. Abramson will tighten up your overall look and highlight your ideal silhouette.
Brazilian Butt Lift (BBL)
A Brazilian butt lift accomplishes two goals at once. First, the procedure removes fat deposits from the hips, thighs, and back, making your butt look more pronounced by comparison. Then, to amplify the benefits of a BBL procedure, Dr. Abramson repurposes your extracted fat by placing it along the buttocks. A full, round backside is yours!
Liposuction
Contrary to popular belief, liposuction is not a weight-loss procedure. Instead, it removes stubborn fat from specified regions to contour the body to a patient's exact specifications. By targeting unwanted fat cells, liposuction gently vacuums away bulges and slims down "problem" areas.
Thigh Lift
When your upper legs rub together uncomfortably, a thigh lift can really give you a leg up. By removing excess skin, Dr. Abramson can tighten and tone your look and have you stepping out in style.
Tummy Tuck
The belly region is often the most difficult to control through diet and exercise alone. A tummy tuck can cinch up the midriff and create a taut, streamlined look for new moms and gym enthusiasts alike.
Fat Transfer
After fat is removed via liposuction, Dr. Abramson can put it to great use. Purified fat from your own body can be transferred to hands, breasts, buttocks, and facial features to add volume. Fat transfer truly allows your body to beautify itself.
Post-Bariatric Body Contouring
When you lose a significant amount of weight, it doesn't always result in the body of your dreams. Dr. Abramson can help you cross the finish line by contouring the slim, trim new you.
Breast Surgery
Whether you desire a change in size, shape, or both, breast surgery from Dr. Abramson offers variety and satisfaction supreme.
Breast Augmentation
To increase the volume of your bust line, consider a boost from breast augmentation. Dr. Abramson can explain the benefits of natural-feeling silicone implants, subtle and safe saline implants, or a fat transfer that utilizes your own body's material.
Breast Lift
Gravity can take its toll on the body, but you can counteract the weight of aging with a breast lift. By removing excess skin and acclimating the bust profile upward, Dr. Abramson raises your profile and perspective.
Breast Reconstruction
You are stronger than cancer. If a mastectomy altered the dimensions of one or both breasts, then reconstructive surgery is the best way to fight back. Using flaps of your own tissue, along with the techniques described above, Dr. Abramson can help you recapture the pre-cancer physique you know and love.
Breast Reduction
Size matters, especially when it causes back strain and discomfort. Dr. Abramson can alleviate the issues associated with a large bust by performing a breast reduction. The procedure involves removing excess fat and/or skin, all while maintaining proper blood flow to the nipple. Just because you reduce your size, that doesn't mean you should lose sensitivity.
Breast Revision (Removal and Replacement)
If you received breast implants in the past, they may not reflect your current ideal. To remove or replace implants, consider a revision surgery from Dr. Abramson.
Facial Surgery
The most important guiding principle in facial surgery is subtlety. You already look great; Dr. Abramson is only here to help you be your absolute best.
Brow Lift
Wrinkles tend to accumulate along the forehead, but Dr. Abramson can smooth them out with a brow lift. The procedure conceals all incisions along the hairline and/or behind the ears, removing excess skin and tightening the upper face.
Blepharoplasty (Eyelid Surgery)
Eyelids may droop and wither before their time. To perk up your perspective, consider the precise benefits of blepharoplasty. Dr. Abramson can contour the delicate features along the eyes to celebrate your youthful appearance.
Facelift
One of the most comprehensive approaches to facial rejuvenation is the facelift procedure. Nobody is more proficient with the applications and possibilities of a facelift than Dr. Abramson. He will contour the skin and soft tissue to celebrate your features. Contact our offices to learn more about facial enhancement.
Lip Augmentation
For full, voluminous lips, consider the contoured kiss of lip augmentation. Dr. Abramson will explain the many options at your disposal, from dermal fillers to your own purified fat cells. Pucker up to perfection!
Neck Lift
While many patients focus on enhancements to the face, they might ignore the pedestal on which it sits. A neck lift can contour the fine skin and tissue that complements the face, bringing harmony to one's overall appearance.
Otoplasty (Ear Surgery)
To correct the look of ears that protrude excessively, otoplasty is a great surgical option. Dr. Abramson gently maneuvers the cartilage that shapes the ear, bringing it into alignment with its surrounding features.
Rhinoplasty (Nose Job)
The nose is the most prominent feature on the face, so it deserves special focus. Rhinoplasty can reshape the nose to give it symmetry, style, and increased functionality. Breathe easier with a visit to Dr. Abramson.
Migraine Treatment
Migraines can be debilitating and even life-consuming, but Dr. Abramson has honed various treatments to help clear the fog of pain from your horizons.
Botox Cosmetic
Although it is best known for alleviating persistent muscle contractions that contribute to facial wrinkles, Botox is also a great diagnostic tool. Dr. Abramson can use the neuromodulator to identify the source of migraines and minimize their effects.
Surgery for Migraines
After pinpointing the neural clusters responsible for migraine pain, Dr. Abramson can relieve the pressure of migraines through surgery. By rerouting certain problematic nerves, the doctor will help optimize circulation in the brain and ease the stressors associated with migraines.
Plastic Surgery for Men
Despite the preconception that cosmetic surgery is largely a female pursuit, men love to look and feel their best too. Dr. Abramson understands the unique needs of male patients who are seeking surgical help to achieve greatness.
Gynecomastia
When male breast tissue is enlarged, it can cause embarrassment and distress. Dr. Abramson can flatten and contour a man's chest with gynecomastia surgery. By removing glandular tissue, fat, and excess skin, Dr. Abramson sculpts a rugged, masculine look for his clients.
Body Contouring for Men
From CoolSculpting to liposuction, Dr. Abramson provides a wide array of aesthetic options to men in New Jersey and New York. Call (212) 774-1828 or (201) 731-3134 to learn all about his suite of male body contouring services today.
Benefits of Plastic Surgery
Confidence is a fleeting commodity. It is impossible to eradicate all insecurities, but we strive to make ourselves more successful every day in every way. Dr. Abramson can boost your confidence with a strategic plastic surgery plan. The benefits of cosmetic enhancement range from smooth skin and sculpted features to the simple joy of smiling back at your mirror reflection. Contact us today so we can grin alongside you.
Eligible Candidates
Viable patients for plastic surgery must be in good health and within 30 pounds of their goal weight. Fluctuations can disrupt the results of an aesthetic procedure, so please alert Dr. Abramson to your fitness goals and medical history.
Private Consultation
During your comprehensive consultation, Dr. Abramson will explain the many options available to you in the plastic surgery space. From breast enhancement to facial rejuvenation, the possibilities sprawl out before you. In a continued effort to communicate our expertise and dedication to the New Jersey and New York communities we love, we regularly update our blog.
Amazing Results
To get a preview of what plastic surgery can do for you, please visit our rave reviews page. We are humbled by our patients' kind words, and we are committed to continue providing 5-star service to the New York and New Jersey communities. Contact Dr. Abramson to begin your journey to a strong, stunning new you.
FAQ
How much does plastic surgery cost in New York?
The price of a surgical procedure hinges on several variables. The extent of your treatment and the specific nature of its parameters are just two of the many factors that affect cost. Dr. Abramson is proud to offer financing options to help you maneuver the billing process. Please call (212) 774-1828 in New York or (201) 731-3134 in New Jersey to discuss the cost of whichever plastic surgery procedure you desire. 
References
American Society of Plastic Surgeons website. (2020). Cosmetic Procedures page, retrieved from https://www.plasticsurgery.org/cosmetic-procedures
American Society of Plastic Surgeons website. (2020). Reconstructive Procedures page, retrieved from https://www.plasticsurgery.org/reconstructive-procedures
Want to see your new you before the procedure?
With Crisalix's 3D imaging technology you can see how you would look post-procedure if full 3D.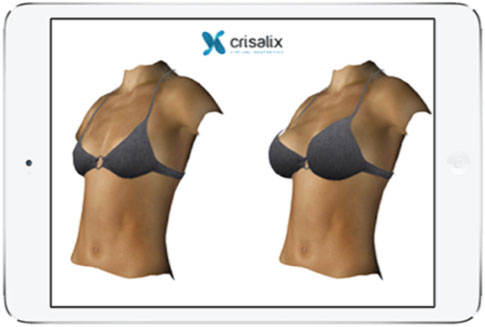 Learn More