Post-Bariatric Body Contouring
Consultations offered at our three convenient locations in New Jersey, Bergen County and Englewood, NJ
However you went about it, dramatic weight loss is a proud achievement worth showing off.
Post-bariatric body contouring will ensure that you can hit the beach and appreciate the fruits of your labor. Bariatrics is the branch of medicine concerned with fighting obesity. Unfortunately, many formerly obese patients find themselves with a whole new set of concerns, like the loose, sagging skin that is often left in the wake of transformational weight loss. Body contouring is a term used to describe the suite of services Dr. David Abramson provides to remove and tighten the sagging skin hanging from our bodies when we lose a significant amount of weight.
Dr. Abramson's offices are in the heart of Manhattan. With additional locations in Northern New Jersey, he is poised to serve the aesthetic needs of the New York metropolitan area. David is a native New Yorker, born in the city and raised in Tenafly, NJ. He went to John Hopkins University before studying at New York University School of Medicine. He completed his residency in Boston, at the prestigious Harvard/Brigham/Children's Division of Plastic Surgery. But, Dr. Abramson knew he would return to the city he loves, New York. His Manhattan office is on 74th St., just east of Madison Ave. He has two more satellite offices in Englewood, New Jersey.
Schedule a consultation at any of Dr. Abramson's offices and learn more about how he can help contour your body to complete your weight loss transformation.
What Happens After Significant Weight Loss?
It is one of nature's many great ironies that, after struggling against nearly impossible odds to achieve transformational weight loss, a new set of struggles begins. These new struggles come in the form of lax and sagging skin that can be almost as embarrassing as the weight you lost.
Dr. David Abramson is an experienced professional who is ready to deploy a full battery of body contouring options to help you meet your aesthetic goals.
With a variety of techniques in his repertoire, Dr. Abramson will target the areas most impacted by sagging flesh. Loose skin is not only a source of embarrassment, but it may also be a source of pain and potential health issues. Rolls and folds may create friction, causing irritation as they rub together. Patients report difficulties exercising because of their excess skin.
Before and After Photos
Areas Most Affected in Post-Bariatric Patients:
Abdominal area
Upper arms
Thighs
Buttocks
Chest and breasts
Until these areas have been sufficiently addressed, is your transformation really complete? You read the latest about all of Dr. David Abramson's services by checking out our blog.
Tummy Tuck (Abdominoplasty)
Your belly shows some of the most severe post-bariatric consequences.
The Tummy Tuck (abdominoplasty) is a procedure that specifically targets this area and delivers long-lasting results. People who have lost 100 pounds or more will notice a pouch of skin that looks a little like a deflated beach ball hanging from their abdomen. That's because your skin was stretched to its limits when you carried around all that extra weight. The skin lost its elasticity, and so, unfortunately, it won't be springing back to hug your body like a fine tailored suit any longer. But there's something you can do about it.[1]
How Does a Tummy Tuck Work?
A tummy tuck will enhance the look of your midsection by tightening the skin around your frame. This is accomplished by removing the excess skin. The procedure begins with a horizontal incision just below the waistline. Another circular incision is made around the belly button. The skin is freed from the connective tissue and pulled up from the abdominal area in the same way you'd pull up the sheets before crawling into a freshly made bed. Here, the stomach muscles are revealed. The abdominal muscles are often tightened by lacing them up with a series of sutures. A new hole is cut for your navel as the abdominal skin is pulled back down tight around your tummy. Excess is skin is cut away. Finally, Dr. Abramson applies bandages and provides your aftercare instructions.
Mini Tummy Tuck
The mini tummy tuck—also known as a partial abdominoplasty—is the "bite-size" variation of the full tummy tuck, described above. It targets a smaller area, specifically the pouch area of the lower belly, just below the navel. It is ideal for patients with a less profound case of post-bariatric loose skin. Recovery time with the "mini" is potentially shorter.
Extended Tummy Tuck
The scope of improvement is increased in the extended tummy tuck. It reaches beyond the front of the body, in fact, as the opening incision extends around the waist and behind the hips. Patients who have sagging abdominal skin but also need tightening in their love handles and back are considered ideal candidates for the procedure.[2]
Arm Lift (Brachioplasty)
Dr. Abramson can help with the sagging skin in your upper arms with a procedure called brachioplasty, also known as an Arm Lift.
It doesn't matter how many curls or pull-ups you do, the "bat wings" hagging from your upper arms will never again fit like a snug sleeve unless you address the issue directly. In an arm lift, an incision is made from your elbow to your armpit. And, not unlike a tailor seeking the perfect fit, Dr. Abramson will pull the tissue tighter around your arm, cutting excess skin and fat away.
After the incisions are closed, Dr. Abramson will send you home with well-wishes and aftercare instructions.
Benefits of Arm Lift
Tighter looking arms
Potential for more muscle definition in the biceps
Clothing may fit better
Body Lift
Especially for cases in which extreme obesity was conquered, the surgical scope of Dr. Abramsom's contouring work may reach beyond just the areas targeted in the procedures listed above. For these cases, Dr. Abramson may recommend a Body Lift. A body lift is actually a combination of several procedures meant to comprehensively address the body contouring needs of a post-bariatric patient. Body lifts can be performed on the upper or lower body.
Upper Body Lift
An upper body lift includes the arm lift described above. It also includes a Breast Lift. The upper body lift procedure addresses both the bat wings and the sagging breasts that often appear in post-bariatric patients. Ptosis is the medical term for sagging breasts. To correct ptosis, Dr. David Abramson carefully removes excess breast tissue. The breast mound and nipples are repositioned for a lifted, more youthful look.
Lower Body Lift
The lower body lift includes a tummy tuck (described above), buttock lift and Thigh Lift. In the buttock lift, an incision is made just above the glutes. Skin and fat tissue are pulled higher and excess tissue is removed. This leaves the buttocks looking lifted and perky. The thigh lift portion of the lower body lift focuses on the loose skin that pools in the upper legs of formerly obese patients. The thigh lift is not unlike an arm lift. The incision is made along the inseam area of the thighs. Dr. Abramson tailors the loose skin to your frame before sealing the incision.
Your Transformation Journey is Almost Over
It has been a long, hard road. You lost the weight. You should be proud of all you accomplished and excited to start this new chapter of your post-bariatric life. Your journey is almost over. But not yet.
What are you going to do with sagging skin left over from your larger days? This is where Dr. David Abramson can help. His body contouring procedures are the last step of your weight loss journey. Inquire about a consultation to learn more.
FAQ
What happens after dramatic weight loss?
Unfortunately, even after conquering obesity, many people struggle with the next challenge: loose, sagging skin hanging from their bodies. Luckily, Dr. Abramson offers a full suite of body contouring procedures designed to solve this very problem.
What areas are the most affected by loose, sagging skin after dramatic weight loss?
Post-bariatric patients (patients who have overcome obesity) typically experience excess skin in certain areas. These areas usually include the stomach, the skin around the arms and chest, as well as the thighs and flanks (love handles). All of these issues may be corrected with body contouring. 
What do I do about my loose skin after my transformational weight loss?
There's no amount of diet and exercise that can repair lax skin that has lost its elasticity. However, there is something you can do about it. Cosmetic body contouring procedures that include a tummy tuck, arm lift, thigh lift, breast lift, etc. are several of the options available to you.    
References
Lotfi, A. links open overlay panelP., & Engdahl, R. (2019). Concepts and Techniques in Postbariatric Body Contouring: A Primer for the Internist. The American Journal of Medicine, 132(9), 1017–1026. doi: https://doi.org/10.1016/j.amjmed.2019.02.048
Wong, M. (2016). Post-Bariatric Body Contouring Surgery After Weight Loss Lessons Learned From an Obesity Epidemic in the United States. Annals of Plastic Surgery, 77(1), 53–59.
Want to see your new you before the procedure?
With Crisalix's 3D imaging technology you can see how you would look post-procedure if full 3D.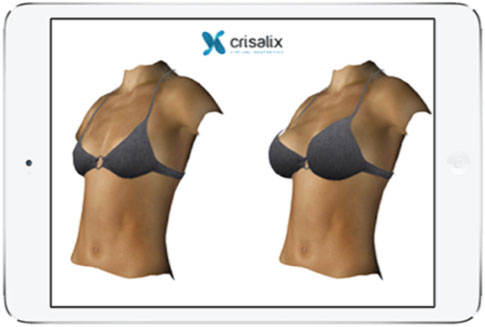 Learn More