Male Body Contouring
Consultations offered at our three convenient locations in New Jersey, Bergen County and Englewood, NJ
Plastic surgery tends to be thought exclusively for women. However, this couldn't be further from the truth. Many men struggle with fat gain in problem areas of their body, constantly cycling through diets and exercise routines in order to rid themselves of this excess fat. Many times, fat just can't be burned off or excess fat tissue can develop as the result of a condition. This is where male body contouring steps up to the challenge and assist our male patients. Dr. Abramson specializes in male body contouring, and countless other effective body sculpting surgeries.
Dr. Abramson and his staff are fully prepared and eager to help you achieve your goals.
We can help you determine if you would benefit from liposuction or if you need just a little bit of help to boost to eliminate the extra fat.
What Is Male Body Contouring?
Male body contouring can take many forms. The most common areas that men like to address are love handles and the chest. Love handles are frequently addressed with liposuction and many different technologies are available to help improve the result. There are ultrasound techniques that all can be used in the right person to help improve results.
It's important to discuss with Dr. Abramson at great length the best alternative technology that would be right for you.
A common area treated is the chest for reducing excess breast tissue, a condition known as gynecomastia. First, a diagnosis needs to be made of how much of the problem is skin and how much is actual breast tissue, Sometimes liposuction alone will be sufficient but other times excisional surgery is required.
Liposuction
Liposuction is a safe, effective, and popular solution to get rid of pesky fat deposits that don't go away with diet and exercise. Dr. Abramson offers an extensive selection of liposuction variations which include tumescent liposuction and Ultrasound-assisted liposuction. Each liposuction modality offers a unique set of benefits depending on the patient's body and their specific goals. It is important to understand that liposuction won't replace dieting and exercising, so patients should be in good shape and in good health.
Recovery downtime is minimal after liposuction is performed, but any intense or heavy activities should be avoided for up to a month. After 4-7 days, liposuction patients are typically ready to return to work and to resume to their normal lives. Dr. Abramson and his staff understand that undergoing any treatment may be overwhelming and stressful, but rest assured, we only practice with the highest standards and maintain a pristine track record of safety and quality.
In recent years, more men have been undergoing plastic surgery with liposuction treatment being one of the most common requests. Men can be just as self-conscious about their appearance as women can be, and everyone works to look their best. Dr. Abramson performs liposuction treatments that cater specifically to each male or female's unique physique and problem areas.
A healthy sense of confidence is beneficial in all aspects of life, and our male patients choose to undergo liposuction to boost their confidence and feel. Dr. Abramson can help you understand your options and realize your goals, and what liposuction can contribute to your life.
Treatment Areas
Liposuction can remove persistent fat from almost any part of the body. Some of the most common areas of the body where liposuction can be performed include:
Abdomen
Chest
Chin
Neck
Cheeks
Upper Arms
Back
Flanks
Hips
Thighs
Knees
Calves
Ankles
You will be able to point out your areas of concern during your consultation and discuss the best treatment strategy to achieve your ideal body.
Liposuction for Enlarged Male Chest
About 50% of men will experience symptoms of excessive breast tissue development, a condition also known as Gynecomastia. Enlarged breasts tissue can be a distressing condition in males, affecting body image and self-confidence. Breasts can become enlarged due to genetics, increased levels of estrogen, prescribed medication, or old age. Liposuction may be the ideal treatment option for men dealing with gynecomastia symptoms. Liposuction can remove the excess fat to restore a more muscular, flatter, and masculine look to the chest.
Good Candidates
Patients who are considering male liposuction and reasonably close to their weight loss goals should schedule a consultation with Dr. Abramson. Patients should be in good health, maintain a stable weight, and shouldn't smoke or suffer from any underlying diseases that may be detrimental to the healing process. Schedule a consultation today to determine if you're a good candidate.
Techniques
Once you are determined to be a good candidate, we offer various liposuction techniques and can discuss which options are best suited to your goals. Some of the most common forms of liposuction techniques include:
Tumescent Liposuction
Considered the gold standard of liposuction, tumescent liposuction is a technique where saline, epinephrine, and lidocaine is injected into the treatment area before removing the fat. These substances infiltrate the fat beneath the skin, swell the skin, and make the fat easier to remove and reduce bleeding after the fat is removed. Patients will also feel minimal discomfort as the procedure during their procedure and avoid the need for general anesthesia. The recovery process for tumescent liposuction is minimal and relatively short.
This technique makes the treatment area "tumescent," which means swollen and firm, hence the name of this particular technique.
Ultrasound Assisted Liposuction
UAL, or ultrasound assisted liposuction is one of the most advanced technologies available for sculpting fat from the body. Not only does it achieve fat removal more efficient, but it also results in significant skin tightening for smoother, precise body sculpting.
Additional Male Body Contouring Procedures
Men are now embracing and undergoing more plastic surgery than ever before. Some of the alternative procedures that males have recently undergone include:
Tummy tuck
Mainly for men who have lost a lot of weight and want to remove any excess skin that lingers around the abdomen. Male cosmetic surgical procedures can address many different aesthetic concerns. Our staff at can help you further understand additional procedures and which ones may be right for you.
Body Lift
Massive weight loss after successful dieting, exercise or medically-assisted weight loss programs can create excess, sagging skin. Aging can also result in stretched, sagging skin that deforms the body's natural shape. A body lift is a surgical procedure to remove excess skin to restore a natural, masculine figure.
Procedure
Your liposuction will be performed at our world-class surgical facility. The target pockets of fat are first marked up according to your predetermined surgical plan. After anesthesia is applied, Dr. Abramson will make tiny, circular incisions around the treatment area just large enough to insert the cannula. After suctioning out fat, the incisions are closed with sutures. The length of the procedure will vary depending on how much fat being removed.
Recovery
After the procedure, you will be wrapped in a compression garment that will reduce swelling and encourage the natural healing process. Patients are not advised to drive for at least a day after the procedure and rest as much as possible. Some soreness or mild discomfort may be felt a few days after the procedure, and Dr. Abramson can prescribe medication if needed, Patients can walk right after their surgery but should avoid any strenuous activity for up to a month. Depending on the demands of your job, you may return to work within a few days.
Consultation
Your consultation will be held in our office with Dr. Abramson. This is the perfect time to express your concerns, ask questions, and to disclose your medical history, previous surgeries, and any underlying medical conditions. He will then discuss your expectations and goals. You will undergo a physical examination and then Dr. Abramson will determine if you are a good candidate for liposuction or other male body contouring techniques.
At the conclusion of your consultation, you will receive a detailed, breakdown of your fully customized treatment plan. Dr. Abramson encourages all patients to ask any questions or express any concerns they may have about liposuction. We are here to help you achieve the best version of yourself possible.
Pricing
Each patient's body and situation are unique and there are no one-size-fits-all techniques. The cost of male liposuction varies and is contingent on each patient's specific case and goals for their procedure. The type of liposuction technique used and additional treatments can factor into the price. An accurate price estimate will be provided during your consultation.
Want to see your new you before the procedure?
With Crisalix's 3D imaging technology you can see how you would look post-procedure if full 3D.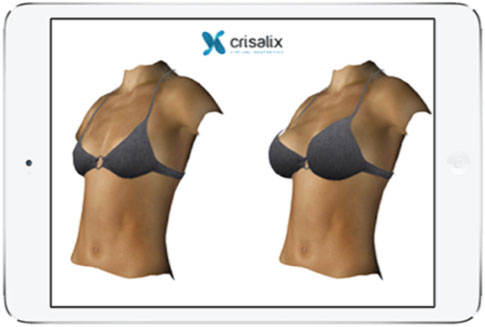 Learn More