Breast Surgery
Consultations offered at our three convenient locations in New Jersey, Bergen County and Englewood, NJ
Breast surgery is a collection of cosmetic procedures that reshape and resize a woman's breasts. Breast surgeries are one of the most routinely performed plastic surgery procedures in the country, and they have been for the last few decades. With the latest advancements in cosmetic, plastic, and reconstructive surgery, breast operations have evolved to successfully achieve a woman's ideal breasts. Dr. David L. Abramson has long been one of the most sought-after plastic surgeons in New York City. With his decades of experience, Dr. Abramson has helped thousands of women achieve their desired appearance. The first step is to schedule a personal consultation at one of our offices. To reach our offices in New York City, call (212) 774-1828. Patients in New Jersey can call (201) 731-3134 to speak with our staff in Englewood or Franklin Lakes. 
Before and After Photos
About Breast Surgery
To enhance a woman's breasts, doctors, surgeons, and the producers of medical devices have continually developed and improved the techniques and materials utilized. These critical medical advancements have led to consistently better results, which have contributed to the ever-increasing popularity of these procedures! Since the 1960s, when gel implants were first introduced, the rate of breast surgeries has dramatically increased each year.[1] Surgeons have also perfected approaches to other breast procedures like breast lifts, and patients are now able to combine different breast procedures into a single surgery session to achieve their desired appearance. Breast procedures remain in the top five most performed surgical procedures.[2] 
Breast Augmentation
Breast augmentation is the most popular of breast procedures. Every year thousands of women choose breast augmentation because of this surgery's ability to effectively create more volume and improve the shape of the breasts. Breast augmentation can utilize either silicone or saline implants that come in either a round or teardrop shape. Round implants are ideal for patients who want more projection, and teardrop implants are ideal for patients who want an gentler, natural-looking slope to their breasts.[3] Implants can be placed either on top of or just under the pectoral muscle, depending on the condition of the existing mammary tissue, and the desired effect. In addition, the size of the implants can also be customized to your liking. Breast augmentation is a highly personalized procedure that can be tailored to a woman's unique desires and aesthetics. To learn more about the implants themselves, visit our breast implants page! 
Breast Lift
Also called a mastopexy, a breast lift is a simple surgical procedure to remove excess mammary tissue and bring the breasts up to a higher position. Unfortunately, as we age, our breasts can start to descend. This can occur at just about any age after adolescence and can have a serious effect on our self-image and self-confidence. The sagging in our breasts is caused by ptosis in the breast tissue. Ptosis comes in three degrees, from mild to advanced.
Mild Ptosis: the bottom of the breasts has dipped just below the inframammary crease (the line where the underside of the breast and the chest wall meet).
Moderate Ptosis: the nipple has dipped below the crease line.
Advanced Ptosis: the breast tissue and nipple have fallen so far below the crease line that the nipple faces downward.
With a breast lift procedure, Dr. Abramson carefully removes excess tissue and repositions the nipple-areolar complex to sit higher on the chest. This procedure helps women see a younger, lifted appearance in the appearance of their breasts.
Breast Lift With Augmentation
A common approach to breast enhancement is to combine breast augmentation with a breast lift. Many patients who are interested in a breast lift are also interested in increasing the size or projection of their breasts. For these women, Dr. Abramson offers breast lift with augmentation. In one simple surgical procedure, Dr. Abramson makes minor incisions to remove the ptotic tissue, reposition the breasts to a lifted position, and insert implants to achieve the patient's ideal size. Because it is on the procedure, patients only have to undergo one recovery period, making it more convenient than enduring two separate procedures. With a combined approach, patients receive double the benefits from these two remarkable treatments.
Breast Fat Transfer
In recent years, patients have wanted to see more volume in their breasts but prefer to avoid implants. For these patients, Dr. Abramson uses a breast fat transfer. First, he begins by strategically extracting unwanted fat from different areas of the body using liposuction. Next, he purifies it and readies it for relocation. Dr. Abramson then carefully injects the fat into the breast tissue to give the area more natural volume and projection. Since it is the patient's own fat cells, there is no risk of allergic reactions. And, because it uses living fat cells, patients who choose a breast fat transfer can expect to see these outstanding results for years to come.
Breast Revision
For decades breast surgeries have been widely performed. But not every woman is happy with their results later down the road. Some women desire smaller implants, more projection, or just want the implant removed entirely. Dr. Abramson offers breast revision to help these women revise their previous procedure's results. By using the same incisions as the original entry points, Dr. Abramson does not create any new scarring. Patients can decide whether to use new implants or restore their natural contours. 
Breast Reconstruction
For those who have undergone a lumpectomy or a mastectomy, Dr. Abramson offers breast reconstruction. This rewarding procedure allows women to reconstruct their feminine silhouette by achieving new, natural-looking breasts. He does this by creating a personalized approach to your unique situation and desired results. He can use implants of fat transfer to build volume and projection in the breast tissue as well as other means to restore the appearance of your breast(s). 
Breast Reduction
For many women, lacking size and volume in the breasts is the opposite of their cosmetic dilemma. Through different stages of life, a woman can experience breasts that grow to an uncomfortable (and sometimes unmanageable) size. Breasts at this size can make everyday life awkward as physical activity becomes harder, clothes are more difficult to wear, and chronic back or shoulder pain takes its toll. For these women, Dr. Abramson offers a breast reduction. By surgically removing the excess breast tissue, Dr. Abramson can reduce breasts to a more desired, comfortable size and alleviate any chronic pain associated with this condition. 
Candidates
Any woman interested in breast surgery is invited to schedule a personal consultation. Patients come from all seasons of life. We do recommend you be at a healthy, stable weight as future weight changes or pregnancies will diminish the results from your breast surgery. Also, we recommend that smokers discontinue smoking a couple of days before the surgery and for the entire duration of their recovery. Nicotine disrupts your body's natural healing response. Lastly, patients who have informed and realistic expectations of this procedure are oftentimes the most satisfied with their results.
Personal Consultation
If it is your first time visiting us, we will begin your consultation with a brief new patient intake interview and a physical examination. Since we will use general anesthesia, patients will need to be at a healthy weight and free of any interfering comorbidities. Then, Dr. Abramson will listen to learn about your desired breast shape and size. He will explain how different breast surgeries work, recovery timetables, and what approach he recommends for you. Then, Dr. Abramson will explain the difference between the implant options and help you decide which one is best for you. Next, he will begin a personalized treatment plan to address each one of your cosmetic concerns. Before you leave our care, we will give you a list of preparatory steps to follow before your surgery.
Preparation for Breast Surgery
To prepare for breast surgery, it is best to follow these guidelines.
Discontinue using any blood-thinning medications as these will cause excessive bleeding during the surgery.
Appoint a designated caregiver to drive you home after your procedure. You will come out from anesthesia unfit to drive yourself home.
Prefill all prescription medications our office sends out. The last thing you will want to do after breast surgery is wait in line at the pharmacy.
Stop smoking. Nicotine constricts blood vessels which hampers the body's natural wound healing response.
Recovery
After your breast surgery, Dr. Abramson will wrap your treated tissue in a compression garment. This will help the body accept the alterations and keep the implant in proper placement. Over the next few days be sure to sleep on your back so you don't disturb the sutures. At your follow-up meeting, we will determine where you are in the healing process and what next steps need to be taken.
Cost
The cost of your breast surgery will depend on the exact surgery Dr. Abramson uses and the cost of the surgical requirements. We will discuss the price of your unique procedure during your consultation. For those interested in financing their surgery, please take a look at our financing page or give us a call at (212) 774-1828 in New York City or at (201) 731-3134 to reach our offices in Englewood and Franklin Lakes. To stay up to date on the latest advancements in the aesthetic field, venture over to our blog!
References
Coombs, D. M., Grover, R., Prassinos, A., & Gurunluoglu, R. (2019). Breast augmentation surgery: Clinical considerations. Cleveland Clinic Journal of Medicine, 86(2), 111–122. https://doi.org/10.3949/ccjm.86a.18017
American Society of Plastic Surgeons. (2020). American Society of Plastic Surgeons. https://www.plasticsurgery.org/news/plastic-surgery-statistics
Adams WP Jr., Mallucci P. Breast augmentation. Plast Reconstr Surg 2012; 130(4):597e–611e. doi:10.1097/PRS.0b013e318262f607
Want to see your new you before the procedure?
With Crisalix's 3D imaging technology you can see how you would look post-procedure if full 3D.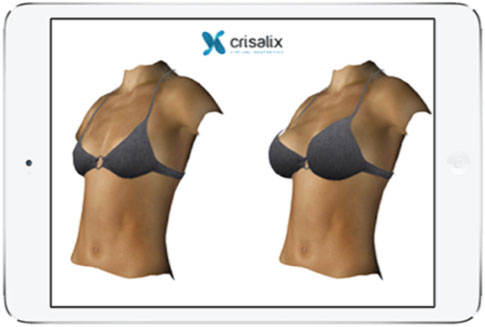 Learn More