Lip Augmentation
Consultations offered at our three convenient locations in New Jersey, Bergen County and Englewood, NJ
Lips.
They have made a lasting statement in society as conversations surround who did what to enhance their lips. As an important feature of the face that exudes youthfulness, the lips can be one of the first points of attraction for individuals. 
The way we hold our lips: pursed, pinched, pouted, upturned in a smile, frowning, and everything in-between can translate many of our feelings and emotions. Why not relay the message to the masses with fuller, softer lips?
If you were not born with lips that compliment your appearance, Dr. David L. Abramson offers a variety of lip augmentation options in New York City, and across the river in New Jersey.
What is Lip Augmentation?
Not only can lip augmentation enhance the fullness of your lips, but they can also raise or define a cupid's bow or vermillion border.
Lip augmentation is the physical manipulation of the lips to make them appear larger or fuller. Augmentation of the lips typically feature an assortment of injectables that are used to plump up thin lips and fill in lines caused by aging. These dermal fillers can be made of various materials, including collagen, hyaluronic acid, and human fat. 
What are the Benefits of Lip Augmentation?
Two priceless benefits of lip augmentation are boosting your self-confidence and taking years off of your appearance. Also, reducing embarrassment and the time it takes to overline your thin lips are motivators to opt for lip augmentation. If you are ready to reclaim your time, contact one of Dr. Abramson's offices today to schedule a consultation. 
Long-Lasting Results
Dermal fillers used for the lips are long-lasting! Your lips will maintain their shape and fullness for months. There is no need to continue to overline your lips.
Minimally-Invasive Procedure
Deciding to make your lips plumper does not have to be a big to-do. Fitting an appointment into your busy schedule is totally doable. Taking less than an hour from your day, you can leave Dr. Abramson's office with the pout of your dreams.
Natural-Looking Results
Creating the perfect cupid's bow and proportion to the face is very important when considering lip fillers. Lumps, bumps, and bruises are eliminated when a skilled professional conducts your lip enhancement. Dr. Abramson will inject just the right amount of the selected filler in just the right places to give you the look you desire.
Improved Symmetry
For some people, asymmetry of the lips is an issue they may have thought could not be corrected. Balancing out the upper and lower lips can provide a renewed sense of youthfulness. By visually removing the heaviness of one lip over the other by creating fullness in the smaller lip, you can achieve smoother and rounder lip contours.
If you are ready to realize the benefits of lip augmentation for yourself, contact Dr. Abramson today to schedule a private consultation.
Is Lip Augmentation Right for You?
The ideal candidate for lip enhancement is any adult who may be unhappy with the shape or volume of one or both of their lips. Patients are in generally good health and have realistic expectations about the treatment. Whether desiring a subtle enhancement or a significant change to obtain fuller, pillowy lips, Dr. Abramson can help you achieve it.
Lip Enhancement Consultation in New York and New Jersey
During a private, one-on-one consultation with Dr. Abramson, you will have the opportunity to ask any questions you may have. This is the perfect time to share your aesthetic goals with Dr. Abramson. He will discuss the different options for lip fillers, describe the procedure process, and examine your lips. He will work with you to create a customized treatment plan to assist you in obtaining the fuller lips you have been wanting!
It is important that you share your full medical and health history during this appointment if you decide lip augmentation is right for you. This means disclosing any allergies, current medications and supplements, and health concerns.
Want to learn more about lip augmentation? Contact us today to schedule your private consultation!
What Happens During Lip Augmentation?
Because it is a minimally invasive treatment, your lip augmentation can take place in Dr. Abramson's New York City or Englewood office. One of our specialists will mark your lips with a special marker to better visualize the injection sites. Once your injection sites are marked, the selected lip filler will be infused into your lips using a needle with an attached syringe. Each injection only takes a few moments, so the procedure typically lasts less than an hour.
Of the hundreds of patients who travel from throughout New York and New Jersey for our lip augmentation procedures, most are men and women between the ages of 30 and 60. Some choose to treat just the upper or lower lip, while others have both enlarged at the same time. Dr. Abramson will discuss your goals for lip augmentation during an initial consultation.
Types of Lip Fillers
There are many types of dermal fillers available for lip augmentation. 
Hyaluronic acid. Hyaluronic acid is a substance that is found in the body. It is found in your skin, eyes, and connective tissues. It is often taken as a supplement to retain moisture in the body.1 Hyaluronic acid can last up to 6 months. 
Donor Tissue.

Renuva. Renuva is an allograft adipose matrix. The donor graft is sterilized, processed and screened according to FDA standards. It is comprised of the extracellular matrix of growth factors that stimulates your body's natural processes, increasing fat production, and subsequent blood vessel development at the injection sites. Renuva is a long-lasting filler.2

Fat. Autologous fat transfer to the lips is an alternative to using a synthetic dermal filler or allograft. Liposuction is performed on a donor site on your body where you have unwanted, excess fat. The fat that is collected is purified and then reinjected into the lips. This procedure comes with two benefits: slimming and contouring the donor site and volumizing the lips! Plus, it uses your own natural fat to create your ideal aesthetic! 
Contact one of Dr. David L. Abramson's New York or New Jersey offices today to schedule your private lip augmentation consultation.
Lip Augmentation Results
With the potential exceptions of an allograft and fat transfer, dermal fillers are temporary solutions to augment the lips.
Regardless of the chosen material, your lip augmentation procedure will create the enhancement you have always wanted!
Immediately following injection, you may notice swelling and soreness at the injection sites. This is common and may subside in the next few days. Your lips may become increasingly chapped in the days following augmentation. This is also a common response to enhancing the lips. Dr. Abramson can discuss preferred ways to remedy dry lips after lip augmentation.
If you are ready to combat thin lips and don that bold lip color you have been holding out on, contact Dr. Abramson to schedule your lip augmentation consultation today!
The Cost of Your Lip Augmentation in New York and New Jersey
The cost of your lip enhancement procedure will depend greatly on a variety of factors. The chosen filler, the number of injections, and the amount of filler injected will affect your final price. Dr. Abramson's staff can give you more details on lip augmentation prices when you meet for a preliminary consultation.
Complementary Procedures
Creating a pout that gets you noticed can be a boost to the self-esteem you have been missing. However, opting for additional changes to your appearance can be the confidence game-changer you didn't know you needed. Small, but noticeable tweaks can take your lip augmentation to new heights!
Botox
Laugh lines and crow's feet can be tell-tale signs of advanced age. Botox Cosmetic is a neurotoxin that is injected directly into the muscles that are responsible for wrinkles and lines on the face. Botox causes the muscles to relax, minimizing the appearance of wrinkles.
Dermal Fillers
Just like dermal fillers can be used to plump the lips, they may be used to fill other areas of the face. If you notice your eyes or cheeks may be hollow due to age or genetics, consider dermal fillers to contour the face to your specifications. The specialists in Dr. Abramson's offices have a variety of fillers to choose from and will select the best one for your goals.
Ready to actualize your lip goals? Contact Dr. Abramson's New York or New Jersey offices to schedule your lip augmentation consultation!  
Additional Resources
Julson, E. (2018). 7 Surprising Benefits of Hyaluronic Acid. Retrieved from https://www.healthline.com/nutrition/hyaluronic-acid-benefits
MTF Biologics. (n.d.). Renuva. Retrieved from https://www.mtfbiologics.org/docs/default-source/product/renuva-surgeon-brochure-12-4-2018.pdf
3Cobb, C. (2018). How Long Do Lip Fillers Last? Retrieved from https://www.healthline.com/health/how-long-do-lip-fillers-last
Want to see your new you before the procedure?
With Crisalix's 3D imaging technology you can see how you would look post-procedure if full 3D.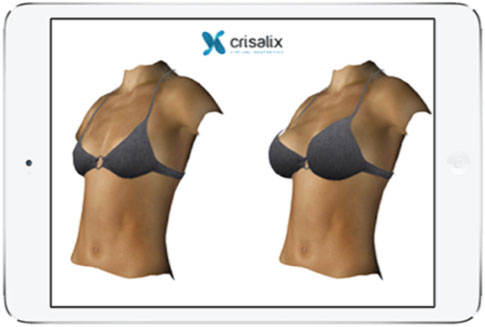 Learn More