Back Fat CoolSculpting
Consultations offered at our three convenient locations in New Jersey, Bergen County and Englewood, NJ
CoolSculpting is a great way to minimize fat along the bra bulge, armpit area, and lower back. Even if you can't see the excess bulk accumulating (literally) behind your back, you can feel it. You may experience discomfort while you sleep, ill-fitting clothes, and general fatigue as a result of back fat.
Dr. David Abramson is a board-certified plastic surgeon, but he also specializes in non-surgical solutions to unwanted fat. If you are in the areas of Englewood, Franklin Lakes, New Jersey or New York City, you can benefit from Dr. Abramson's expertise. Contact us online or call one of the following numbers to schedule an appointment.
New York City: (212) 774-1828
Englewood, New Jersey: (201) 731-3134
Franklin Lakes, New Jersey: (201) 731-3134
About CoolSculpting
The human body is amazingly resilient. It has the capacity to heal itself and find the right balance between fat and fit. But when bothersome protrusions fail to respond to diet and exercise, you may need some help contouring away certain fat deposits.
Cryolipolysis is the process through which the body flushes away frozen fat.[1] [2] Let's take a step back and see how it works. When low temperatures permeate fat stores, the cells effectively die while their surrounding skin, soft tissue and muscles remain unharmed. CoolSculpting is the brand name for cryolipolysis. The CoolSculpting device controls the temperature throughout the target area to freeze away excess fat cells. Once the cells are shocked into stasis, the body recognizes them as waste. The lymphatic system flushes the frozen cells away naturally and gradually.
Benefits of Back Contouring
You may go through an entire day without giving your back fat any consideration… but then you lie down to go to sleep and it makes its presence known. The bulk along the lower back, armpits, "bra bulges" and underarms can obstruct your comfort day and night.
To address your excess fat, consider the benefits of CoolSculpting for the back. Your frame can enjoy more pleasing proportions as you experience a boost in confidence and comfort. Certain clothes will also fit better when your back fat is brought into alignment. Shirts, blouses, tank tops and bathing suits will accentuate your strong, sleek contours, courtesy of Dr. Abramson.
Benefits of Back CoolSculpting
No incisions required
No anesthesia necessary
No downtime or drowsiness
Fat is eliminated naturally
Customized to your specifications
To empower your aesthetic journey, explore the benefits of CoolSculpting for the back. Contact Dr. Abramson at your earliest convenience. 
Eligible Candidates
If you are dissatisfied with the look or feel of your back, then CoolSculpting may be the optimal treatment for you. Ideal candidates are men and women in good health who are within 20% of their goal weight. CoolSculpting is not designed as a weight loss solution, but it is rather a body contouring opportunity. The targeted technology can shape the lower back, armpit areas, and bra bulges to provide a shapely posterior.
You may not be eligible for CoolSculpting if you struggle with a lymphatic disorder. The lymphatic system is responsible for processing waste, including the frozen fat cells that CoolSculpting produces. If your body is not ready to increase its waste eliminating capacity, then you may need to postpone your back CoolSculpting session until you are healthier. Dr. Abramson can determine your candidacy for cryolipolysis during a comprehensive consultation.
Your Private Consultation in New York
You may have always wanted a slimmer, more contoured back, but didn't know how to voice your request. Now you have someone who will listen and learn from your story. Dr. Abramson transforms dreams into reality. He can assess your fat stores and recommend the best approach for reducing them. After all, communication is the first step toward improvement, both in healthcare and in life.
As part of our continuing efforts to provide world-class communication to our New York and New Jersey communities, we regularly update our blog. Feel free to read through our posts and bring any questions that arise to your consultation. To schedule an appointment, please dial one of the following numbers.
New York City: (212) 774-1828
Englewood, New Jersey: (201) 731-3134
Franklin Lakes, New Jersey: (201) 731-3134
Preparation
During your consultation, you will receive detailed instructions to prepare you for your CoolSculpting back session. In general, it is a great idea to stay hydrated. Your body will thank you when it eliminates unwanted fat seamlessly and safely.
You should plan to wear loose clothing to the clinic on the day of your CoolSculpting treatment. Your comfort is important to us, and we will work tirelessly to reduce your back fat without inconveniencing you.
CoolSculpting Procedure
On the day of your CoolSculpting session, you will be ushered to a private room. Find a sitting or lying position that you find comfortable as your medical representative cleanses and prepares the back area for CoolSculpting.
A soothing gel will coat the skin along your treatment area. This facilitates the secure placement of the CoolSculpting applicator. As the device delivers powerful waves of low temperatures to the unwanted fat cells, you will only feel a slight numbing sensation. Feel free to relax and watch TV, read a book, or surf your smart device. The CoolSculpting process does the rest!
The duration of your session will depend on the exact placement of your back fat (upper, lower, armpits, etc.) and the extent of the bulk. In general, treatments last approximately 30-45 minutes.
Recovery and Results
Once the session is over, you will be ready to resume your everyday activities. There may be slight redness along the edges of the treatment area where your skin made contact with the applicator. This minor side effect should dissipate within 3-5 hours.
Recipients of CoolSculpting have expressed overwhelming satisfaction with the procedure. One extensive study indicates that participants measured a 23% reduction in fat, even after the three month mark.[3] For best results, you may want to schedule follow-up sessions with Dr. Abramson. 
To get a preview of your forthcoming elation, please visit our reviews page. Dr. Abramson is committed to providing 5-star service to New Jersey, New York, and beyond. 
Complementary Procedures
Back CoolSculpting is a wonderful way to freeze away unwanted fat, and you can supplement your results with strategic treatments targeting other areas of the body.
Abdominal CoolSculpting
The belly is notoriously difficult to flatten, but a CoolSculpting abdominal session can accelerate the process. While a tummy tuck is more comprehensive due to its ability to gently remove loose, sagging skin, cryolipolysis can achieve wonders without the need for surgical incisions. Bare your midriff with pride, thanks to Dr. Abramson.
CoolSculpting for Thighs
Bulky upper legs can cause discomfort and distress. By contouring away excess fat, thigh CoolSculpting gives you a leg up on your aesthetic goals!
Chin CoolSculpting
The beauty of cryolipolysis is how focused it can be. Even the protrusions beneath the face can experience a lifting via CoolSculpting for the chin. Your face will enjoy a dazzling definition when you say goodbye to that double chin. 
CoolSculpting for Flanks
If you have pinchable fat along your "love handles" region, then flanks CoolSculpting may be just what the doctor ordered. The custom applicators will freeze away excess girth and reveal your hourglass or V-shaped physique without surgery or downtime.
Regardless of which area you wish to treat with CoolSculpting precision, contact Dr. Abramson and begin your journey down the road to rejuvenation. 
FAQ
How much does back CoolSculpting cost in New York?
The cost of CoolSculpting for back fat depends on several factors. The exact placement of the fat contributes to the price of the procedure. For example, the lower back requires a different approach than the "bra bulge" area. Also, you may require more than one session to properly achieve your desired results. Dr. Abramson will provide an accurate and honest budgetary breakdown during your comprehensive consultation. In the meantime, feel free to peruse our financing page to learn about our credit and payment options. Call (212) 774-1828 to discuss your back CoolSculpting needs today!
Where can I find a CoolSculpting doctor in New Jersey?
Dr. Abramson has three convenient CoolSculpting locations, two of which are in New Jersey. Please call (201) 731-3134 to reach us in Englewood or Franklin Lakes. We proudly serve the needs of Passaic, Paterson, Paramus and the greater NYC vicinity. 
References
Avram, M. M., & Harry, R. S. (2009). Cryolipolysis™ for subcutaneous fat layer reduction. Lasers in Surgery and Medicine: The Official Journal of the American Society for Laser Medicine and Surgery. 41 (10) 703-708. https://doi.org/10.1002/lsm.20864
Nelson, A. A., Wasserman, D., & Avram, M. M. (2009). Cryolipolysis for reduction of excess adipose tissue. 28 (4) 244-249. DOI: https://doi.org/10.1016/j.sder.2009.11.004
Dierickx, C. C., Mazer, J. M., Sand, M., Koenig, S., & Arigon, V. (2013). Safety, tolerance, and patient satisfaction with noninvasive cryolipolysis. Dermatologic Surgery. 39 (8) 1209-1216. https://doi.org/10.1111/dsu.12238
Want to see your new you before the procedure?
With Crisalix's 3D imaging technology you can see how you would look post-procedure if full 3D.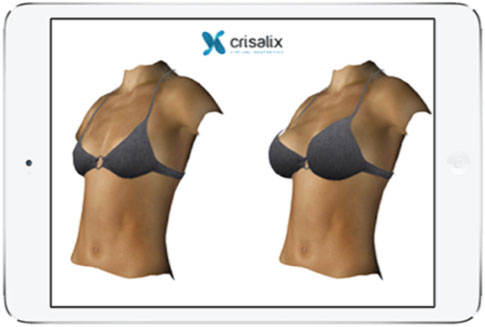 Learn More