Arm Lift
Consultations offered at our three convenient locations in New Jersey, Bergen County and Englewood, NJ
Sometimes, no matter how hard you exercise, there is simply no fighting the effects of weight fluctuation, age, and heredity. Your arms can be particularly frustrating, as the undersides begin to sag or appear loose or full due to excess skin and fat. If you find that these "bat wings" are a consistent problem, then an arm lift may be just what you need.
What Is An Arm Lift?
An arm lift, clinically known as brachioplasty, is a cosmetic procedure that slims and reshapes the arms from the elbow to the shoulder. Brachioplasty is usually performed on patients who have undergone massive weight loss or are genetically predisposed to larger upper arms. This procedure is designed to reduce excess skin and tissue on the upper arm resulting in a smoother and tighter appearance.
Is an Arm Lift Right for Me?
Most brachioplasty patients in New York and New Jersey are adults with significant skin laxity on their upper arms. If you are considering an arm lift, you should be in good health and your weight must be relatively stable. Patients who have undergone drastic weight loss and are left with excess, sagging skin have benefited greatly from an arm lift, and so can you. This procedure does not treat excess fat but additional procedures, such as liposuction, can be combined with an arm lift to provide fully comprehensive results.
Benefits of an Arm Lift
Reduce excess skin and fat from the underarm between the shoulder and the elbow
Smoother skin and visible definition
More toned and proportionate appearance
Dr. Abramson can gauge whether an arm lift is appropriate for you during a consult. He will perform a thorough examination and make sure all of your questions are answered so you know what to expect from your arm lift.
Brachioplasty Techniques
Dr. Abramson performs different techniques to accommodate the desired results of everyone who qualifies.
Limited Incision
The limited incision arm lift technique is beneficial for patients who do not have a large amount of excess skin. For this procedure, a small incision is made in the armpit, allowing it to be hidden easily. This procedure does not treat large amounts of excess skin like the standard and extended techniques do.
Short Scar Incision
Those who only have laxity in the upper half of the upper arm would be good candidates for a limited or short scar brachioplasty. This is a procedure that has been described by Dr. David Abramson in various articles published in prominent plastic and reconstructive surgery journals.
Click here to read more: https://www.ncbi.nlm.nih.gov/pubmed/15509962
Standard Incision
The standard incision arm lift is the most commonly used technique. This procedure corrects moderate to large amounts of excess skin on the upper arms. The incision runs on the inner portion of the arm from the elbow to the armpit.
Extended Incision
The extended incision arm lift is reserved especially for men and women who also have excess skin on the sides of their chest. This incision runs from the elbow, through the armpit, and slightly down the sides of the chest. Not all patients need this procedure; it will be determined on a case by case basis during the consultation.
Ideal Candidates
Ideal candidates for brachioplasty are men and women who have a large amount of upper arm skin laxity. Patients should be in good physical health and non-smokers; if you do smoke you will be asked to quit prior to undertaking the surgical procedure. Before undergoing the arm lift, patients will be required to obtain medical clearance for surgery through their primary care physician.
These patients should have already lost weight when looking into this procedure and are now looking to correct the excess skin that has been left behind. This is not an ideal procedure for men and women who still have a large amount of fat on their upper arms. Liposuction will need to be performed to address fat deposits. It is important that you have reasonable expectations for the overall results and should maintain a healthy lifestyle following the procedure.
Your Consultation
During the initial consultation with Dr. Abramson, you will be asked about your particular concerns and what aesthetic goals you are looking to achieve. He will then conduct a brief review of your medical history, going over any routine medications, current health conditions, previous surgeries, etc. Once this has been discussed, the doctor will perform a physical evaluation to assess your concerns and make the final determinations for candidacy. You and Dr. Abramson will then construct a treatment plan tailored to your exact needs.
Before leaving the office, you will be given the option to schedule your procedure date; however, there is no obligation to do so. Undergoing this procedure is a big decision; it should be thoroughly thought about. Once you do schedule your procedure, you will be given a list of preparatory instructions to follow that will help ensure your safety and the best possible outcomes. To find out if this treatment would be ideal for you, please contact our office today and schedule a one-on-one consultation with Dr. Abramson.
Preparation
During the upcoming weeks before your brachioplasty procedure, it is advised to follow the list of instructions provided to you by Dr. Abramson. If you smoke, you will be advised to quit three weeks prior to the surgery. It is recommended that you arrange for a ride home the day of your surgery and prepare your home for your arrival, making it a "recovery friendly" space for your convenience and comfort. You should avoid any anti-inflammatory medications at least 2 weeks before your procedure. If you have any questions or concerns during this time, we encourage you to contact our office and speak with our friendly and knowledgeable staff.
How is an Arm Lift Surgery Performed?
An arm lift is typically performed under general anesthesia or intravenous sedation.
The length and pattern of your incision will be based on the amount and location of the excess skin that is being removed. Your brachioplasty surgeon, Dr. Abramson, will usually place the incision on the inside or on the back of your arm. It may stretch from your underarm to just above your elbow. Once the incisions are made, the underlying supportive tissue will be tightened and reshaped. You may receive liposuction if there are fat deposits are present. Your skin will be pulled tight over the new contour of your arm, and the incisions will be closed.
Recovery
Immediately following your procedure, both arms will be wrapped in compression garments. You will remain in our care for a couple hours after your procedure, then you are released to return home. It is advised by Dr. Abramson to try to walk a minimal amount the evening of your procedure to help improve circulation and reduce the risk of blood clots from forming. To help with discomfort during this time, you will be provided with a prescription for pain medication. The compression garments should remain on constantly during the recovery stage to help with swelling and any bruising that may occur.
It is anticipated that you should plan for 5 days to one week off from work after your surgical procedure. During your recovery period, it is recommended to avoid daily activities for about a week. More strenuous activities, or any activities that cause too much stress on the arms, should not be performed for at least four weeks following the procedure. On average, our patients have been able to resume all their normal routines after six weeks.
Results
Once the swelling has subsided and the incisions have healed, the full results will be visible; commonly after a few months. Your results will be long-lasting because the excess skin will be removed, leaving the remaining skin tightened and firm. It is important that you maintain a healthy diet and exercise routine following your brachioplasty. You will notice a considerable reduction in the circumference of your arms, especially noticing a difference in the way clothes fit and the way you feel in them. Your arms will have a new contour and shape, providing a new found confidence! An arm lift cannot counter the natural effects of aging and gravity, but it will help.
Arm Lift with Liposuction
Depending on your particular case, you may need additional procedures to achieve your aesthetic goals. Dr. Abramson allows you to combine certain procedures to create a comprehensive body contouring treatment. Everyone's body is different, meaning that everyone's concerns will vary, but the most common treatment that is combined with an arm lift is liposuction.
Liposuction is a surgical procedure that uses high power suction to remove problematic fat throughout certain areas of the body. This procedure can be used in conjunction with an arm lift to provide a fully comprehensive arm sculpting procedure. Fat removal may be necessary for patients before undergoing an arm lift, which is why Dr. Abramson allows his patients to combine these two procedures.
The Cost of Your Arm Lift
For your financing needs, Alphaeon™ and Prosper® are offered. The cost of an arm lift can vary widely from case to case. Dr. Abramson and his staff will be happy to talk about what arm lift prices would be for you. We invite our patients to ask all the questions they need, so they can be comfortable with their final decision.
Want to see your new you before the procedure?
With Crisalix's 3D imaging technology you can see how you would look post-procedure if full 3D.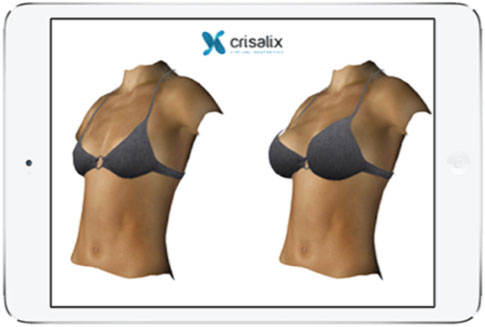 Learn More