Crisalix 3D Consultation
Consultations offered at our three convenient locations in New Jersey, Bergen County and Englewood, NJ
In-Person Consultation
Step 1 – Get Scanned By A Doctor
To generate the 3D images you can either be scanned during the consultation or you can start at home by uploading 3 photos of yourself. 3D versions of these photos can then be modified and discussed during your consultation.
Step 2 – Visualize 3D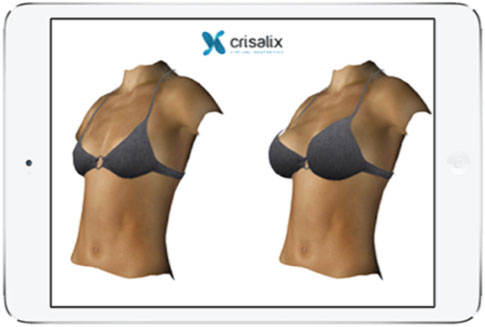 In a matter of seconds your 3D images will be generated and you will be able to easily visualize the amendments to your body that you desire.
Step 3 – Remotely Access 3D Images
As the doctor to give you access so that you can view your 3D images directly from a mobile device.
Request 3D Consultation
Remote Consultation
Step 1 – Book Online
You can sign up securely from the doctor's social media, email, or website.
Step 2 – Generate Selfies
You can generate your accurate 3D images from selfies in seconds and book an appointment online.
Step 3 – Visualize 3D Remotely
The doctor will review and discuss possible results revealed by your generated simulation by video conference.
Request 3D Consultation