Fat Transfer
Consultations offered at our three convenient locations in New Jersey, Bergen County and Englewood, NJ
A fat transfer is a procedure that removes excess fat from the body and uses it to revitalize and enhance parts of the body, such as the face, hands, breasts, and buttocks. This revolutionary procedure does not utilize any synthetic material, but rather fat from the patient's own body.
Dr. David Abramson is a board certified plastic surgeon highly trained in fat transfer procedures. Please request a consultation at one of his offices in New York, New York, Englewood or Franklin Lakes, New Jersey to get started.
What is a Fat Transfer?
Simply put: a fat transfer is the process of removing fat from one part of the body and adding it to another part of the body. The procedure is actually two procedures in one: liposuction and augmentation. First, liposuction is used to remove fat from the patient's body. Like a typical liposuction procedure, it allows for ultimate sculpting capability – adding contour where the patient desires. Then, that fat is taken and reintroduced into the body after purification in areas such as the face, hands, breasts, and buttocks to add volume and improve appearance.
The procedure is regarded as being extremely safe, since it utilizes material from the patient's own body. There are no implants or synthetic fillers; however, the procedure produces similar – and more long-lasting – results to these two other cosmetic procedures. Patients are very unlikely to have an adverse reaction to the injection of their own fat.
Fat Transfer Benefits
Uses patient's own fat, so little chance for an adverse or allergic reaction
Longer lasting than dermal fillers or implants
Noninvasive and nonsurgical
Fat Transfer Techniques
Face
A facial fat transfer is used to rejuvenate the face for a younger look. The procedure can add volume where volume tends to diminish with age, including in the cheeks and temples. It can also be used to reduce the appearance of lines and wrinkles, including smile lines, laugh lines, and crow's feet. Additionally, it can be used to address other concerns on the face, including scarring from acne. In some cases, a fat transfer can add volume to the lips.
Hands
The hands, along with the face, are two of the first parts of the body to start showing signs of aging. This is because they are most often exposed to the elements. A fat transfer can be helpful at reversing lost volume in the hands, such as between the fingers. It can also reduce the appearance of overly exposed veins and tendons. Over time, a fat transfer can also improve skin tone.
Scarring
While it is frequently used to correct the appearance of blemishes from acne on the face and back, a fat transfer may be used for scars on most parts of the body.
Breasts
Breast augmentation with fat grafting is a good option for women who desire a moderate increase in bust size. Increases larger than one or two cup sizes will not be possible with a fat transfer. Patients interested in a more dramatic enhancement should consider implants. However, a fat transfer breast augmentation will look and feel very natural. In some cases, fat transfer may be combined with implants for a more natural look. A fat transfer can also be used in breast reconstruction.
Buttocks
Enhancing the size and shape of the buttocks is perhaps the most popular fat transfer procedure. More commonly called a Brazilian Butt Lift, this procedure is now the go-to method for buttocks augmentation. In this procedure, fat is usually collected from the areas surrounding the buttocks, such as the thighs, lower back, and flanks. By sculpting around the buttocks and adding volume to the buttocks, the overall contour of the backside is greatly enhanced.
C-Point
The c-point is a depression that can form, most often on women, between the hips and the thighs. A fat transfer can be successful at correcting this sunken feature for enhanced contour and silhouette.
Good Candidates
Good candidates for a fat transfer procedure may be patients who have features on their hands or face that appear sunken or wrinkled. They may desire a more permanent solution than alternative treatments, such as dermal fillers, can provide. They may wish to improve their body contour, including filling out the C-points or scars. Patients may also be interested in naturally augmenting their breasts or buttocks, without the need for implants.
Since a fat transfer requires harvest body fat from donor locations, patient must have sufficient fat deposits on their body. Depending on the extent of the patient's circumstances, Dr. Abramson may perform liposuction on three or more locations on the body to procure adequate fat for augmentation. Slimmer patients may not be ideal candidates for larger fat transfer procedures, such as a Brazilian Butt Lift or breast augmentation. However, patients should also not be obese. They should be at a stable weight, as significant weight fluctuation may affect their results.
As with any cosmetic procedure, patients must have realistic expectations for the outcome of the procedure and understand what can and cannot be accomplished.
They should be in good health and possess the proper ability to heal following their procedure. They should not smoke or have any circulation problems, which could affect the patient's ability to heal.
In order to find out if you would benefit from a fat transfer operation, it is important to meet with a board certified plastic surgeon with extensive experience performing the procedure. Dr. Abramson is highly skilled in all types of fat transfer and looks forward to meeting with previous and existing patients looking to rejuvenate their body.
Procedure
A fat transfer procedure is performed in three steps. First, the fat is harvested from the donor locations using liposuction. Next, the fat is cleaned and purified. Finally, the fat is reintroduced into the body in the areas to be augmented.
Liposuction
Depending on the amount of fat that is required for augmentation, Dr. Abramson will perform liposuction two to three parts of the body, also known as donor locations. Some common donor locations include:
Arms
Back
Abdomen
Flanks
Buttocks
Thighs
However, everybody is different and therefore the best areas to perform liposuction will vary. Dr. Abramson will help the patient determine the best donor locations at the time of the consultation.
Liposuction is performed by making small incisions around the donor site, in discreet locations where the scars will be least visible. The doctor will then inject a tumescent solution into the donor locations. This solution will help break up the fat, so that it can easily be removed from the body. Then, it is suctioned out of the body using a cannula.
Purification
Prior to being injected into the part of the body for augmentation, the fat needs to be processed and cleaned. Dr. Abramson uses a centrifuge, which separates the fat cells from other liquids. Then, it is transferred into special syringes for the final step: injection.
Injection
Special small syringes are used to inject the fat into the areas to be augmented. The fat is injected in a criss-cross pattern at varying depths, which helps ensure that the maximum amount of fat will survive in its new location. Not all of the fat will survive, so the doctor will slightly overcompensate with their initial injections to counteract that effect and achieve the desired end result. Once the doctor has completed the injection, he will properly suture and bandage the operational sites.
Recovery
Following the surgery, patients should expect some bruising and swelling around the operational sites. This will disappear on it's own over the course of approximately one to two weeks. The patient will also be provided with prescriptions to help ease any discomfort following the procedure. Patients should take about one week off from work in order to allow themselves to properly recover.
Patients will be provided with more detailed recovery information at the time of their consultation.
Consultation
The consultation is the first step of any fat transfer. During the consultation, Dr. Abramson will meet one-on-one with the patient to determine the best procedure to meet the patient's goals.
Dr. Abramson will speak with the patient about their areas of concern and what they hope to achieve from a fat transfer procedure. He will ask the patient about their medical history and any medications they are currently taking. He will also conduct an examination to determine whether or not the patient would be a good candidate for a fat transfer procedure. Depending on the outcome of this examination, Dr. Abramson may recommend alternative or additional procedures – including dermal fillers and breast implants.
If the patient is a good candidate for a fat transfer, then he will work with the patient to develop a customized surgical plan that meets the patient's needs. Some of the factors to be decided upon, include:
Donor locations
Technique to be utilized
Anesthesia
Surgery date
All of the aforementioned factors can affect the cost of the procedure. This is why it is important to have a consultation with Dr. Abramson prior to receiving a price quote. He will be able to provide the patient with an accurate price quote after the consultation.
Please give us a call at one of our locations in New York or New Jersey to get started!
Want to see your new you before the procedure?
With Crisalix's 3D imaging technology you can see how you would look post-procedure if full 3D.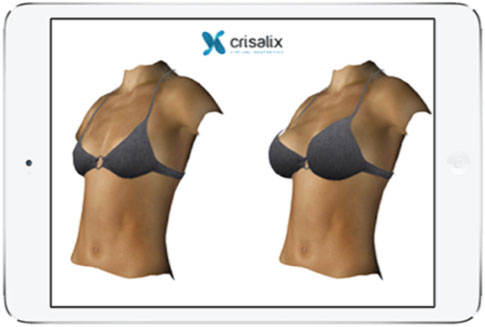 Learn More