Flanks CoolSculpting
Consultations offered at our three convenient locations in New Jersey, Bergen County and Englewood, NJ
Flanks CoolSculpting is a non-invasive, non-surgical way to slim your "love handles" and embrace a wonderful new you. Diet and exercise are the pillars of a healthy lifestyle, but they sometimes fail to craft the physique of your dreams. You can twist (and shout) the day away, but those calisthenics are often powerless to shed the bothersome bulges gathering along your flanks.
Dr. David Abramson can contour your midsection with the help of CoolSculpting. From New York City to Bergen County and Englewood, New Jersey, Dr. Abramson has three convenient locations to keep you looking and feeling your best. Contact our offices to learn how CoolSculpting can address your love handles. We also offer virtual consultations to best suit your complex lifestyle. No matter where you log on, Dr. Abramson wants to connect with you.
About CoolSculpting
CoolSculpting is the commercial term for a process known as cryolipolysis. Cryolipolysis is the art and science of freezing unwanted fat cells while keeping the surrounding tissue unfazed. The CoolSculpting device delineates between adipose (fat) layers and skin and/or muscles. The controlled temperatures chill fat cells into stasis until the body regards them as waste material. As with any waste product, the body flushes away the frozen fat through its lymphatic system, gradually and naturally.
Custom Applicators
Love handles are easy to grip, but hard to grapple. They have an elongated shape that defies easy categorization, which is why they had been so hard to eradicate… until now. CoolSculpting has pioneered a custom applicator to cradle the flanks for precise contouring capabilities.[1] The angled cup-like shape is adjustable to accommodate a range of different body types. By creating a gentle vacuum seal with the love handles, this CoolSculpting applicator delivers transformative temperatures to the unwanted fat of the flanks. CoolSculpting can shrink love handles by up to 25% in just one easy session!
Benefits of Body Contouring
A hug is one of life's greatest gifts. You cherish your loved ones and you want to express your adoration through a warm embrace. But when oversized flanks get in the way, a hug becomes a swirl of insecurities. CoolSculpting can bring your love handles into alignment with the rest of your body. You can hit the beach with confidence or wear flattering clothing that you shoved to the back of your closet before experiencing the wonders of CoolSculpting.
CoolSculpting Benefits
No surgical incisions
No anesthesia necessary
No downtime
Say yes to empowered enhancement!
To experience the non-surgical, non-invasive benefits of flanks CoolSculpting for yourself, please contact Dr. Abramson at your earliest convenience.
Eligible Candidates
Are your love handles too pronounced? Do they prevent you from sharing intimate moments with a partner? Are your flanks weighing you down, both physically and emotionally?
If you answered yes to any of the questions above, then you may be the perfect candidate for a flank CoolSculpting treatment. You may not be eligible for CoolSculpting if you struggle with a lymphatic disorder. The lymphatic system is responsible for eliminating the fat cells that are gently frozen into submission during your CoolSculpting session. Dr. Abramson will determine your candidacy for CoolSculpting of the love handles during your comprehensive consultation.
Private Consultation
It can be difficult to discuss your "problem areas" with just anyone… but Dr. Abramson is far from just anyone. He is a graduate of the esteemed Johns Hopkins University medical program and a certified member of the American Board of Plastic Surgery. But aside from all of his professional accolades, Dr. Abramson is also a world-class listener.
He wants to learn about your medical history and future aesthetic goals. A consultation with Dr. Abramson is a meeting with your ideal self. He can transform your dreams into reality after a simple conversation.
In a continued effort to provide excellent communication with our New Jersey and New York communities, we regularly update our blog. Feel free to read through our posts and bring any questions that may arise to Dr. Abramson during your consultation. He can assess your love handles and create a strategy for slimming them down. If CoolSculpting is the optimal solution, then you can progress with the cryolipolysis procedure. If, however, an alternative approach would be more beneficial, Dr. Abramson will walk you through your other options in careful detail.
To schedule your consultation, call (201) 731-3134 in New Jersey or (212) 774-1828 in New York. 
Preparation and Procedure
The preparation for CoolSculpting is so easy, you may be deemed ready for your first session immediately following your consultation. Dr. Abramson and his associates will ensure your comfort by ushering you to a private room. They will affix the CoolSculpting applicators to your flanks and the technology will deliver painless pulses of cold to your unwanted fat.
You are encouraged to bring a book or simply surf your smartphone. That's how simple the CoolSculpting procedure is. The process lasts less than an hour, at which point you are ready to resume your normal, everyday activities.
Rapid Recovery
There is no downtime associated with CoolSculpting treatment because no anesthesia is required.
Your clinician will gently remove the custom applicator from the flanks region and cleanse away any gel that remains on the skin. Your medical professional may gently massage the target area to facilitate the flushing away of dead fat cells. It is natural for the flanks to experience minor redness where the skin makes contact with the CoolSculpting device. Any discoloration will gradually subside in a matter of 2-4 hours.
Remarkable Results
Love handles are all about pinchability. If you can grab hold of them, then they may be too prominent for your overall physique. That's why Dr. Abramson targets the pinchable fat along the flanks and reduces them, producing real results.
Case in point: an extensive survey assessed participants' love handles before and after their respective CoolSculpting treatments. The study used a caliper, which measures the size of a protruding fat deposit. The control group (the people who did not receive CoolSculpting treatment) showed no statistical change in the size or shape of their flanks. The patients who underwent love handle CoolSculpting, however, experienced an average flank reduction of seven millimeters two months after they began treatment.
Dr. Abramson is encouraged by this data, but he is even more focused on his clients' safety and satisfaction.
One look at his stellar reviews illustrates Dr. Abramson's commitment to providing 5-star service to his New York and New Jersey communities.
Complementary and Alternative Procedures
The human body is an elegant machine. It consists of more than just random parts; it forms a functioning work of art. CoolSculpting for the flanks is a great way to streamline your physique, but you may want to explore our full suite of procedures to bring balance to your body.
Abdominal CoolSculpting
The love handles and belly often gain weight in tandem. Together, they can form a "spare tire" when left unattended. To maximize your enhancement, consider the benefits of DualSculpting. By contouring more than one area simultaneously, Dr. Abramson can flatten the belly and shrink the flanks holistically.
Tummy Tuck
CoolSculpting is great for people with proper skin elasticity, but if your skin doesn't "bounce back" after weight loss, then you may need surgical assistance. A tummy tuck gently removes excess skin and re-drapes the midsection to show off your hourglass shape and/or six-pack abs.
Brazilian Butt Lift
As part of your tummy tuck procedure, you may request liposuction to extract unwanted fat. To put that fat to great use, Dr. Abramson can purify it and use it to add volume to your buttocks. A Brazilian butt lift slims down "problem areas" like the abdomen, thighs, and hips, then props up the backside with the fat gleaned from those regions.
To discuss the menu of choices Dr. Abramson offers, please dial (212) 774-1828 in New York or (201) 731-3134 in New Jersey. One of our attentive, knowledgeable staff members will direct your call and jumpstart your dreams. 
Want to see your new you before the procedure?
With Crisalix's 3D imaging technology you can see how you would look post-procedure if full 3D.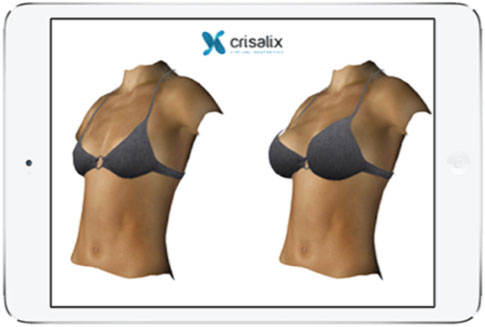 Learn More