Mini-Facelift
Consultations offered at our three convenient locations in New Jersey, Bergen County and Englewood, NJ
What is a Mini-Facelift?
A mini-facelift is a facelift; what makes it "mini" is the reduced incisions used to achieve results. (1) Despite fewer and shorter incisions, the mini-facelift offers a powerful solution for sagging or lax skin around the lower face and jawline that can drastically age the face. Additionally, the mini-facelift promises a shorter surgery and increased safety because of the less invasive methods used. (2) Patients who see a loss of elasticity contributing to the dreaded jowls will marvel at how natural-looking the results of a mini-facelift are. Gone are the days of the "windswept" look, not with today's surgical innovations.
But surgical innovations are nothing without the skilled hands of an accomplished, board-certified plastic surgeon like Dr. David L. Abramson, MD. Choosing the right surgeon with the proper credentials means the difference between looking refreshed and looking "done." Dr. Abramson has the experience and accreditations you expect from a Manhattan plastic surgeon.
Patients can visit Dr. Abramson in Manhattan or Englewood, NJ, for a mini-facelift consultation. Call his New York office at (212) 774-1828 or his Englewood and Franklin Lakes offices at (201) 731-3134 to schedule a consultation. Additionally, you can fill out this form, and we will be in touch shortly.
Follow our blog to learn more about the procedures and aesthetic innovations that Dr. Abramson offers his patients.
Why Choose a Mini-Facelift?
Did you know surgical facelift procedures increased by 75% in just two years? (3) Our aesthetically-minded society agrees that taking a proactive surgical approach is acceptable and enviable! The improvements that led to the development of the mini-facelift procedure date back to the 1960s and the introduction of the "S-Lift" method. This short-scar technique involves an S-shaped incision in front of the ear and near the temple. Then, sutures in the SMAS, the underlying tissues of the face, lift the entire lower structure, and are followed by the removal of excess skin. (4) Patients enjoy practically invisible scars that are hidden by the hairline and inside the ear and avoid an overly "pulled" look thanks to the subdermal lift that places less tension on the skin.
Benefits
Patients can benefit from a mini-facelift in a variety of ways. The advantages of minimal incisions and scarring cannot be overstated. Results are natural-looking and noticeable, but subtle enough to keep people from knowing you've gone under the knife. Additionally, patients will be pleased to learn that the mini-facelift is accompanied by:
The use of local anesthesia – a mini-facelift can easily be performed entirely with local anesthesia (5)
A shortened surgical and recovery time
Less scarring
Reduced cost
A well-contoured jawline and lower face can take years off your appearance; look the age you feel!
Candidates
Ideal candidates for a mini-facelift are younger patients displeased with the general laxity of the lower face and jawline. Patients for any surgical procedure should be in good health and understand aesthetic surgery's realistic limits, such as the difference between a facelift and a mini-facelift. Dr. Abramson offers both procedures and will discuss which one is right for you during your consultation.
New York City and New Jersey Mini Facelift Consultations
Patients in Manhattan and Englewood, NJ, can schedule a personal consultation with board-certified surgeon Dr. Abramson to discover the beautiful, natural-looking benefits of a mini-facelift. Finding all the right angles in your next selfie will be a breeze, thanks to the brilliant work of Dr. Abramson. We invite you to share your issues and concerns with Dr. Abramson and your desired results from a mini-facelift. It benefits your consultation to share all concerns in case there are additional procedures that will add to your overall transformation. Dr. Abramson will perform an exam to ensure you are a good candidate for surgery before going over the procedure. The consultation process is a collaboration, so feel free to ask questions.
You'll get the added benefit of viewing the results of Dr. Abramson's previous patients who have undergone mini-facelifts. Your results will be uniquely your own, but you will gain a better understanding of Dr. Abramson's approach, and the kind of improvements that can be achieved. Schedule your consultation now by filling out our information form.
Preparing for a Mini-Facelift
Dr. Abramson suggests the following guidelines for surgery preparation. A mini-facelift is still surgery, so it is essential that you prepare entirely leading up to your procedure.
Please arrange for a friend or family member to drive you home (or accompany you in a car service) after the surgery.
Stop smoking for at least two weeks before surgery and while recovering. Smoking can hinder your body's ability to heal.
Tell Dr. Abramson, or his attending nurse, about all medications you are taking, whether they be over-the-counter, prescription, vitamins, or supplements.
Dr. Abramson will prescribe medicine to deal with any pain you feel after surgery. Even if you believe the pain will be minimal, you should plan to pick up your prescription before surgery.
Give yourself a chance to rest and heal after surgery. Two weeks is the average time patients take off from work. Additionally, if there are small children at home, please plan to arrange for assistance.
Procedure
A mini-facelift procedure takes around five hours, all told, with the total surgical time lasting about three hours. The entire five hours include:
Preparation and anesthesia
The mini-facelift procedure
A monitoring period to ensure it is safe for you to return home
Because the procedure takes place under local anesthesia, patients will be awake but relaxed, and unable to feel anything. Dr. Abramson will evaluate the overall structure of the face to account for balance and a harmonious outcome after the mini-lift. He will make two small incisions – the "S-lift" – to access and lift the underlying tissues before removing excess skin. Incisions are closed with sutures after the skin is redraped to achieve natural-looking and lifted results. (5)
Recovery from a Mini-Facelift
Dr. Abramson and his team will ensure you have all the postoperative directions necessary to help you recover comfortably, including wound care, how to shower, and pain-relieving medication. With Dr. Abramson's approval, most patients can return to normal activities within two weeks.
Immediately following surgery, bandages and a facial wrap provide protection and subtle pressure to relieve swelling. Swelling should disappear after two to four weeks. (1) Patients will be observed before being sent home with the help of a friend or family member alerted ahead of time. Because you have already filled your pain medication prescription, you will experience a smooth transition into at-home recovery. Patients should remember that being in optimal health will improve the speed of recovery. Part of health is knowing your body's limitations, so rest is crucial; it is one of the most important recovery tools at your disposal. Finally, remember to stay hydrated and ask for help when you need it.
Results
Results vary, as you will see with Dr. Abramson's before and after gallery. The underlying facial structure, skin laxity, and patient health all contribute to varying results. 
It is essential to remember that a mini-facelift addresses the lower face only, and so results are more subtle than a traditional facelift procedure. However, a mini-facelift can easily shave ten years off the appearance. So while surgery will never stop the clock, there is comfort in knowing it can be reset!
If there are areas of the face of concern that a mini-facelift does not address, Dr. Abramson will recommend complementary procedures.
Corresponding & Complementary Procedures
Dr. Abramson offers many exciting ways to complement and enhance your appearance. Of course, a mini-facelift can be an excellent stand-alone procedure; still, it is beneficial to be familiar with Dr. Abramson's full scope of procedures.
Chin Liposuction: Focused on the submental area (under the chin), fat removal with liposuction can improve stubborn areas of subcutaneous fat that contribute to a double chin and enhance the overall results of a mini-facelift.
Dermal Fillers: Areas that are lacking volume, such as the cheeks or lips, can be given a plumper, more youthful appearance. Lingering lines and wrinkles can also be quickly improved with filler injections.
Botox: Address dynamic fine lines and wrinkles of the upper face caused by the muscle contractions for facial expressions.
What is the Cost of a Mini-Facelift in Manhattan?
Dr. Abramson and his staff will go over the cost of your mini-facelift procedure and any complementary or corresponding procedures you decide to undergo. So book a personal consultation today to discover how a mini-facelift can boost your confidence.
References
Want to see your new you before the procedure?
With Crisalix's 3D imaging technology you can see how you would look post-procedure if full 3D.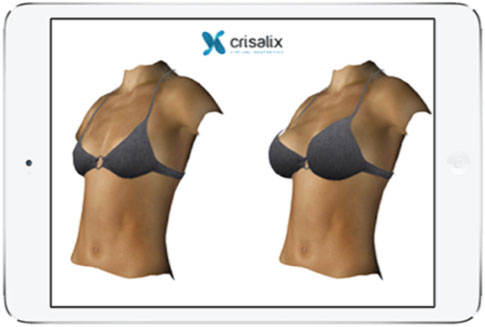 Learn More