Body Contouring
Consultations offered at our three convenient locations in New Jersey, Bergen County and Englewood, NJ
Body contouring describes procedures that improve the appearance of the arms, abdomen, buttocks, thighs, and calves, as well as other common problem areas. Body contouring procedures offer patients satisfying cosmetic results, but they can also provide crucial functional benefits to those who have undergone massive weight loss. These procedures use a wide variety of advanced medical techniques and state-of-the-art technology. Ranging from surgical to minimally invasive, they typically target sagging skin and excess fat to create a sleeker, firmer, more youthful-looking appearance. Turn back the clock or get the body that you've always wanted, but have never been able to attain: Dr. Abramson can make it happen.
Dr. David L. Abramson and his experienced and caring staff are pleased to offer assorted body contouring procedures at their New York City and Englewood, NJ, offices. If you are interested in any of the body contouring procedures featured below, please contact our office for more information or to schedule a consultation. You can reach our Upper East Side offices at (212) 774-1828, or call our Englewood office: (201) 731-3134.

Before and After Photos
Body Contouring Procedures in the Tri-State Area
Arm Lift
An arm lift uses surgical techniques to re-sculpt the arm and eliminates sagging, loose skin. This procedure addresses the upper arm and corrects its proportions for a more slender, toned appearance. Patients seeking arm lifts struggle with excess skin on the arms that can result from aging, genetics, or significant weight loss. An arm lift allows patients to move more freely, and enjoy a wider range of well-fitting clothing. This surgery entails an incision down the underside of the upper arm, which allows Dr. Abramson to remove excess fat, skin, and redrape the remaining skin for a natural, rejuvenated effect.
Body Lift
A body lift eliminates large amounts of excess skin and fat from several areas of the body. This surgery addresses the body circumferentially, for a 360° lift to areas that may include the abdomen, thighs, buttocks, and groin. This surgery typically uses an incision that encircles the torso to remove excess skin and re-suspend the remaining skin for a smooth, taut appearance. (1) This procedure is often the final step for those who have achieved their weight-loss goals but are now left with hanging and uncomfortable amounts of flesh.
Brazilian Butt Lift
Affectionately known as the BBL, the Brazilian Butt Lift is a popular cosmetic procedure that uses a combination of liposuction and fat grafting. This procedure gives patients the opportunity to remove unwanted fat for slimmer contours and use it to enhance the buttocks. The result is a voluptuous hourglass figure that's ready for an endless summer.
Chin Liposuction
No one aspires to a double chin. Submental (under the chin) fat deposits can contribute to an aged or overweight appearance. Chin liposuction delicately removes this fat for improved jawline definition and an elegantly contoured neck.
CoolSculpting
Talk about cool. CoolSculpting is a non-surgical, non-invasive body contouring system that freezes away fat. There's little discomfort during CoolSculpting's quick sessions, and patients are able to lay back and relax while the CoolSculpting system's external applicator gets to work on stubborn deposits of fat. Patients are able to immediately return to their normal routine afterward.
Fat Transfer
Fat transfers utilize deposits of excess fat to enhance other parts of the body. Liposuction removes the unwanted fat, which is then processed and injected into areas where additional volume is desired. Fat transfers can be used to augment the breasts, and buttocks, or on the face to reduce wrinkles, plump cheeks and lips, and to rejuvenate the backs of hands.
Liposuction
It's safe to say that America would look a lot different without liposuction. It's the 2nd most frequently performed cosmetic procedure in the US. (2) Liposuction sucks out unwanted fat through a small incision for leaner contours. Liposuction is not a weight loss solution, but it does allow patients to resculpt many areas of the body by eliminating stubborn fat deposits.
Mommy Makeover
A Mommy Makeover is a combination of procedures that rejuvenate areas of the body that change during pregnancy, childbirth, and breastfeeding. This popular suite of surgeries can include a breast lift, reduction or augmentation, a tummy tuck, and liposuction.
Making the decision to address the issues that keep you from loving your body is an empowering and exciting process. Don't let extra fat or skin hold you back: with today's many body contouring options, there really is something for everyone. To find out which body contouring procedure is right for you, contact our offices in Manhattan or Englewood, NJ to schedule a personal consultation.
Thigh Lift
The pull of gravity or significant weight loss in this part of the body can lead to loose, sagging skin. A thigh lift removes excess skin that can hang both vertically and horizontally, and tighten this area of the body.
Thigh Liposuction
Liposuction for the thighs can remove unwanted fat from an area that is notoriously difficult to reduce. Sculpt the ideal thigh gap, or just get long lean legs without the risk of gaining bulky muscle.
Tummy Tuck
A tummy tuck, or abdominoplasty, removes hanging excess skin and repairs the abdominal muscles that are often damaged after pregnancy. Patients are left with a taut flat belly and a renewed midsection.
Venus Legacy
Venus Legacy uses radiofrequency energy to reduce cellulite, eliminate fat, and tighten skin. After several sessions of this fast and painless procedure, patients are delighted with significant and lasting results. Venus Legacy is an excellent solution for improving the appearance of the buttocks and thighs.
Post-bariatric Body Contouring
After massive weight loss, many patients are left to struggle with cumbersome folds of excess skin. Post-bariatric body contouring is a comprehensive set of procedures that eliminates this skin and allows patients to complete their transformation. This contouring can address the areas that weight loss impacts the most, and may involve one or more body lifts. An upper body lift addresses the arms and ptosis(sagging) of the breasts or chest area. A lower body lift targets excess skin that can hang from the buttocks and thighs, and often compromises hygiene and mobility.
Candidates
The ideal candidate for a body contouring procedure is in good health and confident about their decision to improve their aesthetics. Healthy patients have a significantly lower risk of complications during surgical procedures and enjoy a much quicker recovery.
Many of these procedures involve extensive surgery and patients should be prepared to patiently tolerate their recovery period. They should also be committed to continuing their healthy lifestyle after they've recovered in order to maintain their results. Fluctuations in weight or pregnancy can negatively affect the results of their body contouring procedure. Patients should be at a stable weight, and those who are seeking body contouring procedures as the finale to their weight loss journeys should have reached and maintained their target weight for at least one year. (3)
Personal Consultation
Your body contouring consultation is the first step toward your aesthetic transformation. It's also your opportunity to spend time discussing your concerns and desires with Dr. Abramson. The more he understands your lifestyle and goals, the better he'll be able to recommend appropriate procedures.
Dr. Abramson will also perform a careful review of your medical history and a physical examination to ensure that a body contouring procedure can be safely performed and deliver the satisfying results that his patients have come to expect. Once Dr. Abramson has determined a patient's candidacy, an appointment is set, and the patient will be given personalized information on how to prepare for their body contouring procedure. The best patients are well-prepared patients. Dr. Abramson's staff will make sure that all of your questions are answered, and that you are given detailed instructions regarding your recovery.
After your body contouring procedure, you'll return to Dr. Abramson's office for regularly scheduled follow-up appointments to monitor your progress. Recovery from some body contouring procedures only takes weeks, while others can take several months to show results. Recovery may not be a walk in the park. However, investing a few months can result in a lifetime of satisfaction and renewed self-confidence. To learn more about how the procedures that Dr. Abramson performs change lives, follow his blog. Or, hear about it from patients themselves by reading their reviews.
How Much Do Body Contouring Procedures Cost in New York City?
The cost of body contouring procedures depends on several factors. The treatment selected, the size of the area, the extent of surgery, and the length of the procedure will all affect the overall price. There are several financing options available for qualified patients that can help them achieve their aesthetic goals. Feeling your best is truly priceless.
Dr. David L. Abramson and his experienced and caring staff are pleased to offer assorted body contouring procedures at their New York City and Englewood, NJ, offices. If you are interested in any of the body contouring procedures featured below, please contact our office for more information or to schedule a consultation.
References
Lockwood TE. Lower-body lift. Aesthetic Surgery Journal. 2001;21(4):355-370. doi:10.1067/maj.2001.118028
American Society of Plastic Surgeons. Cosmetic Procedure Trends, 2019 Plastic Surgery Statistic Report. ; 2019. Accessed February 16, 2021. https://www.plasticsurgery.org/documents/News/Statistics/2019/cosmetic-procedure-trends-2019.pdf
Cabbabe SW. Plastic Surgery after Massive Weight Loss. Missouri Medicine. 2016;113(3):202-206. https://www.ncbi.nlm.nih.gov/pmc/articles/PMC6140063/#b11-ms113_p0202
Want to see your new you before the procedure?
With Crisalix's 3D imaging technology you can see how you would look post-procedure if full 3D.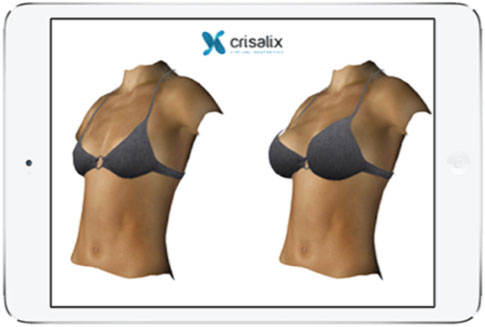 Learn More