Neck Lift
Consultations offered at our three convenient locations in Bergen County, Englewood and New Jersey
What is a Neck Lift?
Dr. David L. Abramson welcomes men and women to schedule a visit to one of his offices so they can learn more about neck lifts. For many years, he has worked with patients from Manhattan and beyond, helping them reach their aesthetic goals.
A neck lift reduces sagging skin, band lines and fat which develop with age. Both men and women undergo the procedure as a way to attain a tauter shape around the neck and a fresher appearance. Neck lift patients enjoy long-lasting youthful effects and sometimes choose additional procedures, such as a facelift or chin augmentation, for a more extensive enhancement.
A neck lift can be performed either in combination with a facelift or as an isolated procedure. An isolated necklace is more commonly performed and can sometimes be performed with use of skin in the neck, liposuction and platysmal application.
This procedure is frequently done in men because the male beard can hide the scarring in the anterior neck.
The direct anterior neck lift can be performed under sedation or under local anesthesia in only approximately an hour. This procedure has a minimal recovery and is appealing to men who wish to get back to work quickly and who did not want the more extensive facelift procedure. This procedure will help correct the excess skin of the anterior neck and tighten the neck angle however it will not correct jowels or other problems located more superiorly on the face.
Is a Neck Lift Right for You?
Unless you are constantly in scarves and turtlenecks, there's no hiding the unsightly wrinkles and sagging skin on your neck. These imperfections make many people feel sensitive and embarrassed about their appearance.
Concerns Addressed By A Neck Lift
"Turkey wattle" neck or neck bands that appear because of weakened or loose muscles
Excess fat as a result of gaining weight
Slack, excess skin due to significant weight loss
The majority of people who choose this procedure are in their 40s to 60s, but older individuals have had successful neck lifts, as well. The best candidates for the surgery are men and women whose necks have begun to sag, but whose skin still has some elasticity.
About Your Neck Lift Surgery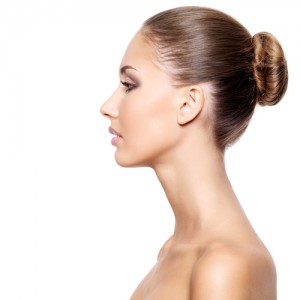 One of the common techniques for a neck lift requires an incision that begins in front of the ear lobe, wrapping behind the ear and then ending in the lower scalp. This method corrects sagging jowls, loose skin and fat accumulation.
There are other techniques that can be used by Dr. Abramson. He will decide which method is best based on various factors, particularly how much skin needs to be excised and whether there will be any removal or alteration of the neck muscles. Sometimes, liposuction will also be involved.
Dr. Abramson will discuss the nuances of a neck lift and make sure you are aware of every step that is required. He understands that the best patient is an informed patient. It's one of the reasons men and women from New York City, Englewood, Manhattan and further afield trust his guidance when they undergo a neck lift.
The Cost of Your Neck Lift
For your financing needs, Alphaeon™ and Prosper® are offered. You can find out neck lift prices during your initial consultation with Dr. Abramson. He and his medical team will be open and honest about all aspects of the procedure, so you can ask all the questions you want about neck lift costs and possible financing options.