Breast Augmentation With Lift
Consultations offered at our three convenient locations in New Jersey, Bergen County and Englewood, NJ
Breast augmentation with lift is a combined procedure to enhance the breasts' size and symmetry while also raising them to a more pleasing orientation. It is a comprehensive aesthetic augmentation for the chest because it blends the benefits of two of our most successful surgeries: breast augmentation and a breast lift.
What Is Breast Augmentation?
Breast augmentation is the surgical enhancement or enlargement of the breast. It is one of the most popular cosmetic procedures in the world. Breast Augmentation is designed to increase the breast's fullness or projection and is most commonly done using an implant, but it can also be done by grafting the patient's fat.
Breast augmentation is designed for several purposes: to increase the size of a naturally occurring small breast, achieve improved symmetry, and restore lost volume after pregnancy or breastfeeding.
Studies have shown that removing the excess skin around the breasts leads to improvements in a patient's appearance and an enhanced psychological well-being.[1]
Dr. David L. Abramson is board-certified and strives to provide the highest quality cosmetic and reconstructive surgery with personalized attention. His extensive skills have made him a surgeon of choice for breast augmentation in Manhattan and surrounding areas. With two offices — one in New York City, the other in Englewood, NJ — it's never been easier to set up a consultation. 
We hope to see you soon.
What Is a Breast Lift?
A breast lift is a breast augmentation procedure designed to raise sagging breasts by reshaping their elevation, contour, and size. It's also known as a mastopexy. 
Studies have shown that breast augmentation with or without mastopexy can be performed safely, with minimal discomfort and complications.[2]
Many factors over time can take their toll on the breasts. Aging and gravity alone can cause a loss of skin elasticity. When you add other influences, such as pregnancy and weight loss, your breasts can lose their youthful shape and firmness. A breast lift can help improve sagging breasts by removing excess skin and tightening the surrounding tissue.
About
Levels of Breast Sagging
In the medical community, drooping breast tissue is referred to as breast ptosis, and it is divided into four categories:
Level 1 Ptosis – Mild

The areola is above most of the breast tissue but is around the breast crease level.

Level 2 Ptosis – Moderate

The areola is still above some breast tissue but is below the breast crease.

Level 3 Ptosis – Severe

The areola is no longer above any breast tissue as it is at the lowest part of the breast, and in some cases, points down.

Level 4 Ptosis – Pseudoptosis

The areola is above most of the breast tissue but is at the breast crease level.
Breast Lift Methods
There are three standard incisions for a breast lift. The incisions' location and length will depend on the amount of excess tissue to be removed and your skin's quality.
Circular Method

The circular method only requires an incision around the areola.
This method is used for patients who only need minimal skin and tissue excision to achieve ideal lifting.
The areola is generally reduced in size during this process and made proportionate with the newly elevated bust position.

Lollipop Method

This method uses a lollipop-shaped incision around the areola and vertically down to the breast crease.
This process also removes excess skin and tissue, but more so than the circular method.
Minimal scarring will result from the lollipop method but fades over time.
Anchor Method

The anchor method involves an incision around the areola, vertically down to the breast crease and then horizontally along the breast crease.
This process is reserved for women who need extensive lifting that the two other methods cannot address.
A bikini top can hide any scars.
Benefits
Uplifted Breasts

The main benefit is the change in size, shape, and feel of the breasts.
No more sagging and drooping breasts.
Breasts will be tight and firm without the aid of a bra.

Youthful Look

When your breasts look and feel younger, you look and feel younger. Confidence will increase, clothes will fit better, and shyness during intimate situations will decrease.

Improved Health

It may come as a surprise, but a breast lift can improve health by losing weight on their chest, pulling the neck and back.
Candidates
Most women seeking breast lift surgery usually experience one or more of the following:
They are bothered by breasts that sag or have lost shape and volume.
Their breasts have a flatter, elongated shape or are pendulous.
When unsupported, their nipples fall below the breast crease.
Their nipples and areolas point downward.
They have stretched skin and enlarged areolas.
One breast is lower than the other.
If you are interested in a breast lift, then there are some criteria you must meet to make you an ideal candidate. 
Typically, it is best to wait until you are at least 18 years old to make sure your breasts have fully matured.
You should wait until you have children since pregnancy, and breastfeeding after surgery can reverse results.
Personal Consultation
To establish your suitability for a breast lift, please take some time to talk with Dr. Abramson during your private consultation. He will give you a thorough examination, listen to your goals and desired outcome for the procedure, and determine the best course of action. 
You will then undergo an exam that will determine if you are a suitable candidate for surgery. From there, Dr. Abramson will decide on the best technique for you.
The technique will be explained to you in full so that you'll be aware of each step of the procedure and recovery.
Dr. Abramson will provide before and after pictures of women who have undergone the same technique. Do not hesitate to mention any concerns or ask any questions during your consultation.
We look forward to helping you along your breast lift journey.
Preparation
General instructions include:
Pick up all prescribed medications.
Adjust current medications per Dr. Abramson's specifications.
Do not smoke or take anti-inflammatory painkillers three weeks before your procedure.
Make arrangements for someone to take you home once the surgery is completed. This person should ideally stay overnight with you to help with immediate recovery.
Please notify the office if you start to feel under the weather.
Procedure
Breast lift surgery starts with Dr. Abramson marking the incision locations.
General anesthesia will be administered, and then the procedure begins.
Dr. Abramson will make an incision either:

around the areola,
down to the breast crease,
And, or along the breast crease.
Tissue and excess skin will be removed appropriately.
Then the nipple and areola will be repositioned to an aesthetically proportionate placement.
The whole procedure takes between one to two hours. It is performed on an outpatient basis, so once the surgery is completed, you will be taken to the recovery room to wake up. From there, you will be taken home by a friend or family member.
Recovery
Most patients go home after their surgery with the assistance of a family member or friend. Ideally, this person should stay at least one night with you to aid in the first night of your recovery. 
Please wear the support bra placed on you after surgery for at least three weeks or otherwise specified.
The sutures Dr. Abramson uses to close the incisions are self-dissolving, so they will not need to be removed during your follow-up appointment.
Your follow-up appointment will be to assess your recovery's progress and make sure you are healing smoothly.
You can resume normal activities in six to eight days and strenuous activities in four to six weeks.
Results
The final results typically take a few months to complete as the breasts establish themselves into their new shape and position. Any resulting scars should fade over time.
Results are long-lasting for up to ten to fifteen years. To prolong breast lift results, patients should:
Avoid fluctuating weight.
Avoid prolonged sun exposure to promote healthy skin and improve elasticity.
Limit high-impact exercise, which can increase the effects of gravity, causing breast sag.
Give your new breasts proper bra support to help reduce any sagging.
Complementary Procedures
Mommy Makeover
Mommy makeovers are a unique combination of surgeries designed to redefine a woman's body to look like it did pre-pregnancy. 
It's a combination of breast and body procedures like:
Women can choose to undergo any procedures they desire, but generally, women choose two to three. A breast lift can be paired with a body sculpting procedure to create a beautiful, defined contour.
Breast Implants
Breast augmentation is a cosmetic procedure that surgically inserts breast implants into the breast for a projected bust. 
Often paired with a breast lift since lifts do not address lost volume. A breast lift combined with breast augmentation will provide a full, lifted bust.
How Much Does Breast Enhancement Cost in New York?
For your financing needs, Alphaeon™ and Prosper® are offered since breast lift prices can vary widely based on your needs and expectations. Dr. Abramson and his knowledgeable staff can provide you with more detailed and personal information about breast lift costs during your consultation.
Have you liked what you've read so far? Do you want to learn more about aesthetics? Check out our blog, where you can find all sorts of content like beauty advice, informative articles, listicles, and much more. 
FAQ
What Is Breast Augmentation?
Breast augmentation is the surgical enhancement or enlargement of the breast.
What Is a Breast Lift?
A breast lift is a breast augmentation procedure designed to raise sagging breasts by reshaping their elevation, contour, and size. It's also referred to as a mastopexy.
How Long Does a Breast Lift Take?
Breast lift surgery takes between one to two hours to complete.
How Long Is Recovery From Breast Lift Surgery?
Recovery time is around six to eight days after surgery. Patients can resume exercise after four to six weeks.
References
Klassen, A.F., Cano, S.J., Scott, A. et al. Satisfaction and Quality-of-Life Issues in Body Contouring Surgery Patients: a Qualitative Study. OBES SURG 22, 1527–1534 (2012). https://doi.org/10.1007/s11695-012-0640-1
Alex Colque, MD, Michael L. Eisemann, MD, Breast Augmentation and Augmentation-Mastopexy With Local Anesthesia and Intravenous Sedation, Aesthetic Surgery Journal, Volume 32, Issue 3, March 2012, Pages 303–307, https://doi.org/10.1177/1090820X12436601
Want to see your new you before the procedure?
With Crisalix's 3D imaging technology you can see how you would look post-procedure if full 3D.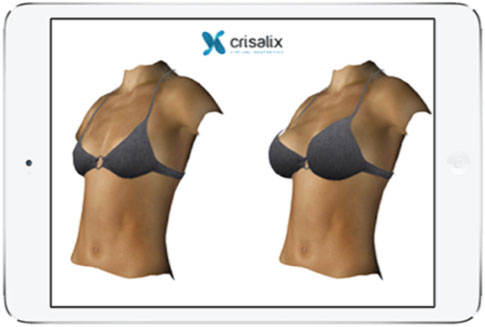 Learn More