Revision Rhinoplasty
Consultations offered at our three convenient locations in New Jersey, Bergen County and Englewood, NJ
Revision, or "secondary" rhinoplasty is a procedure that can address functional and aesthetic issues in the nose due to a previous rhinoplasty surgery. Rhinoplasty is considered one of the most complex procedures in the plastic surgery field. It's also one of the most popular plastic surgeries worldwide. (1) So, it is important to find an experienced plastic surgeon who can provide you with the best results the first time around. However, men and women who are dissatisfied with the shape and functionality of their nose after their first procedure can undergo another surgery to rectify these problems.
Your nose is the focal point of your face. It's a prominent organ with an important role, but it should fit in harmoniously with your other facial features. Because of its location, if something is wrong, it can be difficult to disguise. Deviations in nose shape and asymmetry can be apparent from one or more angles. These imperfections, while seemingly insignificant to others, can have lasting psychological effects on patients. An experienced plastic surgeon has the ability to fix cosmetic issues in the nose while still maintaining maximal nasal functionality.
Board-certified plastic surgeon David L. Abramson, M.D. provides his expert skills to those who wish to repair problems that have arisen from an existing rhinoplasty. If your current aesthetic results are not to your liking, or if a previous rhinoplasty has left you with functional nasal difficulties, book a personal consultation with Dr. Abramson today to discuss the benefits of a revision rhinoplasty procedure. Residents of New York City can contact our Manhattan office at (212) 774-1828. Alternatively, you can connect with our Englewood or Franklin Lakes locations at (201) 731-3134. You can also reach out to any of our locations by filling out our convenient online inquiry form.
About Revision Rhinoplasty
After an initial rhinoplasty, patients can experience cosmetic deformities because either insufficient tissue was removed, or too drastic an approach was utilized, These unwanted effects can occur throughout the nose, and affect the surrounding tissue. (2)
Before and After Photos
The Nasal Dorsum
The nasal dorsum is a structure composed of cartilage and bone that connects the nose to the face. Also known as the dorsum nasi and the "bridge" of the nose, the nasal dorsum is a considerably influential aesthetic feature. For many patients a dorsal "hump" may be the reason for their first rhinoplasty. Considered by many plastic surgeons to be the hallmark of rhinoplasty, dorsal resections frequently improve a patient's profile view. (2) During the procedure, surgeons trim the cartilaginous dorsum with scissors or a scalpel. (1) However, in some initial rhinoplasties, either not enough tissue is targeted, or too much, causing an incongruent nasal profile and weakened nasal structures. In a secondary rhinoplasty, special care must be taken to strengthen support in this area and improve overall contour.
Reasons for a Revision Rhinoplasty
Although undesirable results from a primary rhinoplasty are never intended, they can occur. Listed below are some of the most common reasons why patients choose a revision rhinoplasty.
There are soft tissue irregularities along the nasal dorsum.
There are cartilage irregularities causing asymmetry.
The primary rhinoplasty has caused/not solved breathing problems.
The nose is wider or thinner than the patient requires.
Trauma/injury has affected the results of a previous surgery.
Your new nose needs some minor adjustments.
Healing Takes Time
Doctors must consider many surgical components and delicate nasal structures, during and after a rhinoplasty procedure. There are a multitude of reasons why a primary rhinoplasty may be considered unsuccessful, but one of the most important factors for a patient to take into consideration is time. Initial surgeries take time to heal. With this in mind, if you have had a recent rhinoplasty you are not satisfied with, you should wait at least 12 months before considering a revision surgery.
Candidates
Dr. Abramson counsels all prospective candidates who wish to undergo a revision rhinoplasty during a personal consultation. Revision rhinoplasty may not be a good fit if:
The patient has body dysmorphic disorder (BDD)
The patient suffers from obstructive sleep apnea (OSA)
The patient is an active cocaine user
Due to the complex nature of a revision rhinoplasty, Dr. Abramson will impart detailed information about your individual goals, and available surgical outcomes. As each nose is unique, a surgeon must strike a balance between appearance and functionality on a case by case basis. Patients must also be aware of the risks and realistic outcomes of a secondary rhinoplasty.
Personal Consultation
A thorough examination of the nose is paramount at your consultation with Dr. Abramson. At this time, you can speak openly with him about your primary rhinoplasty experience and the issues you are experiencing now. He will note the anatomical abnormalities, fully explain the basic roadmap for secondary rhinoplasty in your circumstances, then work with you to formulate an individualized treatment plan.
What to Expect from a Revision Rhinoplasty
As each individual comes to us with different reasons to undergo a revision rhinoplasty, no two surgeries follow the same pattern. You will be well-informed prior to your surgery about what will happen during the procedure. Both primary and secondary rhinoplasties are conducted on patients under general anesthesia.
The standard aftercare protocol after your surgery will be the attachment of a nasal splint. Dr. Abramson will advise you when this can be removed, but the average time is after 5 to 7 days. As with a primary rhinoplasty, it is likely you will experience bruising under your eyes as well as localized swelling. This is temporary and should subside in 7 to 10 days. although final results can take anywhere from 6 to 12 months.
During your recovery period, you must follow the same directions as your previous rhinoplasty, which may include:
Refraining, where possible from exaggerated facial expressions
Taking baths rather than showers while you have a nasal splint
Not blowing your nose until otherwise directed by your doctor
Ensuring eyewear does not rest on the bridge of your nose
Avoiding strenuous activities for about a month
Where necessary, Dr. Abramson can prescribe pain medication for your comfort.
A revision rhinoplasty makes considerable alterations to the results of an existing surgery, so we will arrange follow-up appointments for you with Dr. Abramson to closely monitor your progress.
Corresponding & Complementary Procedures
Other facial cosmetic procedures can be conducted simultaneously with a revision rhinoplasty, or at a later date. Patients wishing to enhance other areas of their face may consider the following treatments.
Facial Fat Transfer
Also known as facial fat grafting, a Facial Fat Transfer procedure can add youthful volume to your face using your own fat. Signs of aging can be diminished significantly in a technique that harvests donor fat from another area of the body and introduces it to areas of lost volume in the face. Facial fat transfer benefits patients because it has the ability to reduce the appearance of lines and wrinkles and can virtually erase some types of scarring, restoring a youthful, natural facial appearance.
Chin Liposuction
Remove your double chin with a Chin Liposuction procedure from Dr. Abramson. Submental fullness, the medical term for a double chin, can be something that's virtually impossible to get rid of as we grow older, no-matter how healthy our lifestyle is. Using targeted liposuction that removes stubborn fat below the chin, a chin liposuction treatment can streamline your profile in a short procedure with minimal downtime.
Lip Augmentation
Add fullness to your lips with a Lip Augmentation procedure that can improve facial balance and enhance your natural features. Patients have a variety of lip fillers to choose from to achieve their desired results, such as hyaluronic fillers Juvederm and Restylane or neuromodulators like botox. Dr. Abramson will strategically place the selected lip filler into the upper, lower, or both lips to volumize them.
Cost of a Revision Rhinoplasty in Englewood, NY
The cost of your revision rhinoplasty will vary according to the complexity of the procedure, and the time required to adjust and rectify the previous surgery. Due to the individualized nature of such a surgery, the surgical techniques implemented and the time it takes to complete the procedure may vary significantly from patient to patient. Financing may be available for qualified candidates.
FAQ
Can I get a second rhinoplasty if I'm not satisfied with the first one?
Yes! A revision rhinoplasty is a second surgery that can address functional and/or cosmetic issues that were not solved with the first one. Generally, surgeons advise patients to wait some time after their initial rhinoplasty before considering an additional surgery so the final results can be examined. It is usually advisable to wait at least a year after your first surgery before considering a second surgery.
Is recovery from a secondary rhinoplasty longer?
Although one revision rhinoplasty can vary greatly from the next, recovery may be longer than primary rhinoplasty because your surgeon must address existing scarring and tissue damage. Typically, already scarred tissue takes longer to heal. At a personal consultation with your surgeon, you can discuss the surgery involved and speak to them about the estimated recovery time for your specific circumstances.
How many revision rhinoplasties can a patient get?
There is theoretically no limit to the amount of rhinoplasties a patient can get. However, there are limitations to the number of surgeries the tissues in the nose can recover from successfully. A plastic surgeon's goal is to improve cosmetic defects, while at the same time, maintaining nasal functionality, so revision rhinoplasties should be well planned and well executed by a plastic surgeon who has significant rhinoplasty experience.
References
Fichman, M., & Piedra Buena, I. T. (2020). Rhinoplasty. PubMed; StatPearls Publishing. https://www.ncbi.nlm.nih.gov/books/NBK558970/
Davis, R. E., (2016, May 24). Revision Rhinoplasty. Ento Key. https://entokey.com/revision-rhinoplasty/
Patel, P. N., Abdelwahab, M., & Most, S. P. (2020). A Review and Modification of Dorsal Preservation Rhinoplasty Techniques. Facial Plastic Surgery & Aesthetic Medicine, 22(2), 71–79. https://doi.org/10.1089/fpsam.2020.0017
Want to see your new you before the procedure?
With Crisalix's 3D imaging technology you can see how you would look post-procedure if full 3D.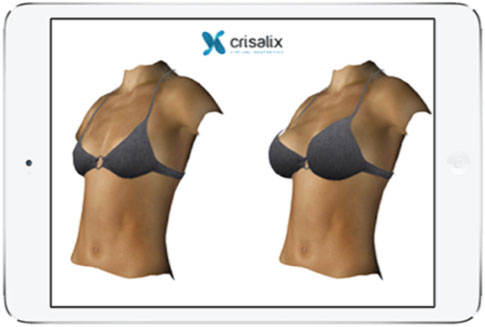 Learn More