Plastic Surgery for Men
Consultations offered at our three convenient locations in New Jersey, Bergen County and Englewood, NJ
Excellence has no gender. Being your best should not depend on whether you are male or female. Cosmetic enhancements are traditionally associated with women, but times are changing… and so are attitudes.
As plastic surgery has become more mainstream, its popularity with men has increased. Men are turning to plastic surgery to feel better, look younger, and even help with their careers. Aesthetic procedures can help guys recontour their bodies and eliminate excess fat deposits. Diet and exercise are great for continued health and happiness, but they may fail to address "problem areas" like double chins and spare tires.
Dr. David Abramson can unleash your manly physique and perk up your profile. With convenient locations in Englewood, New Jersey, and New York City, Dr. Abramson serves his communities with precision and professionalism. To learn how he can lift your look, book a consultation at your earliest convenience. 
Gynecomastia Surgery
When guys have enlarged breast tissue, it can cause embarrassment and shame. This condition is called gynecomastia, and it does not need to define you. Dr. Abramson can alleviate the symptoms of gynecomastia by removing unwanted fat and glandular tissue from the chest area. As he slims a man's silhouette, Dr. Abramson contours the pectoral region to highlight a more robust, rugged appearance. 
The benefits of gynecomastia surgery are transformational and triumphant.
Guys who reduce the size of their breasts often experience renewed confidence in their bodies. They can go shirtless at the beach, work out without any lingering insecurities, and wear tighter clothes than they could before the procedure.
Liposuction for Men
Fat removal is an important component of gynecomastia surgery, but it can also be applied to other areas of a man's body. Love handles are probably the most common area of concern for men.
Liposuction of the abdomen, flanks, or chest area is frequently undertaken with use of the added technology such as lasers or ultrasound. These methods help increase the amount of fat that can be removed.
Dr. Abramson starts by creating a small incision at the target area. He then inserts a thin tube called a cannula to bathe the unwanted fat with tumescent liquid. The fluid gently loosens and softens fat stores so that Dr. Abramson can effectively vacuum these cells from the body.
In Dr. Abramson's skilled hands, the cannula contours as it uses reverse pressure to slim and trim your body. Once he is done with the liposuction procedure, he sutures up any small incisions he has made. Dr. Abramson is a master at concealing your incisions by placing them strategically and stealthily. Nobody needs to know about your procedure (unless you feel like bragging)!
CoolSculpting
For a non-invasive alternative to liposuction, consider the benefits of CoolSculpting. This groundbreaking procedure requires no incisions, no anesthesia, and no downtime. Simply identify the area on your body that you wish to target and we can put our CoolSculpting technology to work.
The applicator fits securely to your body and lowers the temperature of your fat deposits until unwanted cells are frozen into submission. The surrounding skin and tissue maintain warmer temperatures, so the CoolSculpting experience is generally comfortable. In fact, you can sit back and watch TV, read a book, or surf your smartphone while our medical professionals do the work for you!
Your body will recognize the frozen fat cells as waste and process them as such. The lymphatic system breaks down the eradicated fat naturally, leaving you tougher, trimmer, and… dare we say it – cooler!
Male Body Contouring
Every man can be his own worst critic. The rest of the world may look at him with high regard, but he might see himself as a collection of flaws and imperfections that demand improvement. For these reasons, male body contouring is a discipline that defies categorization and includes endless possibilities.
Dr. Abramson is ready to listen to your aesthetic goals to help craft the appearance you want to see in your mirror.
Whether you are trying to achieve six-pack abs, a leaner chest, more defined legs, or a youthful overall look, Dr. Abramson is your best bet. Call 201-731-3134 to learn how you can attain aesthetic excellence in New Jersey and/or New York. 
Blepharoplasty (Eyelid Surgery)
Some men are concerned about the appearance of their faces, particularly around the eyes. When heavy eyelids weigh on your expression, blepharoplasty is an ideal procedure for you. Aging has a tendency to weigh our lids down. Over time, our bodies produce less collagen, the protein responsible for regenerating and replenishing our skin. Older eyelids sag and slump as a result of the skin's inability to "snap back" the way it could in our younger years.
Fat deposits also accumulate over time. This can produce a droopy quality around the eyelids. Dr. Abramson can remedy unsatisfactory facial aesthetics with an eye-opening blepharoplasty procedure. Eyelid surgery delicately removes unwanted fat and selectively tightens the skin around the eyes. The result is a more alert appearance that erases the years and emphasizes the energetic glimmer within.
Neck Lift
When you "dress for success," the world takes note. You have your sharpest tie, your dry-cleaned shirt, and your best blazer all laid out and ready to dazzle. But when you arrange these garments around your neck, they clash with the "turkey wattle" that collects under your chin.
Neck skin is one of the most visible giveaways when it comes to aging.
Healthy eating and hours at the gym can only do so much, but your neck is exceedingly difficult to contour on your own. That's where Dr. Abramson comes in. His neck lift techniques help tighten and tone your jawline and jowls, raising your profile to your specifications.
If you struggle with a double chin or other excess fat around the lower facial realm, then liposuction may be an essential ingredient in your neck lift procedure. Dr. Abramson can expertly contour your features to highlight your strength and stamina. Things will really be looking up after a visit with Dr. A!
Tummy Tuck
Truth time, guys – many of us struggle with that bothersome beer belly. Even if you do the hard work to drop some pounds, it may be difficult to target the abdominal fat you are trying to shed. Once you do trim your stomach region, you have yet another obstacle to overcome: loose skin.
For all of the above reasons, a tummy tuck may be the perfect solution for you. Dr. Abramson can streamline your midsection with a comprehensive approach that removes unwanted fat and excess skin. The doctor also sutures the abdominal muscles to tune them up and maximize their appeal. The result: a tighter, more chiseled new you!
Rhinoplasty (Nose Job)
If you have ever broken your nose, it can heal in a crooked, asymmetrical manner. You may also struggle with sleep apnea, induced by a deviated septum that disrupts your natural flow of breathing at night. Or perhaps you just don't care for the shape and size of your nose. In any event, a rhinoplasty procedure by Dr. Abramson may be the right fit for you.
A nose job can improve the functionality and appearance of your central facial feature. Breathe easy and balance your look with rhinoplasty in New Jersey or New York. The sweet smell of success is just a click away!
Book a Personal Consultation
Every great achievement begins with a simple conversation. You have a picture of your ideal self in your mind, and we want to know how we can bring that image to life. During your initial consultation with Dr. Abramson, he will listen to your ideas, respect your perspectives, and strategize the best way to move forward.
If you are in the Englewood or Franklin Lakes, New Jersey regions, please call 201-731-3134 to kick start our conversation. New Yorkers can dial 212-774-1828 to speak to a local representative. In the meantime, feel free to check out our blog for a glimpse of Dr. Abramson's expertise and dedication.
Cost and Financing
The price of your respective procedures will depend on the extent of the areas you wish to contour. Dr. Abramson offers top-tier service at rates that respect your budget. For male plastic surgery options in New York or New Jersey, consult our financing page and get ready to take your looks to the next level. 
FAQ
What are the most common male plastic surgery procedures?
Liposuction, nose jobs, eyelid surgeries, and gynecomastia (male breast reduction) procedures are most popular with men in the United States, according to the American Society of Plastic Surgeons.
Do guys get tummy tucks?
Yes indeed! Men who struggle with belly fat and loose skin can benefit from a tummy tuck from Dr. Abramson. If you live in the New York or New Jersey area, please contact our office and let us help trim down your torso.
Does gynecomastia surgery leave scars?
The art of plastic surgery is creating true transformation while leaving as little a trace as possible. Dr. Abramson has mastered the technique of making small incisions that are disguised by the natural contours of a patient's chest. With a gynecomastia (enlarged male breast) surgery, for example, he can hide any scar tissue along the edge of the areola. The areola is the dark skin around the nipple, so it can mask small incisions easily and effortlessly. Another possible incision point is the axilla, or armpit, which is generally shielded from everyday view.
References
American Society of Plastic Surgeons. https://www.plasticsurgery.org
Willett, M. (2014). Here's Why There's a 'Huge Boom' in Men Getting Plastic Surgery. Business Insider. Retrieved from: https://www.businessinsider.com/male-plastic-surgery-procedures-2014-2
Want to see your new you before the procedure?
With Crisalix's 3D imaging technology you can see how you would look post-procedure if full 3D.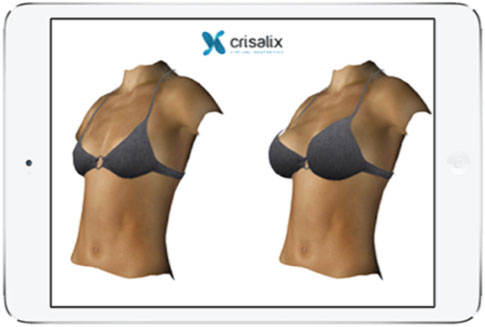 Learn More