Thigh Lift
Consultations offered at our three convenient locations in New Jersey, Bergen County and Englewood, NJ
Losing weight and aging can result in the development of excess sagging skin around the midsection and thighs. Sagging skin may distort the natural figure, or even present problems for a patient's hygiene and function.
A thigh lift is a surgical procedure that restores a natural figure by removing excess sagging skin. For individuals who have worked hard to lose large amounts of weight, this treatment can be an ideal solution to achieve their body goals.
Dr. Abramson is a top body sculpting specialist with an artistic eye for human anatomy and extensive experience with the thigh lift. To learn more about how this treatment can help you restore a proportionate, healthy-looking figure, contact us to schedule your consultation.
What Is A Thigh Lift?
A thigh lift, also known as thighplasty, reshapes the thigh by removing excess skin and fat, resulting in smoother skin and better contours of the inner and outer thigh. The result of a thigh lift restores a patient's natural figure to be more proportionate with the rest of their body.
There are three main types of thigh lifts, inner thigh lift, outer thigh lift, and a mini thigh lift. The main difference between each type of thigh lift are the location where excess skin is removed and the direction of the incision. The right choice will depend on a variety of factors such as the patient's unique anatomy and their goals.
The thigh lift is a safe, effective treatment that reshapes the thighs and lower legs. Dr. Abramson consistently delivers impressive body contouring for his patients.
Benefits of a Thigh Lift
Removal of excess sagging skin from the inner thighs, other thighs, or both
Restoration of a natural, youthful figure
Reduce stretch marks
Relieve irritation
Candidates for Thigh Lift
People who are candidates for thigh lifts are at a stable weight, have excess skin along the inner and medial thigh, are healthy without significant medical conditions that could impair their ability to heal from wounds, and are non-smokers.
Those who are considering a thigh lift should have reasonable expectations of the treatment and choose to undergo the procedure to achieve their own, personal goals. Though a thigh lift will achieve significant restoration of an individual's natural figure, patients should be aware that there may be some visible scarring depending on the type of thigh lift technique. Every effort is made to keep incisions well-hidden and within natural creases of the body.
If a patient's main concerns are the amount of excess fat or cellulite around the thighs, they may be better treated with liposuction.
Skin Elasticity
Sagging skin may be the result of aging or extreme changes in body shape after weight loss.
When skin is stretched to extremes, its ability to rebound to a tighter, youthful shape is tied to an individual's skin elasticity. Our skin has a natural elasticity that varies from individual to individual based on age, gender, lifestyle, and genetics. Overexposure to the sun, smoking, and aging contribute to loss of skin elasticity. Additional dieting or weight loss will not likely address sagging skin and may actually make the issue worse.
Although stretched skin that remains after extreme weight loss may rebound slightly, surgical procedures such as the thigh lift are typically the best option for restoring a natural body contour.
Thigh Lift Options
Thigh lifts are customized to the presenting issues and anatomy of each patient and are performed as inner thigh lifts, outer thigh lifts, or mini thigh lifts.
Inner Thigh Lift
Surgical marks on inner thigh lifts are well-hidden by the natural creases of the thighs.
Inner thigh lifts, also referred to as a medial thigh lift, are performed by removing a crescent-shaped wedge of excess tissue from the inner thigh region. This results in a slimming effect along the inner thigh, creating a larger thigh gap. The inner thigh lift is particularly popular among women. The sagging area is pulled taut and upward for a slimmer profile.
Outer Thigh Lift
An outer thigh lift is performed with an incision along the outer hips. Outer thigh lifts are ideal for patients who have lost large amounts of weight and their figures have become distorted due to excess sagging skin. In the case of massive weight loss, excess sagging skin on the outer thighs is a common development. The outer thigh lift may involve a V-shaped incision to address extensive thigh sagging.
Outer thigh lifts directly address sagging skin on the outer thighs, but may also reduce sagging along the front of the thighs and naturally tighten the inner thighs as well.
How Is A Thigh Lift Performed
A thigh lift is a procedure performed under general anesthesia. The treatment begins with cleaning, prep, and the mapping of incision locations for precision. The incisions usually run in the groin crease and sometimes down the inner thigh. This allows the skin to be lifted both superiorly and medically while hiding the incision as much as possible.
Outer thigh lifts have incisions that run over the top of the outer thigh, allowing lateral thigh or saddlebags to be pulled tighter. These incisions are usually closed with absorbable sutures and frequently drains are placed for the early postoperative period.
Thigh Lift Results
The results of a thigh lift will be immediately obvious to some degree, but the final result will become clear once healing is complete. The majority of recovery will be complete within six to seven weeks after surgery. The results of a thigh lift treatment are long-term, but future weight fluctuations and weight gain can always reverse some of the improvements accomplished during the procedure.
Thigh Lift Recovery
A thigh lift is a procedure with significant risks, particularly for wound healing issues, seroma or infection, and other risks such as blood clots. Skin discoloration can also be encountered. Recovery from a thigh lift can take several weeks. Most patients should plan to take a minimum of 2 to 3 weeks off from work.
Patients will also not be able to resume exercise for at least a month after surgery.
Consultation with Dr. Abramson
A thigh lift is a significant surgical procedure that is tailored and customized to each patient's body and goals. During a personalized consultation with Dr. Abramson, the patient is walked through their different surgical options. Their choices will be discussed with them in full detail. The goal of every consultation with Dr. Abramson is to ensure the patient is feeling confident and fully informed about their treatment options. A physical examination and discussion of the patient's medical history will be necessary as well.
No two patients are alike. Each patient is provided with a customized treatment plan and quote during their consultation.
Complementary and Alternative Treatments
The thigh lift may involve complementary treatments to achieve comprehensive body sculpting results. In some cases, if Dr. Abramson determines a patient will be better served by an alternative treatment, he will make his professional recommendation.
Liposuction
Liposuction is the platinum standard for fat reduction and is popularly incorporated into a thigh lift. With liposuction, stubborn fat deposits in the thigh area may be sculpted away to achieve a leaner, natural-looking figure.
Paired with a thigh lift, a liposuction treatment delivers a comprehensive body sculpting result.
Liposuction is performed with local anesthesia, which avoids the risks involved with general anesthesia. Patients are also able to communicate, completely pain-free, during treatment.
During liposuction, a thin, hollow instrument called a cannula is used to suction pockets of fat away from the body. Fat tissue removed is permanently excised from the body.
Tummy Tuck
Patients who have sagging skin due to extreme weight loss will often have significant amounts around the abdominal area as well. Tummy tucks may be performed with thigh lifts as part of an overall body lift that comprehensively addresses sagging skin. The tummy tuck is performed with a horizontal incision across the lower abdomen. Excess skin tissue is removed and the remaining area is pulled flat for a tighter, youthful abdominal appearance.
Cost
The cost of a thigh lift will vary based on a variety of factors such as the type of thigh lift performed and whether or not additional treatments are included. A detailed quote will be provided at the end of the consultation once Dr. Abramson is able to complete a thorough assessment.
Want to see your new you before the procedure?
With Crisalix's 3D imaging technology you can see how you would look post-procedure if full 3D.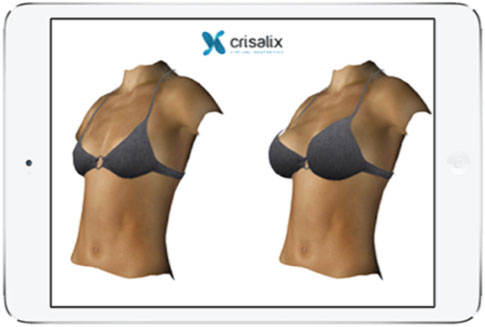 Learn More