Liposuction for Back Fat
Consultations offered at our three convenient locations in New Jersey, Bergen County and Englewood, NJ
Liposuction for back fat is an effective solution for removing unwanted subcutaneous fat and achieving a more toned appearance. If you're one of the many people who struggle with stubborn back fat, then you know just how difficult it can be to get rid of. Despite a healthy diet and regular exercise, excess adipose tissue in the back area can be resistant to change, making it frustrating to achieve your desired body contour.
David L. Abramson, MD, offers liposuction for back fat as well as other body contouring treatments to target excess fat deposits and sculpt and enhance natural contours. Dr. Abramson is a highly skilled plastic surgeon with many years of experience in body sculpting and fat reduction techniques. He uses advanced liposuction technology to remove fat cells from the targeted area while minimizing damage to surrounding tissues, resulting in smoother skin and a more defined shape.
We help patients achieve their desired body shape through safe and effective body contouring procedures such as liposuction for back fat reduction. If you're interested in learning more about this procedure, or you would like to schedule a personal consultation with Dr. Abramson, please contact your nearest location at the number below or fill out an inquiry form on our website.
Before and After Photos
About Back Liposuction
Back fat can be an issue for many individuals, affecting both their appearance and confidence. While diet and exercise can help to some extent, sometimes stubborn back fat just won't budge. This is where liposuction comes in as a cosmetic surgical solution to remove excess fat from the back, leading to an aesthetic improvement in body contour.
Liposuction is one of the most commonly performed cosmetic procedures, with almost 90% of board-certified plastic surgeons performing the treatment. (1) The liposuction procedure involves removing excess fat from the targeted area using a surgical technique that vacuums out unwanted fat cells. During the procedure, small incisions are made in areas that are easily concealed, allowing the surgeon to insert a slim metal tube called a cannula into the fatty tissue. Then, using suction, the fat is removed, creating a smoother and more contoured appearance. In the case of back fat, this could mean reducing bulges on the upper or lower back, bra rolls, or love handles.
The majority of liposuction procedures are performed under local anesthesia, meaning the patient remains awake throughout the process. This allows for faster recovery times and fewer complications since general anesthesia isn't used. The patient will be given medication to help them relax and may feel some pressure or discomfort during the procedure, but it should not be painful.
Benefits
If you're looking to get rid of stubborn back fat, liposuction is an effective and safe procedure that can help you achieve your goals. Dr. David Abramson's approach to liposuction for back fat is designed to provide patients with a range of benefits that go beyond just physical appearance. Here are some of the ways patients can benefit from this procedure:
More visible musculature: Liposuction can help remove excess fat from the back, resulting in a more toned and sculpted appearance.
Increased self-confidence: Feeling good about your appearance can have a positive impact on your overall well-being and quality of life.
Improved profile: You'll find that your good posture is easier to appreciate, since the s-shaped contour of your back will be more visible. This can also emphasize the curve of the upper buttocks, and enhance the waistline.
Decreased risk of cardiovascular disease: Removing excess fat can help reduce the risk of developing heart disease and other related conditions.
BodyTite for Back Contouring
For patients that have excess skin as well as unwanted fat deposits, Dr. Abramson can incorporate a BodyTite treatment. This minimally invasive procedure uses radiofrequency energy to eliminate fat cells and tighten skin. 
Candidates
The ideal candidate for back fat liposuction is someone who is in good overall health, has realistic expectations, good skin elasticity, and is committed to maintaining a healthy lifestyle after the procedure. Dr. Abramson offers different anesthesia options depending on your preferences and comfort level.
To determine if liposuction for back fat is right for you, schedule a consultation with Dr. Abramson at his Englewood, New Jersey practice. He will evaluate your needs to create a customized treatment plan that will give you the results you desire.
Personal Consultation
During your consultation, Dr. Abramson will take the time to understand your specific concerns and goals, as well as your medical history. He will also perform a physical exam to determine whether you are a good candidate for the procedure.
He will explain the liposuction procedure in detail and answer any questions you may have. He will also discuss the anesthesia options available and help you determine which one is right for you. Additionally, he will go over the surgical risks associated with liposuction, so that you can make an informed decision about whether or not to proceed with the surgery.
If you decide to move forward with the liposuction procedure, Dr. Abramson will create a personalized treatment plan that is tailored to your unique needs and goals. The procedure itself typically takes a few hours, depending on the extent of the back fat reduction needed.
Preparation
Before undergoing any liposuction procedure, it is important to prepare yourself both physically and mentally. Dr. Abramson prioritizes patient safety and satisfaction, providing detailed preoperative instructions to ensure the best possible outcome. Your instructions may include the following.
Discontinue blood thinners, supplements, and other medications as instructed by our team.
Stop nicotine use before surgery and abstain from using it throughout the recovery period.
Fill prescriptions for pain medication and antibiotics in advance to have them on hand for post-operative care.
Arrange for transportation home and have an escort if sedation or general anesthesia will be used during the procedure.
Arrange time off from work and social commitments to allow adequate rest and recovery.
Liposuction Procedure
First, Dr. Abramson will administer anesthesia to ensure your comfort during the procedure. He will then use a tumescent liposuction technique, injecting a saline solution mixed with a numbing agent into the targeted area. This technique helps to reduce blood loss and minimize discomfort during and after the procedure. (2)
Once the area is numb, Dr. Abramson will make small incisions in the skin and insert a thin cannula to suction out the adipose tissue. This suction-assisted lipectomy method allows for precise fat reduction and body contouring. Dr. Abramson has extensive experience in this technique and will work to sculpt the area to create a natural-looking result.
Following the procedure, you may experience some swelling and bruising, but this should subside within a few weeks. Dr. Abramson will provide detailed post-operative instructions to aid in your recovery and achieve optimal results.
Recovery
We recommend taking at least a week off from work to rest and allow your body to start the healing process. During this time, it's essential to follow post-operative care instructions carefully. You will need to wear a compression garment to help reduce swelling and promote proper healing. Dr. Abramson will also prescribe medication to manage any discomfort or pain during this time.
It's important to avoid any strenuous activities for several weeks following your procedure, as it can delay the healing process and cause further complications. However, light walking is recommended as it promotes healthy blood flow and helps prevent blood clots. Dr. Abramson will schedule follow-up appointments to monitor your progress and ensure your healing is on track.
Results
Once fully recovered, you'll notice a significant difference in your back's appearance. Your clothes will fit better, and you'll enjoy a more contoured silhouette. Dr. Abramson takes pride in providing natural-looking aesthetic results that enhance your overall appearance. The best part is that the scarring is minimal, and the results are long-lasting with proper diet and exercise.
Corresponding & Complementary Procedures
Dr. Abramson offers liposuction for the following areas of the body:
Find out more about liposuction and other surgical procedures by reading Dr. Abramson's blog.
Cost of Liposuction for Back Fat in Englewood, NJ
When it comes to liposuction for back fat, the cost will depend on a variety of factors unique to each patient. Dr. David Abramson understands that every individual has different needs and goals, which is why he tailors his approach to suit your specific requirements. The techniques used, anesthesia required, and extent of surgery needed will all be factored into your personalized treatment plan and cost estimate.
If you're interested in learning more about liposuction for back fat, we encourage you to schedule a consultation with Dr. Abramson. During your appointment, he'll assess your concerns, discuss your options, and provide you with a comprehensive quote for the cost of your procedure. You can reach us at (201) 731-3134 or fill out our online form to book your appointment today.
References
Cook J, Pozner JN, Turer DM, et al. Roundtable Discussion: Making Sense of Current Liposuction Technologies. Aesthetic Surgery Journal Open Forum. 2021;4:ojab045. doi:https://doi.org/10.1093/asjof/ojab045 
A journey through liposuction and liposculture: Review. Annals of Medicine and Surgery. 2017;24:53-60. doi:https://doi.org/10.1016/j.amsu.2017.10.024 
Want to see your new you before the procedure?
With Crisalix's 3D imaging technology you can see how you would look post-procedure if full 3D.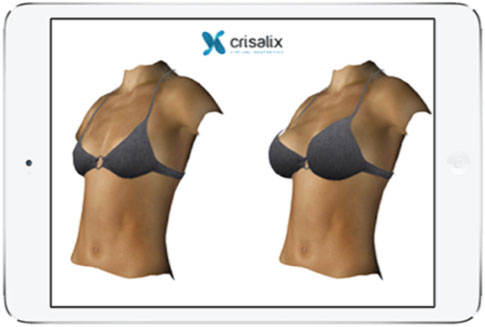 Learn More