Chin Liposuction
Consultations offered at our three convenient locations in New Jersey, Bergen County and Englewood, NJ
Chin liposuction, also known as submental liposuction, is a cosmetic procedure that reduces fat under the chin and upper neck. The structural support for our facial and neck tissue becomes compromised as we get older or gain weight. This causes the jawline to become less defined and produces  a "double chin." Chin liposuction can enhance the appearance by removing submental fullness – which can often make us appear older or heavier than we actually are. Dr. David Abramson can perform liposuction in this area to recontour the lower angles of the face for a refined and rejuvenated appearance. See us for a private consultation at any one of our offices in the greater New York area.
Call us now at:
Or, schedule one by filling out our easy online contact form. 
About
For some, an unsightly double chin can be impossible to get rid of and can become more pronounced with the march of time. It can be resistant to weight loss and diet, and even to exercises that specifically target the area. However, liposuction has provided millions of patients worldwide an effective way to eliminate stubborn stores of fat all over their bodies. [1] This versatile solution can achieve smoother contours to areas including the abdomen, buttocks, back, thighs, arms, and chin. [2]
Liposuction, as we know it today, underwent key improvements in the 1970s, transforming it into an effective and safe procedure, and advances in liposuction technology continue today. It is now one of the most frequently performed aesthetic procedures in the Western world. [1] During liposuction surgery, a small hollow tube is inserted under the skin to suction away unwanted fat deposits. And, because of the continued improvements in this contouring method, it can safely be performed even in delicate areas such as under the chin. Dr. Abramson has years of experience performing procedures that are precisely targeted to enhance his patients' unique facial structures. He specializes in two unique methods of liposuction: tumescent lipo and ultrasound-assisted liposuction to achieve these results.
Tumescent Liposuction
The introduction of tumescent fluid to liposuction procedures in 1987 radically improved the efficacy of liposuction, and it still remains an integral part of the procedure.(2) This solution is a combination of saline, epinephrine, and lidocaine. It constricts blood vessels, further numbs tissue, and engorges fat cells, making it easier, safer, and more comfortable to remove larger amounts of fat. [1]
Ultrasound-Assisted Liposuction
Ultrasonic-assisted liposuction uses gentle ultrasonic energy to further ease the removal of fat. A specialized cannula treats the fat deposits with ultrasonic energy that creates a thermal effect. This emulsifies the fat, making it easier to remove without damaging the surrounding connective tissues. Patients experience a more comfortable recovery period and satisfying results: the thermal effect causes skin contraction for tighter, firmer skin in the treatment area.(3) This makes this technique ideal for patients seeking better jawline definition and clear contours for their chin.
Benefits
Chin liposuction procedure performed is the quickest and most effective way to reduce submental fat deposits. Downtime is minimal, and the results are impactful. Better chin and jawline definition translates into a healthy, youthful appearance. Besides contributing to a more slender overall appearance, patients can enjoy a chin that complements and balances the rest of their facial features!
Candidates
Men and women concerned about the appearance of a double chin may be suitable candidates for this procedure. To be eligible, candidates typically are:
At a stable, ideal weight
Non-smokers or willing to stop until fully recuperated
Not pregnant or breastfeeding, and able to dedicate the time to recovery
Are troubled by excess fat, rather than loose skin or swelling caused by other health conditions
Have already attempted to reduce submental fat with diet and exercise
Are free from underlying health problems such as blood clotting disorders
Personal Consultation with Dr. Abramson
Dr. David Abramson received training from the most prestigious academic and medical institutions in the United States. He has published over 30 articles and chapters on Plastic and Reconstructive Surgery but has also been recognized for his bedside manner and commitment to patient care. Your personal consultation will be an opportunity for you to learn more about chin liposuction, and for Dr. Abramson to learn more about you! After reviewing your medical history and examining the area under your chin, Dr. Abramson will be able to determine if chin liposuction is the best option to meet your aesthetic needs.
Once he determines that you are a good candidate, he will detail the surgical process, explaining how it will be adapted to best contour your unique chin and jawline. Then, we'll schedule your appointment and give you a list of instructions so that you're perfectly prepared for your procedure.
To schedule a consultation, call our front desk staff at (212) 774-1828 in New York City. If you're in New Jersey, call (201) 731-3134 to reach our offices in Englewood, or (201) 731-3134 for our Franklin Lakes location. To learn more about the patients that Dr. Abramson has helped, read our reviews, or take a look at their before and after pictures! 
To learn more about the other services Dr. Abramson offers, we recommend reading our insightful blog. 
Procedure
The details of your procedure will be tailored to your unique anatomy and preferences. 
Local anesthesia with sedation or general anesthesia
Tumescent Liposuction, Ultrasound Liposuction, or both
Any other procedures that you may choose to include with your chin liposuction, such as a facelift or neck lift
Depending on your individualized plan, your surgery will last 1-2 hours. After the anesthesia has taken effect, Dr. Abramson will make small, inconspicuous incisions below the chin. These will allow him to insert the cannula and remove the unwanted fat. Your incisions will be sutured shut once he's finished creating the desired aesthetic. Finally, a compression garment that wraps under your chin and around your head will be placed to safeguard results. You'll be monitored by our staff until deemed ready to return home and begin your recovery.
Recovery
Downtime for chin liposuction is usually 1-2 weeks. You'll return to Dr. Abramson's office during that time so that he can check on your progress and address any concerns about your recovery. Swelling, soreness, and bruising are a normal part of this process. You will need to continue wearing your head strap to control swelling and protect the healing area. Dr. Abramson will have prescribed medication to help control the symptoms. Please be sure to rest and hydrate properly, and to follow your post-operative instructions diligently. This will ensure a speedy recovery and stunning results!
Results
At first, you may not be able to see your newly sculpted chin beneath the swelling and compression strap. But by the time you're finally able to take it off, you will certainly notice the difference! Your jawline will be much tighter, smoother, and angular. Best of all, you will take years off your appearance.
When your results come into view, please don't hesitate to show them off for all to see. Tag, like, and follow us on Instagram.
Corresponding & Complementary Procedures
Patients desiring additional enhancements to their facial features can do so with a diverse range of the minimally invasive and surgical options we offer. We can discuss these helpful procedures at your initial consultation. Patients interested in chin liposuction also often benefit from:
Facelift
A facelift by Dr. Abramson addresses the signs of aging by surgically removing excess skin and fat and adjusting the underlying facial structures. Dr. Abramson's patients enjoy natural-looking results with supple, firmer skin and a smoother complexion. Depending on your unique circumstances, Dr. Abramson will perform either mini, regular, or extended facelift.  
FaceTite
FaceTite is a minimally invasive facial rejuvenation treatment that combines radiofrequency (RF) technology and light liposuction to reduce wrinkles and fine lines. The RF energy targets fat cells for removal while tightening skin. 
Silhouette InstaLift
Silhouette InstaLift is also another non-surgical treatment that lifts and rejuvenates facial skin. The procedure involves placing sutures composed of biocompatible dissolvable threads under the skin. In addition to the instant lift, these threads stimulate collagen production for firmer skin! 
Cost of Chin Liposuction in New York City
Our office is committed to building a customized treatment that serves you. As a result, the pricing structure is based on your specific requests. You'll be given an accurate estimate for the total price of your chin liposuction following your personal consultation. To learn more about funding options, check our finance page or call us directly, and a friendly patient coordinator will assist you.
FAQ
What is chin liposuction?
Chin liposuction is the surgical removal of surplus fat under the chin with liposuction. At the end of the surgery, patients will see attractive, elegant contours for the neck and jawline.
How long does it take to heal from chin liposuction?
Usually, patients can expect a standard recovery period of 1-2 weeks. Post-surgical symptoms include swelling and discomfort but can be solved by taking the pain medication prescribed. 
Will the fat return after my chin liposuction?
Usually, modest weight changes will not significantly alter your new results. However, considerable weight gain may reverse the effects of your chin liposuction procedure. Keeping up your results with a healthy diet and exercise will help your results last for many years. 
References
Bellini, E., Raposio, E., & P. Grieco, M. (2017). A journey through liposuction and liposculpture: Review. Annals of Medicine and Surgery, 24, 53–60. https://doi.org/10.1016/j.amsu.2017.10.024
Wu, S., Coombs, D. M., & Gurunian, R. (2020). Liposuction: Concepts, safety, and techniques in body-contouring surgery. Cleveland Clinic Journal of Medicine, 87(6), 367–375. https://doi.org/10.3949/ccjm.87a.19097
Rooijens, P. P. G. M., Zweep, H.-P., & Beekman, W. H. (2008). Combined Use of Ultrasound-Assisted Liposuction and Limited-Incision Platysmaplasty for Treatment of the Aging Neck. Aesthetic Plastic Surgery, 32(5), 790–794. https://doi.org/10.1007/s00266-008-9215-x
Want to see your new you before the procedure?
With Crisalix's 3D imaging technology you can see how you would look post-procedure if full 3D.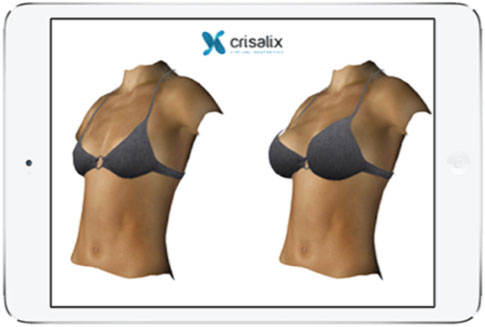 Learn More