Juvéderm
Consultations offered at our three convenient locations in New Jersey, Bergen County and Englewood, NJ
Juvéderm is one of the most popular brands of dermal fillers currently on the market. This family of fillers can help address a variety of facial concerns such as the appearance of lines and wrinkles, including deep wrinkles like nasolabial folds and marionette lines, and a lack or loss of volume in the cheeks, temples, and lips. Since Juvéderm is a nonsurgical injectable that requires no downtime, it is popular amongst men and women of almost any age.
Dr. Abramson is one of the leading plastic surgeons in New York and New Jersey with convenient locations for his patients in New York City, Englewood, and Franklin Lakes. Contact his office today in order to inquire about Juvéderm dermal fillers to enhance the contour and appearance of your face.
About Juvéderm
Juvéderm is a hyaluronic acid gel dermal filler. Hyaluronic acid is a substance we all have in our skin; it adds support and structure. As time goes on, the body's natural supply of hyaluronic acid gradually disappears. These injections are a supplement of the body's hyaluronic acid, hydrating the skin and restoring structure and shape. Juvéderm is longer lasting and more effective than other dermal fillers. The gel is also smoother than other fillers, so it will look natural; in other words, it will not be obvious that you've had injections.
Most Juvéderm products contain lidocaine, a local anesthetic. The lidocaine is included to help reduce discomfort, making the procedure as easy as possible for the patient. Patients are able to resume their normal activities after the injections; they are just asked to take it easy for the remainder of the day. Dr. David Abramson can explain the process in greater detail during a private consultation. For more information, request an appointment today.
Reasons to Get Juvéderm Injections
Fine lines or wrinkles
Sunken cheeks
Loss or lack of volume in the lips
Hollowed temples
Have sagging chin
Noticing a loss of elasticity
Wish to avoid invasive surgery such as a facelift
Wish for better-defined facial contour
If you are unhappy with the appearance of your face due to losing or lacking volume, then please contact Dr. Abramson's office to request a Juvéderm consultation. His skills and experience have helped improve the self-image of patients across the New York and New Jersey regions. He looks forward to meeting with both new and existing patients to discuss how Juvéderm, or other nonsurgical injectables, could help patients achieve their desired look. For patient's convenience, he also performs surgical procedures if the patient would benefit from that more. During the consultation, Dr. Abramson will use his expertise to recommend the best course of treatment for the patient's cosmetic goals and lifestyle.
Good Candidates
Candidates for Juvéderm are men and women ranging in age from their 20s up to their 70s concerned with forehead creases, wrinkles around the nose and mouth, fullness and volume in sunken cheeks, cheekbones, lips, vertical lip lines, or softening the jawline. Juvéderm can correct the appearance of fine lines, wrinkles, and lack or loss of volume in the cheeks and lips, but is not designed to improve significant loss of facial volume or to correct appearances long term. Potential candidates should be aware that Juvéderm is not a replacement for more invasive procedures, such as a facelift, that correct the appearance of significantly sagging skin. Also, patients should be aware that, while the product can last long term, it is not designed to last more than up to two years. In order to maintain results, patients will need to come back in for repeat treatments. During the consultation, the doctor will be able to inform the patient of how long their particular formula will last.
Ultimately the best way to discover whether or not a patient is a good candidate for a dermal filler such as Juvéderm is by scheduling a consultation with an esteemed plastic surgeon like Dr. Abramson. Contact his New York or New Jersey offices easily by filling out our online form and a member of our knowledgeable staff will get back to you.
Juvéderm Formulas
There are various different formulas of Juvéderm in order to meet various patient's dermal filler needs. In general, Juvéderm and Juvéderm Vollure treat fine lines and wrinkles around the nose and mouth, Juvéderm Voluma lifts and adds volume to the cheeks, and Juvéderm Ultra and Juvéderm Volbella add volume to the cheeks and decrease the appearance of fine lines and wrinkles around the lips.
Juvéderm
Juvéderm is the original formula, which was created in order to treat fine lines and wrinkles around the nose and mouth. In some cases, it can be used to treat wrinkles that occur around the forehead and eyebrows. However, Dr. Abramson has found that other injectables, such as Botox, are more effective in these particular areas.
Juvéderm Voluma
A deep-injection dermal filler from the makers of Botox, Juvéderm Voluma is used to volumize the cheeks instantaneously, restoring youthful contour. Like all injectable products, it's minimally invasive and little to no downtime is required.
With the passing of time, many people's faces lose volume. The cheeks become hollow, and it appears that the youth has been drained from them. Want more volume and shape to the cheeks? Try Juvéderm Voluma XC, the convenient and effective solution used by more and more patients every day.
Juvéderm Voluma XC replenishes lost skin volume and helps the patient regain a youthful appearance and enhance the shape and healthy glow of the face. It is designed to add volume to the face, mainly the cheeks and chin. Wrinkle fillers work well with fine lines and wrinkles, but Voluma is well suited for large scale facial volumizing. It is smoother than many other injectable fillers, making it easier to inject and resulting in a rounder and softer face.
Juvéderm Ultra
Juvéderm has provided two unique formulas in order to address concerns regarding patient's lips. Ultra, the first formula, is designed exclusively to add volume to the lips. It is popular among younger patients who wish to add volume to the lips, but are not experiencing vertical fine lines or wrinkles around their lips, nor do they want lip implants.
Juvéderm Vollure
Vollure is one of the newest additions to the Juvéderm family. This formula, like the original Juvéderm formula, is designed in order to treat fine lines and wrinkles around the nose and mouth. It softens moderate to severe facial lines in order to create a smoother and more youthful appearance.
Juvéderm Volbella
Like Juvéderm Ultra, Juvéderm Volbella is also designed to add volume to the lips. This is useful for both patients who have lost volume in their lips and patients who have consistently had a lack of volume in their lips. Volbella, compared to Ultra, is particularly designed to not just add volume to the lips but also soften the appearance of vertical lip lines.
Consultation
Patients who have never received Juvéderm dermal fillers from Dr. Abramson are required to come in for an initial consultation at one of his three locations prior to scheduling a treatment session.
This is necessary in order to ensure the safety of the patient and that the patient receives the highest quality care. During this time, Dr. Abramson will discuss with the patient their goals and medical history. He will also perform a standard physical evaluation to analyze the best form of treatment for the patient. In some cases, the doctor may recommend a different dermal filler, injectable, or a surgical procedure to meet their aesthetic goals. He will use his expertise to help the patient meet their cosmetic goals.
If the patient is a good candidate for the treatment, feel free to ask if the treatment can be performed the same day as the consultation. Dr. Abramson will do his best to accommodate the patient.
Treatment Process
Since dermal filler injections take less than an hour to perform, the doctor will likely be able to perform the treatment after the consultation. The areas of concern will be cleaned and numbed with topical cream or ice upon request. Dr. Abramson then skillfully injects the formula of choice into the target areas to create the desired contour and fullness. Patients are free to return to work or their normal daily activities.
After the Injections
Temporary swelling and tenderness may occur; this can be lessened with the use of an ice pack. For two weeks following the injection procedure, protect the targeted area with sunscreen and avoid extreme heat. Sunscreen and lotion should also be utilized in order to maintain results and improve the general quality of the skin. The volumizing effects of Juvéderm can remain for up to two years, adding smoothness and beauty to the skin. Touch-ups are available by request.
Cost of Juvéderm
For the patient's financing needs, Alphaeon™ and Prosper® are offered.
No treatments are exactly alike and generally depend on how much of the solution is needed. As a result, Juvéderm prices will vary accordingly. The knowledgeable staff at Dr. Abramson's practices will be able to offer more personalized costs based on the individual case following the consultation.
Want to see your new you before the procedure?
With Crisalix's 3D imaging technology you can see how you would look post-procedure if full 3D.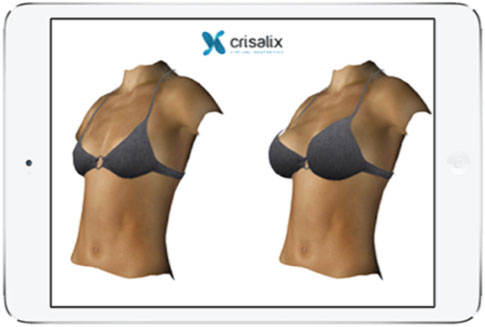 Learn More