Lip Lift
Consultations offered at our three convenient locations in New Jersey, Bergen County and Englewood, NJ
A lip lift is a cosmetic procedure that involves lifting the upper lip to create a more defined, prominent "cupid's bow" and to increase the length of the vermillion for a youthful, refreshed look.
In addition, the procedure involves removing a small strip of skin from the area under the nose to shorten the distance between the nose and the upper lip. Unlike lip fillers, which add volume to the lips, a lip lift focuses on enhancing the natural shape and structure of the lips. Do you dream of having lips that are plump, luscious, and oh-so-kissable? Many people crave fuller lips that will give their faces a boost of youthful radiance and undeniable sex appeal.
In Englewood, NJ, Franklin Lakes, NJ, and New York City,  Dr. Abramson performs this innovative procedure to enhance even the thinnest lips without fillers, creating a more pronounced "cupid's bow" and fighting back against the signs of aging. Imagine having lips that are the envy of everyone you know, and that will make you feel confident, sexy, and unstoppable. That's the power of surgical lip lifting. Call (201) 731-3134 in New Jersey or (212) 774-1828 in New York to schedule a consultation with Dr. Abramson; patients can also fill out our contact form, and we will contact you shortly. 
Learn more about surgical procedures and treatments that will keep you looking gorgeous on our blog.
About Lip Lift
As we age, our lips undergo various changes in both shape and size. The vermillion or red portion of the lips tends to lose height, while the cutaneous part of the upper lip elongates, resulting in an aged appearance. In fact, the lips may be the single most important contributor to a youthful appearance. [1]
When volume is lost from various areas of the lips, including the white-red border, which is responsible for lip contour, and the part of the cutaneous lip below the nose, known as the "Cupid's bow" and adjacent "philtral columns," these changes can lead to a harsh, aged look.
The lip lift procedure shortens the distance between the upper lip and the nose, and lengthens the height of the upper lip, resulting in a fuller, more youthful appearance that lasts for years. In order to achieve this effect, a small strip of skin is removed from the area under the nose, giving the lips a more defined, prominent shape.
You may be wondering about scarring, but fear not – the procedure involves making small incisions in the natural crease under the nose, resulting in minimal, almost unnoticeable, scarring once fully healed.
Dr. Abramson uses a refined technique to ensure optimal incision placement and minimal post-surgical scarring, resulting in a flawless outcome. The benefits of a lip lift last for years, making it a worthwhile investment in yourself and your appearance.
Don't settle for temporary solutions like fillers when you can enjoy the long-lasting effects of a lip lift. Book a consultation with us today to learn more about this innovative procedure and how it can transform your appearance!
What are the Benefits of a Lip Lift?
The lips are one of the most distinctive features of the face and often draw a lot of attention during social interactions. Our eyes are naturally drawn to the lips, much like they are to the eyes, making them an important aspect of communication and expression. As such, many individuals seek ways to enhance their lips' appearance, often through makeup or other methods.
A lip lift procedure offers numerous benefits, making it an attractive option for those seeking to enhance their lips' appearance. Here are some of the key benefits:
The procedure shortens the distance between the upper lip and the nose, creating a fuller, more youthful appearance lasting for years.
The procedure lifts and defines the upper lip, giving it a more prominent shape that complements the natural contours of your face.
The scars are well-hidden, and typically fade over time, and proper scar care can further improve their appearance.
The recovery time for a lip lift is minimal, and you can return to work and normal activities within a week or two.
A lip lift can help improve your self-confidence and overall appearance, leading to a more positive outlook.
If you're looking for a solution to enhance the appearance of your lips, you've likely heard of dermal fillers. While they can provide impressive results, fillers require regular maintenance. Investing in a lip lift procedure is investing in yourself long-term. Book a consultation with us today to learn more about the benefits of this life-changing procedure.
Ideal Candidates for Lip Lift
Whether you were born with naturally thin lips or noticed a loss of volume and definition over time, a lip lift can help you achieve the gorgeous, youthful lips you've always wanted. Candidates for this procedure typically include those who desire a modest increase in upper lip volume and those looking to minimize the signs of aging on their lips.
If you're always on the go and don't have time for frequent touch-ups, a lip lift may be the perfect solution for you. Unlike injectable fillers that require regular maintenance, the results of a lip lift are designed to last for years. So why settle for lackluster lips when you have a naturally fuller pout? Contact our office today to schedule a consultation with Dr. Abramson and discover how a lip lift can subtly transform your face.
Furthermore, a lip lift can be a valuable component of a gender-affirming treatment plan, providing patients with confidence and self-esteem. [2]
Personal Consultation
Deciding to undergo cosmetic surgery can be daunting, so we take great care to ensure you are fully informed about the procedure and any potential risks or complications. We believe in transparency and honesty throughout the process and will never recommend a procedure that is not in your best interest.
During your consultation with Dr. Abramson, you can expect a thorough evaluation of your facial features, including the shape and size of your lips. He'll take the time to listen to your concerns and desired outcomes and work with you to develop a customized treatment plan that meets your needs and fits within your lifestyle.
Every patient is unique and deserves personalized attention and care. That's why we offer comprehensive consultations to help you determine the best course of action for your specific needs and goals. To schedule yours, call (201) 731-3134 in New Jersey or (212) 774-1828 in New York City.
Preparation
Are you ready to embark on your journey towards fuller, more youthful lips? Dr. Abramson and his team are here to guide you every step of the way, starting with the preparation phase.
Preparing for any surgery can be daunting, but our team is committed to making the process as smooth and stress-free as possible. That's why we provide detailed instructions on what to do before your lip lift procedure. We'll walk you through everything from avoiding certain medications to quitting smoking in the weeks leading up to your surgery.
We aim to help you achieve the beautiful, natural-looking results you desire while ensuring your safety and well-being. So let's get started creating the perfect pout for you!
The Lip Lift Procedure
It's finally time for the main event – your lip lift procedure with Dr. Abramson. You've done the prep work, had your consultation, and now you're ready to see the incredible results of this innovative surgical technique.
Dr. Abramson and his team are experts in the lip lift procedure, and they use their extensive knowledge and experience to deliver personalized, natural-looking results that exceed your expectations.
During the procedure, you'll be under local anesthesia. Dr. Abramson will make small incisions under your nose to remove a small strip of skin, creating a lifted, more defined appearance on your upper lip. The techniques he may draw from include [3]: 
Subnasal bull's horn
Wavy ellipse
Subnasal incisions sparing the philtral columns and groove
Subnasal bull's horn excision with T-shaped muscle resection
Lip advancement with vermillion border gull wing excision
These terms describe the specific shape and location of the incision, made in the natural crease under the nose. The goal is to remove enough skin to create a lifted, more youthful appearance on the upper lip while minimizing visible scarring.
Our team is committed to ensuring your comfort and safety throughout the procedure. You can trust that you're in good hands with Dr. Abramson and his skilled team of professionals.
Recovery After Lip Lift
After a lip lift procedure, following a proper recovery plan is important to ensure optimal results. Patients may experience some swelling, bruising, and discomfort in the days following the procedure, but these effects are typically mild and manageable with pain medication and cold compresses.
It is recommended that patients avoid strenuous physical activity and excessive sun exposure during the initial healing phase to promote proper healing and reduce the risk of complications. Patients should also avoid smoking or using tobacco products during recovery, as this can delay healing and increase the risk of infection.
Dr. Abramson will provide specific post-operative instructions tailored to each patient's needs, including:
Guidance on proper incision care
Medication usage
Follow-up appointments to monitor healing progress
Following these instructions can help ensure a smooth and comfortable recovery and achieve the best possible results.
What are the Results
This procedure can transform your lips in ways that go beyond the surface level, boosting your confidence and leaving you with a stunning, rejuvenated smile. Results are significant and long-lasting, with a noticeable difference in your lips' size, shape, and contour.
The red portion of the lip is enhanced and lifted, resulting in a more youthful, plump appearance.
The cupid's bow and philtral columns are defined, creating a more aesthetically pleasing look.
Vertical lines and wrinkles around the mouth are smoothed out, further enhancing the overall appearance of the lips.
Smile with all the confidence a gorgeously youthful mouth imbues!
What is the Cost of a Lip Lift in New Jersey?
During your consultation, Dr. Abramson can provide a detailed breakdown of the costs associated with the procedure and discuss financing options that may be available. Investing in a highly skilled and experienced surgeon can provide you with the best possible results and increase the value of your investment in the long run. Call today to schedule your consultation appointment. We look forward to seeing you!
References
Rozner L, Isaacs GW. Lip lifting. British Journal of Plastic Surgery. 1981;34(4):481-484. https://doi.org/10.1016/0007-1226(81)90063-1
Salibian AA, Bluebond-Langner R. Lip Lift. Facial Plastic Surgery Clinics of North America. 2019;27(2):261-266. https://doi.org/10.1016/j.fsc.2019.01.004
Zhao H, Wang X, Qiao Z, Yang K. Different Techniques and Quantitative Measurements in Upper lip lift: A Systematic Review. Aesthetic Plastic Surgery. Published online March 1, 2023:1-13. https://doi.org/10.1007/s00266-023-03302-5
Want to see your new you before the procedure?
With Crisalix's 3D imaging technology you can see how you would look post-procedure if full 3D.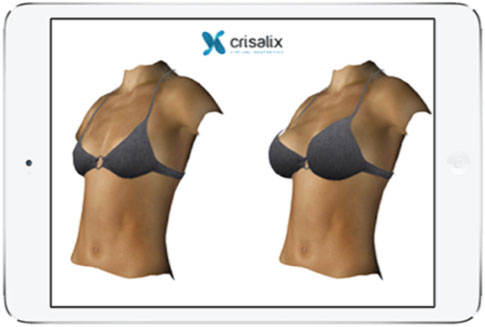 Learn More