Med Spa
Consultations offered at our three convenient locations in New Jersey, Bergen County and Englewood, NJ
A med spa is your ultimate destination for cosmetic enhancement without the need for surgery.
What is Skin Rejuvenation?
Your skin changes as you grow older, and not always for the better. Your face weathers constant exposure to the sun and pollutants, so it is particularly vulnerable to the signs of aging. Wrinkles, blotches, sagging, thinness – all of these imperfections (and others) start to develop on your skin as it matures. Time takes its toll on your appearance and drags down your self-confidence in the process. Luckily, there are a variety of skin rejuvenation treatments in New York City and Englewood, NJ, which can help improve the look and feel of your skin.
If you are interested in any of the med spa procedures featured below, please contact Dr. David L. Abramson and his highly skilled staff for more information, or to schedule a consultation. We also offer virtual consultations to maximize your time and minimize your stress. No matter where you plug in, Dr. Abramson wants to connect with you.
Chemical Peels
Beauty may only be skin deep, but, thankfully, imperfections are also shallow. By peeling away surface impurities like acne scars and dark spots, chemical peels can smooth out fine lines and create the complexion of your dreams.
Superficial Peels
In only 10 minutes, you can rejuvenate your look thoroughly and comfortably. A light peel is perfect for mild to moderate acne, faint discoloration, and premature wrinkles. Light chemical peels target the epidermis (outer layer of the skin) and require little to no downtime. You can receive superficial peels once per month to extend the restorative benefits.
Medium Peels
Delving deeper into the dermis layer of skin, a medium peel targets more persistent wrinkles and hyperpigmentation.[1] Patients can repeat the medium peel process every 6-12 months as recommended by Dr. Abramson and his attentive team.
Deep Peels
The deeper the peel, the more effective its results. Deep peels can only be performed infrequently, but their rewards may shine for years to come. Please prepare for longer recovery times than those associated with moderate to superficial peels.
One of the signature services we offer at our New York and New Jersey clinics is a Glycolic/TCA Peel. Glycolic acid offers soothing relief to the epidermis while trichloroacetic acid (TCA) penetrates deeper to get to the root causes of certain blemishes. Combining the rejuvenating power of glycolic and trichloroacetic acids provides a comprehensive approach to skin maintenance and restoration.
CoolSculpting
CoolSculpting is driven by the art and science of cryolipolysis.[2, 3] The adipose (fat) layers beneath the skin are more vulnerable to cold than their surrounding tissue. By exposing unwanted fat cells to concentrated cold, Dr. Abramson can destroy them. Your body will recognize the frozen fat cells as waste. As such, your lymphatic system will dispose of the excess fat as it would any waste product.
To learn how CoolSculpting can contour the fat away from your thighs, arms, chin, and/or abdomen, call our New York office at (212) 774-1828 or reach our New Jersey team at (201) 731-3134.
Dermal Fillers
As we get older, our bodies produce less of the building blocks that keep skin strong: collagen and elastin. Gaps begin to emerge subcutaneously, allowing the skin to hang away from its underlying tissue and musculature. To plump these gaps, consider the benefits of our dermal fillers.
Collagen
Dr. Abramson can jump-start your rejuvenation routine with a direct injection of revitalizing collagen. By filling the skin from within, collagen gets underneath bothersome laugh lines and smooths them out of sight. Collagen can also add definition to depleted lips and cheeks, rounding out your radiance.
Juvéderm
Hyaluronic acid (HA) is a compound that naturally occurs in the human body. HA cradles moisture and facilitates hydration on a cellular level. Our Juvéderm line of products is formulated from hyaluronic acid to bring a youthful firmness to your features for up to two years.
Restylane
Restylane is also made with hyaluronic acid, but it maintains a different spectrum of textures and specialties than Juvéderm. Restylane Silk, for example, offers soft, pliable fullness to lips while Restylane Lyft provides firm support to the cheeks.
Radiesse
For an even more robust filler, consider the benefits of Radiesse. Unlike the products above, Radiesse is not made with hyaluronic acid. Instead, it gets its strength from calcium hydroxylapatite microspheres. The viscous gel is ideal for treating deep lines like the nasolabial folds (parentheses) that often flank the nose and lips.
Neuromodulators
There are multiple reasons why our skin wrinkles. The gaps described above are one such cause, but repetitive facial contractions pose another threat to our otherwise enduring youth. Over time, every facial expression deepens the fine lines on the face. After a while, our skin has difficulty bouncing back.
Botox Cosmetic relaxes facial muscles by disrupting the flow of acetylcholine to the neural junction.[4] Botox is known as a neuromodulator, so it is in the same family as Jeuveau. Both Botox and Jeuveau ease the tension of the facial muscles responsible for wrinkles, but they are formulated differently. To learn which product works best with your anatomy and goals, contact Dr. Abramson.
Microdermabrasion
Diamonds are a patient's best friend. Our diamond-tipped microdermabrasion device exfoliates the epidermis gently yet powerfully, scrubbing away acne scars and sun damage. Microdermabrasion can also help correct enlarged pores and fine lines as it stimulates collagen production to heal the skin's surface. The result: a smooth, healthy complexion that illuminates your inner glow.
Cryoskin 3.0
Fat cells are no match for science, and Cryoskin 3.0 is their worst nightmare. By gently heating a treatment area, the Cryoskin system lures fat cells to the surface. Then, Dr. Abramson turns down the temperature, freezing unwanted fat cells through the miracle of cryolipolysis. Cryoskin 3.0 can be customized to freeze away fat, tone skin, and even provide a non-surgical facelift.
Benefits of Med Spa Enhancement
Plastic surgery has revolutionized the ways in which individuals view their cosmetic destiny. Dr. Abramson can deliver amazing results that improve a person's appearance and quality of life. But if you want the benefits of plastic surgery without the downtime or preparation, consider the many perks of a med spa visit. Quick recovery, long-lasting rejuvenation, and invigorated skin can all be yours when you contact Dr. Abramson.
Private Consultation
During your comprehensive consultation, Dr. Abramson will assess your skin tone, listen to your goals, and strategize a set of solutions. Our practice is built on a foundation of respect and results. Please visit our blog to get a glimpse of our wellness philosophies, and be sure to bring any questions that may arise with you to the consultation.
Remarkable Results
Satisfaction speaks for itself, and so do our clients. Their rave reviews illustrate how thrilled they are with the services they have received from Dr. Abramson. While he is humbled by his clients' kind words, Dr. Abramson is always focused on his next procedure. To benefit from his dedication and expertise, contact our offices in Englewood, New Jersey and/or New York City.
FAQ
How much does a chemical peel cost in New York?
The cost of a chemical peel depends on the level of depth you request and the extent of the treatment area. Dr. Abramson provides open, honest pricing during your private consultation, and he offers financing options to help you navigate the billing process. 
How effective is CoolSculpting?
CoolSculpting can reduce the size of a fat deposit by up to 25% after just one session. The technology targets excess fat tissue, lowers the cells' temperature drastically yet harmlessly, and allows your body to process the unwanted fat as waste. Once the cells are gone for good, your treatment area is slimmer and shapelier. To learn how CoolSculpting works on your "problem areas," call (212) 774-1828 in New York or (201) 731-3134 in New Jersey. Stay cool!
References
Want to see your new you before the procedure?
With Crisalix's 3D imaging technology you can see how you would look post-procedure if full 3D.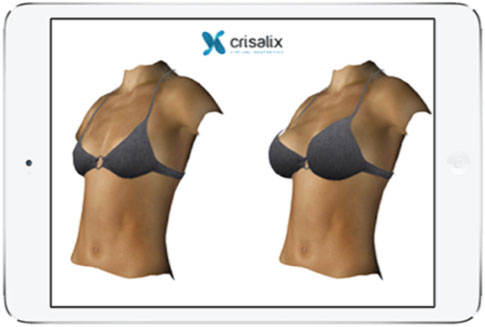 Learn More