Jeuveau – Anti Wrinkle Solution
Consultations offered at our three convenient locations in New Jersey, Bergen County and Englewood
As we age, our face develops signs of all we have experienced in life. Smiling at parties, laughing with friends and frowning on rough days, all of these expressions will impact the skin on our face. Repetitive muscle movements leave us with deep lines and creases along our forehead and around our mouths. Prominent signs of aging that appear between your eyebrows also referred to as glabellar lines, make individuals appear tired, angry or concerned. If you struggle with moderate to severe glabellar lines, Dr. David Abramson has the perfect solution for you! Jeuveau is a new anti-aging treatment that can take years off your face!
What is Jeuveau?
Jeuveau is a new FDA-approved botulinum toxin dedicated to improving the aesthetic of the face. It is an anti-aging injectable for specific application between the eyebrows. If you struggle with severe or moderate lines between your eyes, that cause you to look older than you truly are, Jeuveau will give you the results that you've been looking for.
Jeuveau is clinically proven to provide a healthy, convenient treatment to your aging symptoms. We achieve beautiful, subtle facial rejuvenation for both our male and female patients with Jeuveau.
Is Jeuveau Right For Me?
There are many advantages to receiving Jeuveau injections. If you are concerned about deep lines between your eyebrows that detract from your appearance, you may want to consider this simple procedure. Jeuveau is simply injected with a syringe and thin needle. Scientists and cosmetic experts have created this treatment specifically for application between the eyebrows.
A Jeuveau treatment is beneficial because it will reduce wrinkles and lines, as well as prevent further development of creases in the lower brow.
Both men and women who are concerned about aging signs developing in their face are good candidates. This treatment is fast and requires no downtime. You know you will get incredible results with Jeuveau! If you are interested in the benefits this simple treatment will have on your face, schedule a consultation with Dr. Abramson today.
Personal Consultation with Top Wrinkle Treatment Expert
During your personal consultation with Dr. Abramson, you will have the opportunity to discuss your concerns and what your ideal aesthetic is. Dr. Abramson will listen carefully and examine your face. He will take your anti-aging goals into consideration as he discusses a Jeuveau treatment plan with you. Dr. Abramson will discuss how this treatment plan will improve your facial appearance. He may suggest an alternative or additional treatments to achieve your ideal outcome.
Dr. Abramson will ask about past procedures, allergies, and any current medications to get a good understanding of your general health. He will walk you through the treatment process, the potential risks, and your expected results. This may include showing you before-and-after photos from other cases.
During your consultation, we encourage our patients to ask lots of questions and discuss any concerns or anxieties they have regarding the treatment. We believe that patients should be educated about all aspects of their treatment in order to make a healthy, well-informed decision for themselves.
At the end of your consultation, the staff will help you set a time and date for your appointment. Dr. Abramson will then instruct you on how to best prepare for the procedure and recovery. If you have any questions that are not covered during the consultation, please feel free to call our office so one of our expert staff members can assist you.
Jeuveau Procedure
When you arrive for your treatment, the skin between your eyebrows will be cleaned and a topical anesthetic will be applied. After the numbing agent has taken effect and you are comfortable, Dr. Abramson will gently apply about five injections across the lower brow. Spreading out the injections will help create an even, smooth texture across your skin.
The application takes about twenty minutes and could easily be completed on a lunch break.
Treatment with Jeuveau is quick and comfortable! When Dr. Abramson has completed applying Jeuveau, you will be free to return to your typical day.
Recovery & Results
You will begin to notice improvements in the skin a few days after your treatment.
You will receive personalized instructions to guarantee you see your best results following your Jeuveau treatment. When you leave your appointment, the injection sites may be red and swollen. It is important not to scratch or bump injection sites as they may be further irritated. These symptoms will quickly decrease and gently applying an ice pack that will lessen any discomfort.
Your ideal results will become more obvious about a week after treatment. These results will smooth out your skin and take years off your face. Patients commonly experience a boost in confidence as well as an improved self-image. These results will last four to six months, requiring maintenance treatments to preserve your results.
Complementary Procedures
There are many procedures available to combine with a Jeuveau treatment. Jeuveau is minimally-invasive and is commonly combined with Dermal Fillers.
Dermal Fillers
Injectable fillers are a simple addition to almost any procedure! They provide many benefits such as:
Increasing facial volume
Augmenting facial features, such as the cheeks or chin
Reducing the visibility of wrinkles, lines, and creases
Improving the lip line and volume
Decreasing acne scars and sunken areas on the face
There are many different forms of dermal fillers including:
Juvederm
This filler has many different formulas that have been created to specifically treat different areas of your face. Juvederm fillers are comprised of a hyaluronic acid-base. Hyaluronic acid is another naturally occurring substance in our skin. Hyaluronic acid is responsible for keeping our skin hydrated and glowing.
Juvederm will provide a soft, smooth improvement in areas such as the lips, forehead, cheeks and midfacial region. Many Juvederm formulas also include lidocaine, a local anesthetic that will improve the comfort of your treatment experience. Dr. Abramson's office offers Juvederm Voluma, Juvederm Ultra, Juvederm Vollure, and Juvederm Volbella.

Radiesse
This formulation improves moderate to severe lines in the face. The nasolabial folds, marionette lines, and frown lines are commonly treated with Radiesse. This dermal filler is comprised of a water-based gel with calcium hydroxyapatite particles, a mineral naturally found in our bones. These microspheres improve our skin by increasing collagen levels and volume.
Renuva
Renuva is commonly applied to the face, hands, hips, and buttocks. This filler is excellent at decreasing irregularities in the skin such as dimples, scars, depressed areas, and wrinkles.
Restylane
This is another hyaluronic acid-based filler. Restylane Refyne, Restylane Defyne, Restylane Silk and Restylane Lyft are all specifically made to treat areas such as the cheeks, lips, mouth, and areas that are affected by wrinkles. Restylane is effective at returning the rounded and sharp facial features of your youth.
Combined with Jeuveau, dermal fillers are a simple way to improve the aesthetic of your entire face!
Dermal fillers are gently injected into areas where you desire improvement. A topical anesthetic can be applied to improve your experience. The most noted benefit of dermal fillers is that you can see most improvements in real time as they are being applied. This allows you to interact with the treatment and suggest alterations. This advantage also allows Dr. Abramson to make any necessary adjustments to provide your best result.
Cost of Jeuveau Anti-Aging Treatment
Jeuveau has proven itself to be an effective wrinkle treatment for severe glabellar lines and off-label uses such as migraine and spasm reduction. Jeauveau's specialized formulation is also projected to cost as much as 20 % – 30 % less than other popular, comparable anti-wrinkle treatments.
Each Jeuveau treatment will differ between patients and be customized to their facial features. This personalized aspect allows us to better treat your concerns but includes variating prices between patients.
Jeuveau will provide transformative results with no downtime. If you have a busy life and are interested in a pick-me-up, Jeauveau injections may be your ideal solution! For a personal consultation with Dr. Abramson, call us today at (201) 568-6977.
FAQs
Is Jeuveau Safe?
Jeuveau is an FDA-approved treatment for use in reducing the appearance of moderate to severe glabellar lines and wrinkles formed by muscle activity around the eyes and forehead. It is one of the most promising anti-wrinkle injections on the market.
How Does Jeuveau Work?
By targeting the nerve interaction, Jeuveau injections safely reduce muscle contractions to preserve smooth skin and improve moderate to severe facial wrinkles.
What areas of the face or body can Jeuveau treat?
Jeuveau is designed for treating glabellar lines, or the vertical wrinkles around the eyebrows, but can also be used "off-label" to address frown lines, crow's feet, neck bands and teeth grinding.
How long do Jeuveau results last?
3-6 months, depending on the patient, but many patients report continued results for as long as five months after treatment.
Want to see your new you before the procedure?
With Crisalix's 3D imaging technology you can see how you would look post-procedure if full 3D.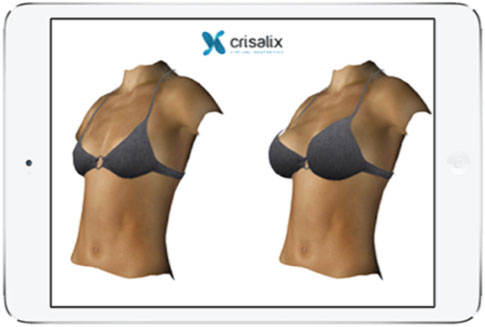 Learn More