Facelift
Consultations offered at our three convenient locations in New Jersey, Bergen County and Englewood, NJ
Dr. Abramson performs Facelifts on residents of Manhattan, NY, helping them to achieve a youthful, rested appearance so that they look as young as they feel.
What is a Facelift?
Over time, aging and sun damage cause wrinkles and fat deposits to build up and the skin loosens. A Facelift, clinically known as Rhytidectomy, is a surgical procedure that lifts the skin, tissue, and underlying muscles to tighten and smooth the face, giving a rejuvenated, youthful appearance. If you have deep creases, wrinkles, and lines along the eyelids or nose, and if your skin is sagging or jowls have developed, a Facelift might be the ideal way to refresh your appearance and improve self-esteem.
Facelifts are frequently performed to correct signs of aging to take place in the 50s and 60s. This procedure can involve different aspects including restoring muscle layers to a more normal anatomic position, removing excess skin, and/or performing ancillary procedures such as fat grafting, chemical peels, or laser resurfacing.
Ideal Candidates
Ideal candidates for a Facelift procedure are men and women who are in good health that experience moderate to severe skin laxity of the face and upper neck. Noticeable folding of the skin or deep creases around the mouth and under the eyes can significantly age men and women. Patients may also have the appearance of a double chin due to loose skin around the jaw and upper neck. A Facelift is a very individualized procedure as everybody has different wants and desires. To see if you are a candidate for a Facelift procedure, schedule a private consultation and Dr. Abramson will gladly assess which personalized technique will benefit you most.
Dr. Abramson on Facelift
Dr. Abramson performs Facelifts on residents of Manhattan, NY, helping them to achieve a youthful, rested appearance so that they look as young as they feel. If you are interested in erasing the signs of aging and are considering a Facelift, check out the before and after pictures to get an idea of the types of results one can expect, then contact our office. Dr. Abramson will perform a comprehensive consultation to explain the surgery, answer all questions, and help patients make the right decisions about whether a Facelift is right for them.
Take the first step towards a refreshed, more youthful appearance by contacting us today.
Before and After Photos
Facelift Techniques
There are a number of different ways to perform a Facelift in order to provide each and every patient with beautiful, natural-looking results. Each technique will be based off of three fundamental techniques: traditional, mini, and extended.
Traditional Facelift
The Traditional Facelift begins with a thin incision beginning at the temples, running along the hairline and around the earlobe. In some cases the incision can be carried along the jawline if the patient wants to reduce the jowls. Through this process, fat is reshaped, muscles are repositioned, and loose skin will be excised and redraped. The incisions are then sutured closed; scarring is minimal as they blend in the border of the hairline and ear. A Traditional Facelift diminishes fine lines and wrinkles, leaving patients with a youthful, vibrant appearance.
Mini Facelift
A Mini Facelift is geared towards younger patients who have good skin elasticity. The appeal of this procedure is the limited focal area of the lower face and jaw, meaning less incisions are required. This procedure addresses loss of definition, minor sagging, and wrinkles on the lower portion of the face. Excess tissue is removed and the skin is redraped to the newly contoured jaw area. Less anesthesia is required, and the length of the procedure and recovery time are greatly reduced with this smaller-scale Facelift.
Extended Facelift
The Extended Facelift is similar to the traditional, but requires a longer incision as it addresses a larger area. Rather than stopping at the earlobe, the incision continues up along the back of the ear to meet the hairline. Underlying muscles are adjusted as well as fat and tissue to create natural contour of face. Loose, sagging skin of the face, jaw, and upper neck is appropriately excised and redraped, diminishing wrinkles and creating a smooth, contoured look.
Ancillary and Alternative Procedures
While a Facelift is an excellent approach to bringing vibrancy to the face, select procedures that focus on specific parts of the face may provide better results for some patients. Some facial procedures may be paired with a Facelift to provide enhanced results.
Dermal Fillers
Dermal fillers are often used in conjunction with a facelift to add youthful volume and contour to the face. Dr. Abramson proudly offers Juvéderm, Radiesse, and Restylane products to address an array of patients and aesthetic desires.
Fat Grafting
If a patient wants more facial volume but does not want to use dermal fillers, facial fat grafting is a wonderful alternative. Facial fat grafting is a procedure that takes fat from one location of the body, purifies it, then injects it into the cheeks, temples, or lips for natural augmentation. The benefit of fat grafting procedures is the incorporated body sculpting from the liposuction.
Brow Lift
Alternatively known as a forehead lift, a brow lift surgically raises the eyebrows to a youthful, more proportionate position on the face. Drooping eyelids are also lifted in the process, creating a more awake and alert appearance. Often times a tired appearance is due to a low brow position as opposed to excess skin of the eyelid. Wrinkles on the forehead and between the eyebrows are diminished with a Brow Lift, reversing stubborn signs of aging.
Eyelid Surgery
Eyelid surgery is a common alternative to a facelift when patients do not experience skin laxity of the whole face, but rather wrinkles around the eyes, deep creases under the eyes, or large fat deposits that create bags. Eyelid surgery can be performed on the upper, lower, or both eyelids. With this procedure, fat is repositioned and excess skin is removed to create vibrant, bright eyes.
Neck Lift
Some men and women find that they have skin laxity only on the neck rather than the face. Sagging skin on the neck can be due to aging or significant weight loss. In this case, a neck lift is a suitable alternative. Fat and tissue are removed as necessary and excess skin is removed and redraped underneath the jaw and on the neck.
Botox
Botox is an alternative for men and women who do not want to undergo a surgical procedure but still want to rid their facial wrinkles. Botox is a minimally invasive FDA approved treatment that reduces the appearance of creases, laugh lines, and "crow's feet" by injecting the serum into the facial muscles.
Your Consultation
During your consultation at either our New York City, Englewood, or Franklin Lakes office, you will have the opportunity to explain all of the issues you have with you face and your aesthetic desires. Board certified surgeon Dr. David Abramson will perform an examination to assess your candidacy. Taking into consideration your skin type and aesthetic desires, he will determine which method he believes will give you optimal results. You will be taken through the entire Facelift procedure step by step so you are fully aware of the process.
Dr. Abramson will provide you with a list of preliminary steps to complete prior to your surgery. Further, you will be shown before and after photos of patients who received a similar procedure. Results vary between patients, but this is meant to help you gain a general idea of your outcome. Bringing a photo of yourself when you were younger will help Dr. Abramson provide you with natural-looking results. Any questions you may have will be gladly answered, including pricing inquiries.
How is a Facelift Performed?
There are a number of Facelift techniques used by Dr. Abramson depending on individual facial structure and the desired outcome. The Traditional Facelift is done with an incision along the hairline, running from ear to ear. The skin is lifted; fat is redistributed and sculpted, and the underlying tissue is adjusted. Muscles may be repositioned as well. The skin is then redraped over the new contours; excess skin is removed, and the incision is stitched. In some cases, a Mini or Partial Facelift may be done on selected areas of the face.
This procedure is usually performed in an operating room with anesthesia and takes 3 to 4 hours. The recovery will take anywhere from 1 to 2 weeks before a patient can expect to return to work.
The exact procedure that would be used to treat an individual needs to be discussed with your plastic surgeon.
Postoperative Recovery
It takes roughly 1-2 weeks for patients to resume normal activities after a Facelift procedure.
Some swelling and bruising is normal, but this will subside quickly. Results can be seen once the swelling subsides, which can be alleviated with the use of ice packs. Patients will be sent home with head and neck dressing or an elastic garment. These are typically worn for the first several days to also aid in reducing swelling.
Do not take anti-inflammatory medications as they may increase the amount of bruising. Patients may experience slight discomfort, but this can be controlled with pain medication prescribed by Dr. Abramson. Sutures will be removed at the follow-up appointment, and Dr. Abramson will be able to assess the healing progress. If patients follow all postoperative instructions, final, rejuvenated results can be seen in about 4-6 weeks. Taking proper precautions when exposed to the sun and skin-damaging elements can help you enjoy long lasting results for at least 8-10 years.
Price
The cost of a Facelift procedure will vary depending on the extent of the specific case. Adding ancillary or additional procedures along with the Facelift will alter the cost. Schedule a consultation today and begin your journey to a youthful, rejuvenated face.
Want to see your new you before the procedure?
With Crisalix's 3D imaging technology you can see how you would look post-procedure if full 3D.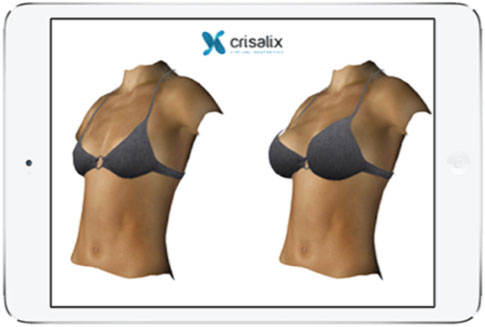 Learn More