Collagen
Consultations offered at our three convenient locations in New Jersey, Bergen County and Englewood, NJ
What is Collagen?
Collagen injections are dermal fillers that improve your skin's minor imperfections, such as laughter lines, wrinkles, creases, crow's feet and acne scars. Collagen products are frequently used to create fuller lips and cheeks. They can also treat areas of your chest, back and neck.
Why is collagen so significant? This natural protein makes up most of the second layer of your skin, the dermis. Its network of fibers provide a framework for the growth of cells and blood vessels, making collagen a key support structure in your skin. As you age, you start losing collagen, which leads to decreased firmness and increased wrinkles.
Through the years, Dr. David L. Abramson and his staff have watched hundreds of patients from New York City, Manhattan and Englewood, NJ, enjoy the benefits of collagen injections. If you would like to know more about what New York collagen can do for you, then please schedule a visit with us today.
Is Collagen Right for Me?
Most individuals who choose collagen are between the ages of 35 and 60. These men and women are typically interested in minimizing the early signs of aging, such as wrinkles that appear around the mouth and forehead, but many patients are also looking for fuller, more voluptuous lips.
Benefits of Collagen Injections
plump up creased and sunken areas
add fullness to your cheeks or other facial areas
reduce frown lines between the eyebrows
reduce worry lines across the forehead
decrease crow's feet at the corner of the eyes
treat deep smile lines, called nasolabial furrows, from the side of the nose to corners of the mouth
define the lip border
eliminate vertical lines on the mouth, as well as those at the corners
decrease acne scars and other soft facial scars
add volume to your lips
At Dr. Abramson's New York City and Englewood offices, the staff welcomes men and women from across the area who desire a natural-looking solution to wrinkles and thin lips. We are highly qualified to perform all kinds of dermal fillers, including collagen injections, which is why hundreds of residents from Manhattan and beyond trust us with their cosmetic procedures.
What is the Surgery for Collagen?
Your collagen treatment will take place in the doctor's office and will last about 20 minutes to an hour. At the start of the procedure, your collagen specialist will mark the injection points on your face and/or body. Using a fine needle, he will infuse a solution — made of collagen, saline and sometimes an anesthetic – under the skin, filling in your wrinkles and grooves. The results of collagen injections usually last about three months, so you will need periodic follow-up treatments to maintain its effects.
There are various collagen products, all derived from naturally occurring collagen in humans, cows, pigs and other mammals. Dr. Abramson's medical team can help determine which type and brand of collagen would be right for you. Please meet with us in either our New York City or Englewood office to discuss your concerns and objectives for collagen treatments.
What are Collagen Costs?
Prices depend on many factors, including the number of areas being treated and the per-injection cost. You can receive a more personalized estimate by discussing collagen costs with the experienced staff. We encourage you to ask all the questions you need before you commit to treatment.
Want to see your new you before the procedure?
With Crisalix's 3D imaging technology you can see how you would look post-procedure if full 3D.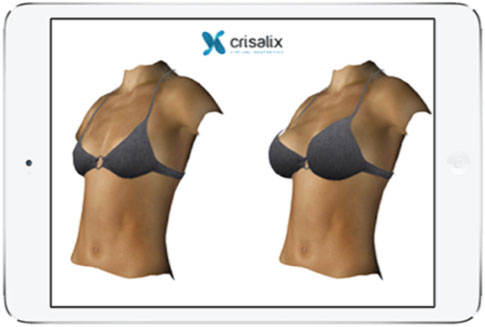 Learn More