Glycolic Peel / TCA Peel
Consultations offered at our three convenient locations in New Jersey, Bergen County and Englewood, NJ
A Glycolic TCA Chemical Peel is a potent skin care treatment. Men and women can start developing wrinkles as soon as their early 20s which also tends to be around the time that your body starts to slowly decrease its production of crucial elements to the health of your skin.
There are many exterior components that will also lend to the deterioration of your skin, such as sunlight, pollutants, diet, and genetics. It is never too early to begin investing in your skin's health. Whether you are in your early twenties or have many wrinkles, a glycolic TCA chemical peel will help revitalize your skin!
A chemical peel skin treatment is a great way to refresh your complexion, but it requires a highly qualified skin care professional to carefully manage the powerful blend of glycolic and TCA chemicals in order to achieve beautiful results. Contact Dr. Abramson and learn more about how the TCA chemical peel can give you a flawless complexion.
What Is a Glycolic Acid Peel?
Chemical peels that have glycolic acid as the primary ingredient are referred to as glycolic acid peels.
Wrinkles and acne are commonly treated using glycolic acid. Glycolic acid is a naturally derived substance that comes from the acid in fruits and in sugarcane. It belongs to the alpha hydroxyl family. When this acid comes into contact with the skin, it causes the top layer of skin to break down by removing the substance that adheres older, damaged skin to the surface of the face. Once the outermost layer of skin has been removed, the fresh layers of skin that were underneath become visible. Since the new skin layer has not been damaged, it has a vital, young, and fresh appearance.
Most people are pleased with the results they receive from a glycolic peel. Patients who undergo this treatment have a more youthful appearance, they have fewer wrinkles and fine lines, and their skin appears clear and less oily.
Who Is a Candidate for a Glycolic Peel?
A wide range of individuals can reap the benefits of a glycolic peel. Patients who are looking to remove fine lines, minimize the appearance of wrinkles, improve their overall appearance, and correct blemishes and freckles may benefit from this treatment. Glycolic acid peels are also commonly used to decrease the appearance of acne scars.
Glycolic peels are an effective treatment for acne as well as sun damaged skin that might have cells that are precancerous.
Melanin is the substance that gives skin its color and is primarily found in the outermost layers of a person's skin. Glycolic peels attack and destroy excessive amounts of melanin in the skin, which in turn leaves the skin with a skin tone that is more natural and even.
What Is a TCA Peel?
TCA stands for trichloroacetic acid. Skin is left with a healthy, refreshed appearance after a TCA peel. This procedure changes the texture of the skin so that it appears smoother. As a common treatment for acne, wrinkles, hyperpigmentation, and fine lines, a TCA peel minimizes the telltale signs of aging while at the same time giving skin an even tone. Trichloroacetic acid is the active ingredient used in this procedure. Patients can receive a deep peel, a medium peel, or one that is just superficial.
Symptoms Addressed By A TCA Peel
Damage caused by the sun
Variations in their facial pigmentation
Wrinkles and fine lines
Age spots
A person who has any of these symptoms may appear to be a lot older than they are or a lot older than they feel. This chemical peel will give your skin a youthful appearance and a revived, regenerated feel. Sun damage and some fine lines will be gone, and your face will have a smoother, more even skin tone.
Am I a Candidate for TCA Treatment?
Men and women who want to make their skin's texture look better and who want to look younger are the ideal candidates for this treatment. Unlike other deep penetrating peels, a TCA peel works perfectly on individuals who have light brown or olive complexions. Patients should be aware that for at least one week after the procedure, their skin will have a severe sunburn appearance. People looking to repair certain body imperfections are also good candidates for a TCA peel.
TCA peel target areas
The neck
The area under your eyes
The skin surrounding your mouth
Your face
The TCA peel procedure may require some downtime. The procedure removes the outer layer of your skin. Once this heals, new collagen is created, and you will look younger and refreshed. However, in the days following the procedure, your face will have a red and flaky appearance. This is not a cause for concern since, within just a few days, your face will begin to return to normal. However, during the healing process it is advisable to stay home from work and avoid social activities. The results that come from having this peel are worth it. You will look younger, and your skin will look rejuvenated.
Combining Glycolic Acid and TCA
A chemical face peel that combines glycolic acid and TCA is common and will provide you with firmer, clearer, and softer skin.
There are many types of chemical peels available today, we at Abramson Plastic Surgery, offer one of the best combinations of chemical formulas to provide beautiful results! There are many benefits of glycolic acid and TCA peel. When combined, these acids can address many skin imperfections and leave you with glowing, smooth skin.
Glycolic acid is a milder acid than TCA and will help penetrate the epidermis and prepare your skin for the TCA. In a treatment session, glycolic acid would be applied first to break down the upper skin layer. It will then be neutralized and cleaned off. TCA would then be applied to penetrate deep into the dermis layer. The combination of these acids provides a deeper peel that will result in transformational effects in your skin.
Dr. Abramson – New Jersey's Top Skin Care Expert
In your personal meeting with Dr. Abramson, you will have the opportunity to share your skin concerns and how you hope a chemical peel will improve your appearance. He will listen attentively and ask about your skincare routine, current medications, past procedures, and general health. This will help him gauge if a chemical peel is a safe, healthy option for you. Dr. Abramson may suggest alternative solutions that will better treat your skin.
Dr. Abramson will perform an examination of your skin, ensuring it is healthy and has moderate skin elasticity. He will then explain the treatment steps, potential risks, and the recovery process. This will include instructions on how to best prepare for the procedure and healing period.
How The Treatment Works
The morning of your appointment, don't perform any activity that will make you sweat. Sweating dehydrates your skin and may cause irritation during the procedure. It is also important to not apply any topical skin care products with active ingredients. Stay hydrated and gets plenty of rest leading up to the treatment.
The procedure is performed in the calm, relaxing, and comfortable setting of our offices. The first step will be to have a consultation with Dr. Abramson. During this consultation, you will be able to explain what you want done and learn about the procedure options that are available. This appointment will allow you and Dr. Abramson to plan all the details of your customized procedure.
When you arrive on the day of your appointment, your skin will be cleansed and topical anesthesia will be applied to make the procedure comfortable. When you are resting, the glycolic acid will be applied to your skin. It will be neutralized and washed off after two minutes. The TCA will then be applied and will remain on your skin for a few minutes. The amount of time the acid remains on your skin will vary based on the desired potency. Once the acid has reached the desired depth it will be neutralized and washed off. A healing cream or ointment may be applied to your face along with bandages.
Post Treatment Care
Following the procedure, your skin will be swollen and red. You may have been prescribed medications to control any discomfort. This a chemical exfoliation technique that will cause skin peeling within a few days of treatment. It is important not to use any products that would speed up this process. Let your skin peel and exfoliate naturally. No active ingredient products should be used on the face and exercise should be avoided until your skin is healed.
Your skin will be highly sensitive after treatment and sunlight should be avoided. Once the initial healing period is over, use a high SPF to protect the new skin layer.
The most important part of your recovery is keeping your skin moisturized and hydrated. Drink lots of water and apply the moisturizer Dr. Abramson recommends. A follow-up appointment will help Dr. Abramson check on your healing process and make any recommendations to improve your recovery.
Glycolic and TCA Peel Results
Results will be seen immediately after the first peel. As more treatments are applied, greater improvements will be seen in the skin's texture, and it will have a rejuvenated appearance.
This treatment can be used for all skin types and all skin tones. Dry skin types, normal skin types, or combination skin types can benefit from this peel. Even acne sufferers can undergo this treatment. In fact, the procedure may actually improve their acne.
Cost of Glycolic TCA Chemical Peel Near Me
For your financing needs, Alphaeon™ and Prosper® are offered. You can learn more details about Glycolic Peel and TCA Peel prices by talking with the staff at either of Dr. Abramson's offices. If you are interested in the revitalizing effects of a chemical peel, schedule a consultation with Dr. Abramson today at (201) 731-3134.
Want to see your new you before the procedure?
With Crisalix's 3D imaging technology you can see how you would look post-procedure if full 3D.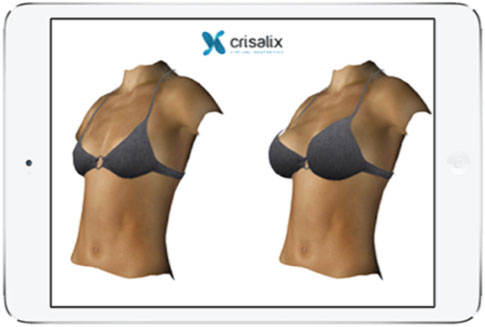 Learn More