Silhouette InstaLift
Consultations offered at our three convenient locations in New Jersey, Bergen County and Englewood, NJ
These days, many adults lead healthy, active lifestyles into their 50s, 60s, and 70s. However, due to pollution, stress, and a number of other uncontrollable factors, they don't look as young on the outside as they feel on the inside. Many of our patients come into our offices with the same complaint: they want to look as young as they feel. However, due to this active, busy lifestyle, more and more patients can't afford to take weeks to recover from an invasive, surgical procedure.
But now with modern cosmetic advancements, patients no longer have to choose between looking beautiful and maintaining their routine.
Silhouette InstaLift is a minimally invasive alternative to a traditional facelift. The 45 minute procedure lifts the skin with sutures to provide visible, youthful results immediately. Plus, it requires very little to no downtime. Contact us at one of our three convenient locations in New York City, Englewood, or Franklin Lakes to schedule a consultation and get started!
What is the Silhouette InstaLift?
Silhouette InstaLift is a groundbreaking procedure that helps lift the midfacial region for visibly younger contour. Sometimes called a "Nonsurgical Facelift", Silhouette InstaLift is FDA approved and requires no general anesthesia. This helps cut down on the recovery time and cost of the procedure. Plus, it is very safe.
Silhouette InstaLift is the first minimally invasive procedure that addresses the deeper layers of the skin, the source of many signs of aging. This is accomplished by placing small, biodegradable sutures underneath the dermis. These sutures can lift the skin for more attractive contour. This is approved for use in the midfacial area, so results are seen mostly in the cheeks and in the jowls.
Benefits of Silhouette InstaLift
Minimally invasive, nonsurgical
No need for general anesthesia or sedation
Improved contour
Immediate results
Promotes collagen production
Natural looking
Can boost self-confidence
Silhouette InstaLift vs Traditional Facelift
Both the Silhouette InstaLift and a traditional facelift aim to restore youthful facial contours, but each accomplishes this in different ways. A traditional facelift excises lax facial skin and repositions underlying muscles and tissues to create better volume and contours. This can be performed on the top, middle, and/or bottom third of the face with different techniques. The Silhouette InstaLift only addresses the middle third of the face but does not involve the removal of lax skin. However, this means that it cannot produce the same dramatic results as a traditional facelift can. This is not to say one procedure is better than the other; they both provide fantastic results. The ultimate choice will be based on the patient's desired result, doctor recommendation, and amount of downtime a patient is willing to take.
Good Candidates
Good candidates for Silhouette InstaLift may be men or women who show signs of midfacial sagging. They may also be candidates for a facelift, but do not want to undergo an invasive procedure. Patients should be healthy, non smokers, and have the ability to heal well. It is equally important that the patient has realistic expectations for the procedure outcome and understands what it can and cannot accomplish; patients may require a facelift to reach their desired results.
Since Silhouette InstaLift is a nonsurgical procedure without the need for general anesthesia, it will be a good treatment for many different patients with mild to moderate midfacial sagging. However, patients with very thin tissue may not be good candidates for the procedure, as the implants may be visible underneath the skin. Furthermore, patients with severe facial sagging may not be able to accomplish their goals with a nonsurgical facelift and may want to consider a traditional facelift instead. Patients with sagging around the forehead or neck may also be advised to consider alternative procedures.
To find out if you would be a candidate for Silhouette InstaLift, request a consult with Dr. David Abramson at one of his New York or New Jersey locations.
Procedure
The Silhouette InstaLift procedure is performed in our offices. Patients will be given local anesthesia, which means they will be awake throughout the procedure. Nonetheless, the majority of patients find the treatment very comfortable.
There is no need for any cutting or incisions throughout the procedure. The sutures with bidirectional cones are very thin and will be threaded into the cheeks. Dr. Abramson will place them according to the patient's unique anatomy. The sutures will act as scaffolding to help lift the skin and the cones help keep the sutures in place, meanwhile promoting collagen production. Results will be immediately visible. The entire treatment takes approximately 45 minutes to complete.
Additional Procedures
Before Silhouette InstaLift, there was no way to lift deep layers of the skin without undergoing an invasive procedure such as a facelift. Now, Silhouette InstaLift fixes that. But, there are other facial concerns, such as tone, texture, wrinkles, and volume loss, that can also be addressed with minimally invasive procedures. Here are some of the other minimally or noninvasive solutions that we offer:
Microdermabrasion
Microdermabrasion is a noninvasive treatment that helps address the tone and texture of skin. It can improve or correct the appearance of fine lines and wrinkles, sun spots, rough skin, discoloration, acne, and large pores. The treatment uses a diamond-tipped wand to exfoliate the outer layer of the skin, revealing fresh, younger looking skin underneath. This procedure not only removes the dead, damaged layer of the epidermis, but also promotes increased production of collagen as the skin begins to heal itself. For optimal results, Dr. Abramson recommends that patients schedule a series of five to six treatments. By taking proper care of their skin, patients can enjoy long-lasting results.
Botox
Botox is the go-to injectable to correct the appearance of lines and wrinkles around the forehead and eyes. This neurotoxin works by temporarily suspending nerve communication that causes muscles to contract. These repeated muscle contractions create dynamic wrinkles, such as forehead lines, glabellar lines, and crow's feet. Botox causes these muscles to relax, thereby smoothing out the wrinkles and creases. Botox can also be used to provide the appearance of a temporary brow lift. Results typically last three to six months. Botox is a good treatment to be combined with Silhouette InstaLift since the latter does not address the upper third of the face, but Botox does.
Dermal Fillers
Dermal fillers are soft-tissue injectable fillers used to add volume to the face, improving the appearance of lines and wrinkles around the mouth and adding volume in areas that appear hollow or deflated. Some of the dermal fillers we offer include Juvéderm, Radiesse, and Restylane. These dermal fillers can be used to reduce the appearance of nasolabial folds, marionette lines, vertical lip lines, and more. Plus, they can also be used to augment the cheeks and lips. Results can last four months or longer, depending on the filler.
Recovery
The most common side effects following a Silhouette InstaLift include bruising, swelling, and minor discomfort. However, patients will be free to return to their normal routine following the procedure. If they'd like, they can cover up any visible bruising with light makeup. If they are concerned about the appearance of their face following treatment, we recommend taking one to two days to rest in order to fully heal. Keeping the head elevated during this time will help minimize bruising and swelling. We also recommend avoiding medications and supplements that could prolong side effects, including fish oil pills and anti-inflammatory medications including aspirin, ibuprofen, and naproxen. If patients feel any discomfort, we recommend taking Tylenol.
Over time, the sutures and cones will be naturally absorbed by the body. They will bolster collagen growth, which will help promote long lasting anti-aging results. The results from Silhouette InstaLift last approximately 18 months. If patients wish to maintain their results, they may return for new sutures at this time.
Consultation
We invite new and existing patients interested in Silhouette InstaLift to contact our offices and request a consultation.
A consultation is necessary in order to determine whether or not the patient can realistically achieve their desired results through Silhouette InstaLift.
It is important that the patient be as straightforward as possible when discussing what they hope to achieve from this procedure. It will be helpful if the patient brings in a photograph of their face from approximately ten years ago. This will be able to show both the doctor and the patient what can reasonably be achieved.
Dr. Abramson will evaluate the patient's face with a thorough examination. He will also ask the patient about their allergies, medications and supplements they take, and any surgeries or treatments they've had in the past. Depending on his analysis, he may recommend alternative or additional procedures for optimal results.
Cost
At the end of the consultation, our team will be able to provide the patient with an accurate price for their treatment. The cost of Silhouette InstaLift is typically a fraction of the cost of a traditional facelift. However, if the patient chooses to combine this procedure with other treatments, the price will reflect this decision. For patients interested in financing, we are proud to work with Prosper Healthcare Lending and Alphaeon Credit. If you would like to speak with a member of our team about financing options, please mention this when scheduling your consultation appointment.
Contact us today to request your consultation. We have three convenient locations in New York, NY, and Englewood and Franklin Lakes, NJ. We look forward to welcoming you to our practice.
Want to see your new you before the procedure?
With Crisalix's 3D imaging technology you can see how you would look post-procedure if full 3D.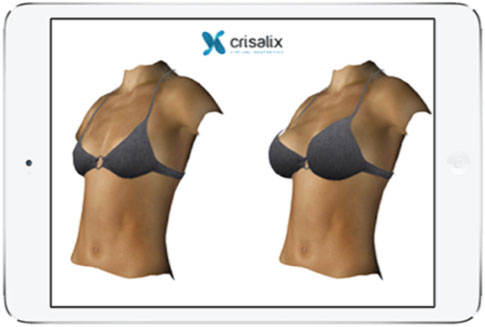 Learn More