Thigh Liposuction
Consultations offered at our three convenient locations in New Jersey, Bergen County and Englewood, NJ
Are you tired of not seeing a significant difference in the size of your thighs after weeks of working out and dieting? Thigh fat can be very difficult to reduce! At our practice, we offer patients a solution that will have your thighs toned and slender in no time: Liposuction. Get rid of inner thigh fat and stubborn outer thigh bulges for the legs of your dreams!
About Thigh Liposuction
Liposuction has been around for a long time. It is continually being improved and advanced to give people their best body sculpting surgery. This procedure can address fat stores all over the body, including the hips, abdomen, love handles, thighs, buttocks, upper arms, back, inner knees, chest, cheeks, calves, chin, neck, and ankles.
Everyone's body stores fat differently, but for those of us whose body stores fat in their thighs, it can be frustrating. Thankfully liposuction has been developed and advanced to allow Dr. Abramson to flawlessly sculpt the thighs.
Liposuction addresses the stubborn fat just below the skin
called subcutaneous fat. This fat is difficult to reduce because it is stored
as a last-resort energy source by the body.
Thigh liposuction has been growing in popularity in recent years as cosmetic surgeries are becoming more common. This technique helps healthy men and women get rid of that last bit of fat that is resistant to workouts and eating healthy. Lipoplasty is meant as a body contouring tool, not as a weight loss procedure. This treatment can help restore balance to the figure and, in the example of the thighs, smooth out any bulges. If you have been striving to obtain an inner thigh gap or reduce firm outer thigh fat, this treatment is the ideal solution for you!
The Best Liposuction for You
There are many forms of liposuction today. At our practice, we specialize in a proven, advanced form of lipoplasty: tumescent liposuction. Dr. Abramson achieves beautiful, impressive results thanks to his years of experience and use of the most up-to-date body contouring techniques.
Tumescent Liposuction: Tumescent fluid is composed of saline solution and will be administered to the thighs before surgery. The solution will swell the treatment area, allowing fat cells to be exposed and accessible. The fluid and fat cells will be extracted from the thighs and will result in smoother surgery and often improves the comfort and timeline of the recovery process.
Dr. Abramson will help develop a lipo treatment plan for you that reflects the needs of your goals and health profile.
Benefits
Liposuction provides impressive, quick results! You will be able to see a difference in the shape of your thighs. These results will only get better with time. Another advantage of liposuction surgery is that the procedure requires little downtime. Most patients can return to work within a week and show off their new legs! You'll want to plan a shopping excursion soon after surgery.
Candidates
Thigh lipo surgery is a great option for healthy men and women! Ideally, a candidate will be within their ideal weight range and living a healthy, active life. No more inner thigh workouts for you!
Liposuction will slim down both the
inside and outside of your thighs for impressive results.
If you are bothered by the size of your thighs, liposuction will improve the symmetry of your overall appearance!
Personal Consultation
Dr. Abramson and you will have the opportunity to meet and plan your perfect treatment plan. Your health history, medications, lifestyle, and allergies will be discussed. We want you to have a positive healthy experience and will work hard to provide you with the utmost care.
An appointment will be scheduled for your surgery and Dr. Abramson will instruct you how to prepare for the procedure and recovery. We encourage you to call us with any questions or concerns that come to mind in the time period leading up to your surgery!
Preparation
Give yourself ample time to fill prescriptions and arrange for rides to and from the liposuction appointment. You will want to take a few days off from work to allow yourself a few days of rest. Adjust medications according to Dr. Abramson's recommendation and pause any smoking habits.
The morning of your surgery, we recommend you start your day early so you don't feel rushed. We want you to be calm and relaxed when you show up for surgery so that it is a positive experience.
Follow Dr. Abramson's instructions for your best results!
Procedure
Either a general anesthetic or intravenous sedation will be used to provide you with a comfortable surgery. The whole procedure will take between one and two hours.
You will need to change into a gown, after which your thighs will be cleaned and marked for surgery. The preferred anesthesia will be administered and Dr. Abramson will begin surgery after you are resting. Stubborn fat will be removed and your thighs beautifully sculpted. Dr. Abramson has years of experience performing surgeries and has an eye for balance. He will delicately improve your legs and balance out their proportions in regards to your legs and the rest of your body.
Once he has achieved the ideal aesthetic, the incisions will be closed and bandaged.
Recovery
Work can often be returned to within a week and working outs returned to in a few weeks.
Your incisions will be sensitive and may itch for a few days after surgery. Be cautious and gentle around your incisions. Pain medication can be used to control any discomfort and pillows used to elevate your legs and relieve swelling. Taking brief walks and wearing a compression garment will also help relieve swelling. The compression garment will need to be worn for a while to help your legs adjust to their new contours.
Results
You will notice your slimmer, sexier thighs immediately! These results will get better as your thighs smooth out and take on their new contours. We encourage our patients to maintain a healthy lifestyle and skin care routine to keep their results around for years to come.
Liposuction Cost
Each liposuction treatment will be unique as it reflects the particular anatomical features of the patient. Our hand-tailored approach allows us to deliver the best surgery to our patients. To learn more about thigh liposuction and how this procedure will transform your body, schedule a consultation with Dr. Abramson today! You can reach us at (201) 731-3134, we look forward to hearing from you.
FAQs
What is the average cost of the liposuction on thighs?
According to PlasticSurger.org, the average thigh lipo surgery cost is about $3,000. This price will fluctuate based on the size of the area being treated and whether other areas will be treated with liposuction as well.
Does liposuction on thighs work?
Yes! Liposuction is a great treatment to contour the thighs and help them appear sexier and symmetrical with the rest of your body.
What is the recovery time for liposuction on thighs?
Most patients are able to return to a sedentary job within a few days of surgery. Strenuous activities will require more rest, and can commonly be returned to after two weeks.
How can I slim down my thighs?
You can slim down your thighs effectively and quickly with liposuction. Dr. Abramson specializes in lipoplasty, a safe, effective fat reduction and body sculpting technique.
How to get rid of thigh fat without gaining muscle?
Liposuction is your solution! This body sculpting technique will get rid of fat without impacting your muscles.
How to get rid of thigh fat without exercise?
Thigh liposuction is a simple, effective way to get rid of thigh fat. However, we encourage patients to continue working out so that they can keep their results consistent and live a healthy life.
How to get rid of thigh fat male?
Liposuction is a great treatment for both men and women. This surgery will remove thigh fat and help embellish the masculine physique.
Inner thigh liposuction recovery?
Inner thigh liposuction requires a minimum recovery. Most patients can return to their job within a few days. If you have a physically demanding job, you may need to take more time to rest and recover. Strenuous activities can often be returned to after two weeks.
How to reduce inner thigh fat?
Liposuction is a great way to slim down inner thigh fat. Inner thigh fat can be difficult to reduce and tone, but with liposuction, you will be able to contour your thighs and get the results you want right away. After thigh liposuction, you will be showing off in no time!
Want to see your new you before the procedure?
With Crisalix's 3D imaging technology you can see how you would look post-procedure if full 3D.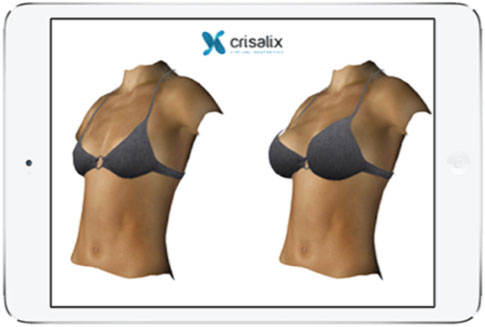 Learn More